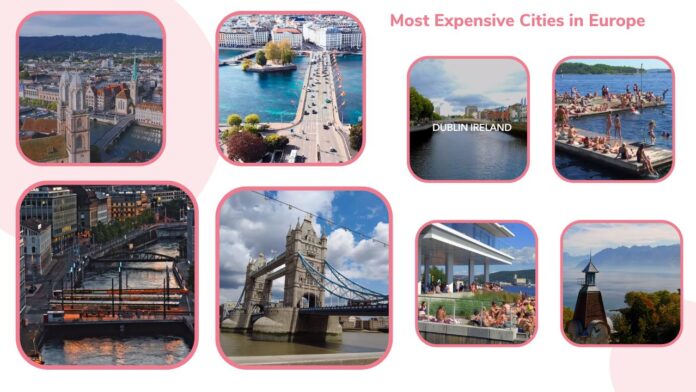 Europe stands as a dream destination for countless expats and travelers, and it's not hard to see why. The continent boasts a rich history, a tapestry of diverse cultures, and an array of delectable cuisines. However, this charm does come at a price.
The year 2022 has brought its fair share of challenges, with the war in Ukraine, supply chain disruptions, and a sharp rise in energy costs. The cumulative effect has led to a substantial cost of living crisis.
Read More: Countries With High Tax
Although Hong Kong retains its title as the most expensive city in the world for expats and travelers, Europe has its own contender in the form of Zurich. In fact, Switzerland proudly claims four out of the top five spots for the most expensive European cities!
Below, you'll find the 10 priciest cities in Europe according to Expatistan's cost of living index as of October 2022. Additionally, we've included a section on the cost of living with data converted to Euros, collected from Numbeo.
1. Zurich, Switzerland
Switzerland, as you may already know, is renowned as one of the world's priciest countries, and within it, Zurich stands tall as Europe's most expensive city.
Zurich is a city steeped in history, adorned with numerous museums, and enjoys a prime location in the heart of Europe, with the majestic Swiss Alps within reach. It's no wonder that many travelers include Zurich on their European journeys. However, be prepared for a substantial dent in your wallet.
The reputation of Zurich being an expensive place holds true, whether we're talking about the overall cost of living or the real estate market. Thankfully, though, the compensation packages here rank among the best globally, and opportunities for foreign workers are abundant.
Read Also: Global Warming Concerns
As is often the case in major financial hubs, prices can soar depending on your choice of residence. Real estate costs, in particular, can pose a challenge for digital nomads and expats looking to settle down.
2. Geneva, Switzerland
Geneva, Switzerland's second-largest city, is a bustling cosmopolitan hub renowned for its significant roles in finance and diplomacy.
Living in Geneva is the epitome of luxury. It boasts one of Europe's highest standards of living, but it comes with a price tag to match. Even by Swiss standards, Geneva is considered quite costly for expatriates residing in Switzerland. In fact, the cost of living in Geneva might surpass that of your home country. To save money for your relocation, it's advisable to stock up on necessities in your home nation before the move.
Yet, despite its steep price tag, Geneva's allure is undeniable. Nestled at the edge of "Lake Geneva," it graces residents with breathtaking natural landscapes. Despite the high cost of living, the city manages to deliver an exceptional quality of life that continues to attract foreigners from around the world.
3. London, UK
London, among Europe's elite, has earned its reputation as one of the continent's most expensive cities, and it doesn't disappoint in that regard. With the pound sterling (£) as one of the world's most valued currencies, London comes with a high cost of living, even for those earning in Euros or American dollars.
It's no secret that London is the most expensive city to reside in within the UK, largely due to the sky-high rental prices. However, the relatively higher incomes in the city help to balance out this expense. In fact, Greater London boasts the highest average rent in the entire UK.
While it's undeniable that London can put a dent in your wallet, the city offers an incredible return on investment. Nearly everything you could desire is readily available just outside your doorstep. Moreover, London's overall quality of life is outstanding, with few cities able to rival its vibrant artistic, cultural, sports, culinary, and social scenes.
4. Lausanne, Switzerland
Nestled in the heart of French Switzerland, the city of Lausanne embodies the quintessential Swiss qualities of elegance and an exceptional quality of life. However, it's no secret that this charming city also comes with a hefty price tag, ranking among the most expensive in Europe.
Despite its relatively small size, Lausanne presents a wealth of opportunities for digital nomads. The city is a treasure trove of knowledge and offers a diverse range of activities and cultural events that should find their way onto your calendar. In Lausanne, you'll find yourself constantly captivated, whether you're leisurely strolling and savoring the breathtaking views or indulging in dining and dancing at one of the numerous local festivities.
You Can Read: Safest Countries in South America
Lausanne is renowned for being the headquarters of the Olympic Games and for its vibrant student community. The city is perfectly situated between majestic mountains and boasts popular ski resorts. It also graces its residents with the beauty of Lake Geneva (known locally as Lac Léman), where locals often partake in windsurfing and water skiing, adding to the city's allure.
5. Basel, Switzerland
Located on Switzerland's northern and western borders, nestled near the southern Black Forest of Germany and Alsace, Basel stands as a city offering an exceptional blend of retail, cultural, and leisure opportunities. This distinctive combination contributes to a way of life in Basel that is unlike any other in Switzerland.
In Basel, everything you need is just a stone's throw away – from parks and playgrounds to museums, dining establishments, and nightlife hotspots. The city boasts a diverse architectural landscape, featuring stunning modern homes and offices, alongside a well-preserved medieval town center and historic areas from the 19th century.
Greenery abounds in Basel, earning it the title of a green city. Residents and visitors alike are welcome to partake in sports, games, and recreation activities year-round in the city's numerous small neighborhood oases and urban parks. However, it's important to note that this beauty and convenience come at a price, as Basel finds itself on the list of the most expensive cities to reside in across Europe.
6. Dublin, Ireland
As of October 2022, Dublin retains its status as the sixth most expensive city in Europe. Dublin is renowned for its vibrant nightlife and its proximity to the breathtaking natural landscapes of Ireland. However, it's worth noting that it's also one of the costlier cities on the European map, largely due to the sizable expat population and the resulting high rental prices.
Nonetheless, there are compelling reasons to contemplate calling Dublin home. The city seamlessly combines the advantages of urban living with a laid-back atmosphere rarely found in other capital cities. The hustle and bustle that often characterizes city life is pleasantly subdued in Dublin.
Moreover, Dublin's neighborhoods are nestled amidst picturesque mountains and a stunning coastline, offering easy access to the great outdoors. The city's efficient public transportation system makes it a breeze to reach hiking trails and scenic bathing areas, providing a welcome escape from the daily rush and urban hustle.
7. Copenhagen, Denmark
Copenhagen, the capital of Denmark, has held a prominent place on the tourist map for quite some time. However, for budget-conscious digital nomads, Copenhagen might seem like a fleeting dream. Denmark is known for its high quality of life, but as a consequence, it also carries a steep cost of living.
Nevertheless, this ever-evolving Nordic city boasts a thriving international community and stands as a hub of creativity and innovation. For many digital nomads and expatriates from abroad, the idea of trying their luck in Copenhagen is a compelling one; it offers a wonderful opportunity to lead a fulfilling life.
8. Oslo, Norway
Oslo often receives accolades for its exceptionally high quality of life, consistently ranking among the best in European cities. However, as is often the case, a high quality of life goes hand in hand with elevated living costs, and Oslo is no exception.
In the October 2022 rankings, Oslo secures the seventh spot among the most expensive cities in Europe.
But here's the catch: Oslo stands as Norway's most multicultural city and is also one of Europe's fastest-growing capital cities. Beyond the city limits lie the breathtaking fjords, enchanting forests, and captivating archipelagos that make Norway undeniably one of the most stunning places on our planet.
9. Amsterdam, The Netherlands
The Netherlands is a country that has earned its reputation for providing a high quality of life, but this quality comes at a cost. Amsterdam, the capital city, takes the ninth spot in the 2022 index of the most expensive cities in Europe.
Interestingly, this doesn't deter travelers and expatriates from flocking to this picturesque city year-round. Amsterdam buzzes with cultural events, including art exhibitions, concerts, and a diverse array of performances catering to various tastes.
While living in the Dutch capital may not be as expensive as in some of the Nordic capitals, it's important to be financially prepared, especially when it comes to housing. Rent can take a significant chunk out of your monthly income, especially if you opt for a fully furnished residence.
10. Trondheim, Norway
Trondheim, Norway's third-largest city, boasts a rich historical legacy as it was once the country's capital. It's widely regarded as Norway's most historic city, and it's also a vibrant university town, brimming with lively pubs and a youthful population. In addition to its numerous historical landmarks, Trondheim is said to offer an abundance of excitement.
This city truly has it all: a captivating history, striking architecture, delightful dining options, lush green spaces, a vibrant nightlife scene, and a myriad of student organizations to get involved in.
It's worth noting that even with various discounts available, public transportation in Trondheim can be relatively costly. As a money-saving tip, investing in a bicycle can be a wise choice. Fortunately, the city's compact size means that virtually everything in the city center is within walking distance, allowing you to save a considerable amount on transportation expenses.
So, there you have it – a list of some of the most expensive cities in Europe. But don't let this ranking discourage you from exploring the continent. Europe is vast and diverse, offering a wide range of cities that cater to various budgets and preferences. Whether you're seeking luxury or looking to make the most of your travel budget, Europe has something to offer for every type of traveler.
Methodology
To calculate the Price Index for each city, Expatistan uses Prague as the central reference city, assigning it a value of 100. Once this reference point is established, the Price Index value for every other city in their database is determined by comparing their cost of living to that of Prague.
For instance, if a city has a Price Index of 134, it indicates that the cost of living in that city is 34 percent higher than in Prague.
It's essential to keep in mind that these figures are not fixed and can change over time. That's why we recommend conducting a thorough search when deciding to relocate to a particular city.
Refer to the chart below for the Price Index of the expensive cities in Europe as listed in our article.
| | | |
| --- | --- | --- |
| Ranking | City | Price Index |
| 1st | Zurich (Switzerland) | 244 |
| 2nd | Geneva (Switzerland) | 243 |
| 3rd | London (United Kingdom) | 229 |
| 4th | Lausanne (Switzerland) | 229 |
| 5th | Basel (Switzerland) | 228 |
| 6th | Dublin (Ireland) | 195 |
| 7th | Copenhagen (Denmark) | 180 |
| 8th | Oslo (Norway) | 178 |
| 9th | Amsterdam (Netherlands) | 172 |
| 10th | Trondheim (Norway) | 169 |