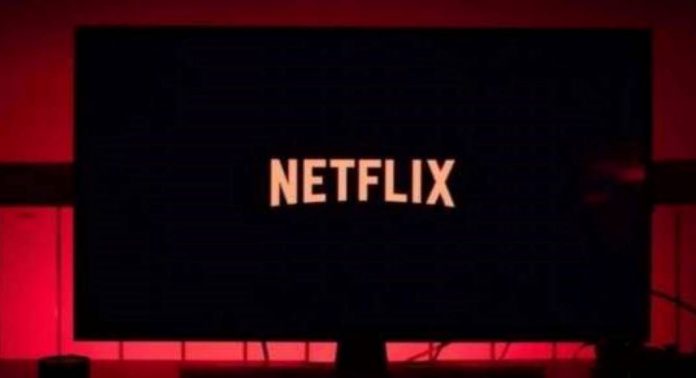 Should Netflix and other streaming services be required to pay the same fees as cable operators?
That was the question before the Ohio Supreme Court during a hearing on Wednesday, as the court debated whether streaming services like Netflix and Hulu are subject to a state law requiring them to pay to play.
The argument is similar to one heard in several other states, where cities are attempting to compel streaming service providers to pay cable operator fees.
The state's 2007 Video Service Authorization law, which directed the state Commerce Department to determine which entities must obtain permission to physically install cables and wires in a public right-of-way, is at issue in Ohio. Companies classified as video service providers are required by law to pay a fee to local governments.
Maple Heights officials in Cleveland's suburbs argue that streaming services are subject to the fee because their content is delivered over the internet via cables and wires.
In Tennessee, the state Supreme Court will hear arguments from Knoxville against Netflix and Hulu next month. In Missouri, a similar case has been filed by the city of Creve Coeur. Four Indiana cities sued Netflix, Disney, Hulu, DirectTV, and Dish Network in 2020, requesting that they pay the same franchise fees to local governments that cable companies do.
Netflix and Hulu won their arguments last year in related lawsuits filed in Arkansas, California, Nevada, and Texas that they cannot be treated the same as video providers.
Streaming companies claim that their distribution method differs from that of traditional video providers. They also claim that in the Ohio case, it is up to the Commerce Department to label them as a video service provider, which they claim cannot be accomplished through a lawsuit.
The state is siding with the streaming companies, claiming that Ohio's law only applies to companies that build infrastructure to carry cables.
"This is about those who dig; they must pay," Ohio deputy solicitor general Mathura Sridharan told state Supreme Court justices during oral arguments Wednesday. "If they don't dig, they don't have to pay."
A decision from the court is not expected for several months.
Maple Heights' attorneys contend that nothing in the 2007 law requires a video service provider to own or physically access wireline facilities in public rights-of-way in order to be subject to video service provider fees.
Streaming services "could not deliver their video programming to their subscribers" without that equipment, according to Justin Hawal, an attorney for Maple Heights, in a December court filing.
According to Hawal, the "modest 5% video service fee" is not burdensome, but rather represents a small return on the billions of dollars in benefits that streaming services receive nationwide from network infrastructure.
Justices appeared skeptical of Maple Heights' arguments, questioning whether the case was even before the court.
"Shouldn't you be up at the Statehouse a block and a half away instead of trying to change the law?" Justice Pat Fisher questioned Hawal on Wednesday.
According to Hawal, Maple Heights is attempting to apply existing law to a new technology.
Netflix's attorneys claim that the company does not have physical wires and cables and does not require them as part of its internet streaming business model.
Unlike traditional broadcast television, "users can watch content anywhere, at any time, and in any amount, as long as they have an internet connection," said Amanda Martinsek, an attorney for Netflix, in a November filing.
Netflix claims that a growing number of courts across the country have concluded that companies like Netflix and Hulu do not owe provider fees because they are not video service providers.
Netflix's member count fell by 200,000 from January to March, according to the company's quarterly financial report issued on April 19. It's the first time Netflix's subscriber base has shrunk since it was widely available outside of China six years ago. Netflix's decision to leave Russia in protest of the crisis in Ukraine, which resulted in a 700,000-subscriber loss, contributed to this year's drop.
Find the Netflix market share loss in data graphics (Q1) prepared by JustWatch below: 
Since January, Netflix has lost -1% market share, while other platforms like HBO Max gained momentum and added +1%. Prime Video, Apple TV+, and Paramount+ each gained market share as well, proving that Netflix is losing its foothold as the market leader and the market in the US is continuously becoming more competitive.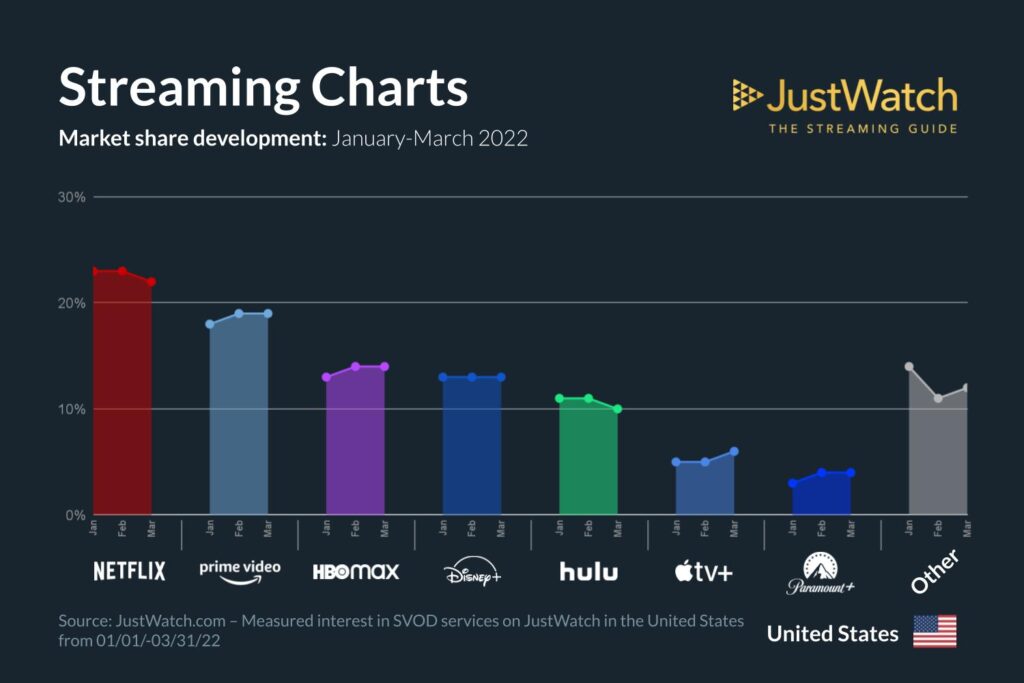 Netflix remains the market leader but has continued to feel the effects of the increasingly competitive market and fell -2% in Q1, and now holds just a 4% margin over Prime Video. HBO Max saw the most growth in Q1, adding +2% market share and overtaking Disney+ and Hulu to become the third-largest streaming platform in the US.