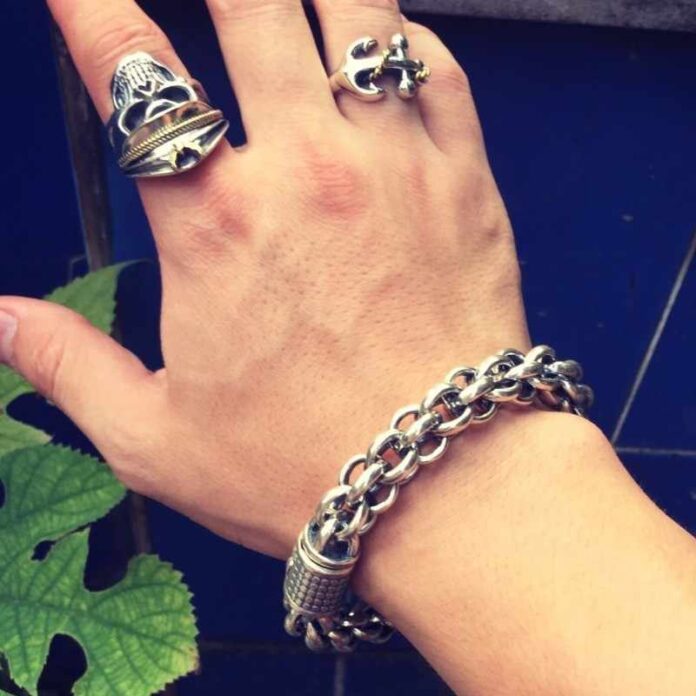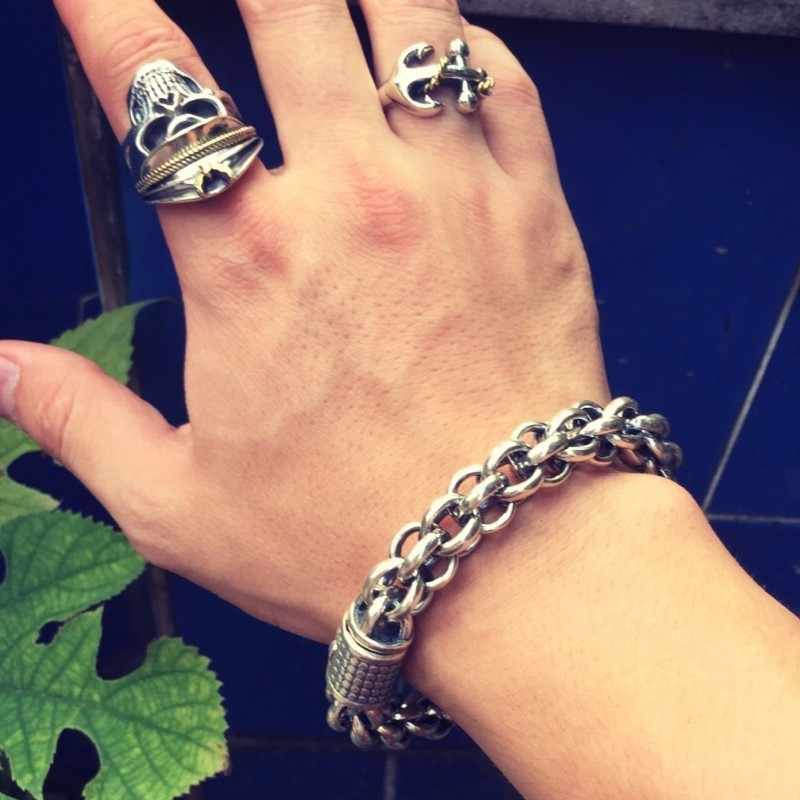 Biker bracelets are an essential element of motorcycle fashion. You can't ignore these heavy and solid items if you are going for a head-to-toe biker look. Luckily, there is a myriad of models to choose from. From chunky Cuban chain bracelets to elegant leather cords, every guy is able to find what he is looking for.
Chain Bracelets
This is the most popular bracelet style among motorcyclists. Durable, imposing, and burly chains are a perfect match for those tough guys on motorcycles. Normally, they select bracelets to be of the same style as their necklaces. See, bikers, although fans of leftfield accessories, take care of cohesiveness, too.
So, chain biker bracelets normally feature simple yet chunky weaving such as Cuban, Figaro, and others. Designers love to add certain accent details to make their look more unique. Those can be skulls resting on a clasp or an intricate closure design. Besides traditional chains, you can easily unearth models with incongruous designs. A bracelet comprising of dozens of little skulls, dragon-scale patterns, or a crown-linked piece will suit a confident and bold individual.
ID Bracelets
Their design is somewhat similar to the previous models, but with a little difference – the centerpiece is a wide metal plate. This style came from the military and became extremely popular among motorcyclists. Maybe it is because of the military past of some of them or due to the masculine appearance, nobody knows for sure. But the fact is that an ID bracelet made of silver or steel will become an eye-catching embellishment for your wrist. You can custom engrave the ID plate so that everyone knows whom this item belongs to or go with design delivered by jeweler stores (such as ubiquitous skulls, flames, Iron Crosses, and other symbols that mean a lot to bikers).
Cuff Bracelets
Nobody wants to be cuffed, yet bikers don't mind flaunting cuff bracelets. Don't think that bangles are only for girls. These wide stiff bracelets will firmly hug your wrist while radiating masculinity and boldness. Designers don't overwhelm these pieces with unnecessary details, so you won't meet gem inlays or enamel finishing. Instead, they prefer to adorn them with intricate carving (resembling Gothic patterns) and embossing. They often feature biker symbolism including totem animals, flames, crosses, skulls, and so on.
Leather Bracelets
Those can be wide and thin, the most important is that these models are made of real leather. No artificial materials can cope with the rigors of the biker lifestyle. Besides, bikers can't stand fakes, whether it is fake people or fake materials.
The most sought-after items are wide bracelets snuggly fitting around the wrist. They evolved from wrist gears designed to prevent fatigue and ensure some protection in the event of an accident. Leather bracelets, of course, don't envision any protection, but they look cool and attract attention.
String and Rope Bracelets
Although bikers flaunt an image of tough and dangerous guys, many motorcycle buffs feature totally different attitudes. They prefer a down-to-earth and romantic Easy Rider-Esque demeanor. If you are one of these motorcyclists, you'll definitely benefit from hemp bracelets. Hemp ropes are normally adorned with silver charms or beads. The coolest way to rock them is to put a few similar in design items on the same wrist.