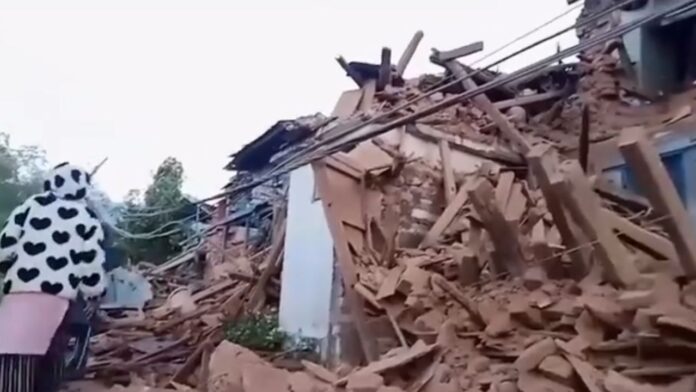 A strong 5.6-magnitude earthquake struck western Nepal late Friday night, resulting in the deaths of more than 150 people as of Saturday morning. Hundreds more have been injured and infrastructure damage is still being assessed.
The powerful quake was centered in the remote, mountainous districts of Jajarkot and Rukum, approximately 500km from the capital Kathmandu. Strong tremors were felt as far as New Delhi, India. Rescue efforts are underway but hindered by difficult terrain.
Devastating Tremors Hit Midnight, Residents Rush Outdoors
The earthquake struck at approximately 11:57 pm local Nepal time on Friday. According to local officials, violent shaking woke residents who ran outside in panic as hundreds of houses and buildings collapsed.
Aftershocks continued to rattle the region over the next hour, terrorizing locals who remained outdoors overnight fearing further destruction. With many roads blocked by landslides, the full extent of the damage is still unclear.
Jajarkot's mayor described scenes of chaos and fear in the immediate aftermath. Hospitals are inundated treating injuries ranging from minor to severe. The current death toll is expected to rise.
Frantic Search Operations Underway, But Challenging
Nepalese military personnel and police have been deployed to impacted areas to provide disaster relief and conduct search-and-rescue missions for earthquake victims. However, operations are severely hampered by blocked roads due to quake-triggered landslides.
With phone lines down in parts of the affected districts, officials have struggled to obtain a comprehensive on-the-ground assessment of the destruction and casualties. Bitter cold overnight has also impeded the mobilization of aid.
Prime Minister Dahal arrived in the region Saturday to oversee recovery efforts after expressing condolences and directing immediate rescue operations. But the difficult terrain leaves many remote villages cut off from assistance.
Infrastructure, Homes Suffer Extensive Damage
Early footage reveals collapsed multi-story brick structures and debris scattered across streets. Nepalese authorities expect the earthquake inflicted heavy damage to infrastructure, though the full scope remains unclear.
Thousands of the rural district's signature mud homes and buildings have been completely destroyed based on initial surveys, leaving residents displaced. Historic structures may also be at risk of damage.
The United Nations' Unicef is evaluating the disaster's impact on Nepalese children and families to direct its humanitarian response. Ongoing aftershocks continue to spark panic and pose dangers.
Nepal Long Accustomed to Seismic Upheaval
Given Nepal's location along the seismically active Himalayas, earthquakes are not uncommon. But the devastation illustrates the vulnerabilities of remote villages in the mountainous nation.
In 2022, an earthquake injured residents in Nepal's Bajhang district. But the country's worst quake devastation occurred in 2015, when nearly 9,000 died from a massive 7.8 magnitude tremor and aftershocks.
The 2015 catastrophe leveled entire villages, damaged Nepal's historic architecture, and rendered hundreds of thousands homeless. Many Nepalese remain psychologically scarred by the horrifying experience.
Relief Efforts Ramping Up, But Recovery Long Road Ahead
In the 2015 quake's aftermath, Nepal's government struggled to direct effective disaster management and relief due to remoteness and lack of preparedness.
Authorities now hope lessons learned will allow a more coordinated early response despite similarly challenging conditions. But recovery will require a massive long-term rebuilding effort.
With frigid temperatures forecast this weekend, delivery of emergency shelter, food, and heating materials is an urgent priority. Once roads reopen, heavier machinery can start debris clearance.
The earthquake is the latest reminder of Nepal's vulnerability to natural disasters. While the full human toll is still emerging, rapid mobilization of national and international aid will be crucial to save lives.