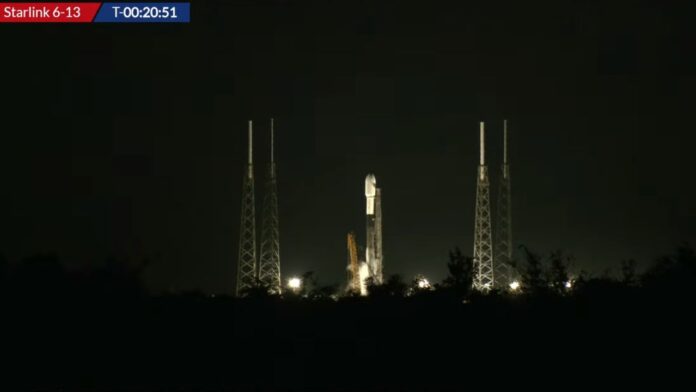 SpaceX is making steady progress towards launching a Falcon 9 rocket from the Kennedy Space Center in Florida this coming Sunday. The rocket will carry another set of 21 Starlink internet satellites, marking the Starlink 6-12 mission.
The planned liftoff time for this mission is currently set for 10:47 p.m. EDT. However, flexibility is in place, as there are five additional launch opportunities within the expansive launch window, which spans nearly four hours and closes at 11:05 p.m. EDT. Fortunately, weather conditions are expected to be favorable for the liftoff to take place smoothly.
When is the SpaceX Launch Tonight?
The anticipated liftoff time for this event is provisionally scheduled for 10:47 p.m. EDT on Sunday, with a generous launch window that spans nearly four hours until 11:05 p.m. EDT. Moreover, alternative launch opportunities remain on the table for the following day, Monday, around the same time.
Barring unforeseen changes, this launch would contribute to a total of 46 launches on the Space Coast for the current year.
If the mission unfolds successfully, it would mark a significant milestone for SpaceX. This would signify their 62nd mission launch in 2023 from their various launch pads located in Florida, California, and Texas. Notably, this count includes the pivotal debut liftoff of SpaceX's prototype Starship and Super Heavy vehicle back in April.
What is the Weather Outlook for the Falcon 9 Launch?
As of the latest update from Space Force forecasters, weather conditions are looking highly favorable for the upcoming launch, with a 90% likelihood of a "go" status throughout the entire launch window.
The forecast provided by the Space Force's 45th Weather Squadron indicates promising conditions for the launch scheduled on Sunday evening. At the commencement of the launch window, dry and favorable weather conditions are anticipated, accompanied by northeasterly surface winds. These conditions are conducive to a successful liftoff.
However, the forecasters do highlight a potential concern involving the presence of a low-topped cumulus cloud. This cloud, if situated in close proximity to the launch pad, could pose a consideration for the mission's execution.
It's worth noting that the conditions for a backup launch opportunity on Monday are expected to closely mirror those of Sunday, suggesting a consistent weather outlook for both launch windows.
Here's What You Need to Know?
Launch Complex 39A at Kennedy Space Center will be the location.
The company's newest group of internet-beaming Starlink satellites make up the payload.
The southeasterly trajectory of the 230-foot Falcon 9 rocket will pass between Florida and the Bahamas.
Rocket launch schedule: upcoming launches and landings in Florida.

'World-class centrifuge': In Titusville, Draper is constructing a special missile testing facility.

It will be the 46th launch from the Space Coast this year if it lifts off on schedule.
With this mission, there were no local sonic booms.
About eight minutes after takeoff, the 130-foot first-stage booster will aim for a drone ship landing.
When will Florida's Space Coast Launch Next?
Florida's upcoming launch is set to feature a United Launch Alliance (ULA) Atlas V rocket.
This mission holds national security significance as it is a collaborative endeavor between the U.S. Space Force and the National Reconnaissance Office (NRO). The primary objective is to transport classified payloads to geostationary orbit. However, during the past week, the NROL-107 mission was postponed due to Hurricane Idalia, prompting ULA to temporarily return the rocket to their vertical integration facility for safety reasons.
Although a new launch date for this mission has not been determined yet, ULA stated their commitment to working closely with the customer and the launch range to identify the optimal launch opportunity. They reassured that a new launch date would be communicated once conditions are deemed suitable for liftoff.
For the latest updates on this mission, stay tuned to FLORIDA TODAY's Space Team, which will provide live launch coverage starting 90 minutes before liftoff.
Furthermore, Cape Canaveral Space Force Station is anticipated to be the launching site for more SpaceX Starlink missions. While the specific timing for the next mission remains undisclosed, updates are expected from SpaceX as preparations progress.