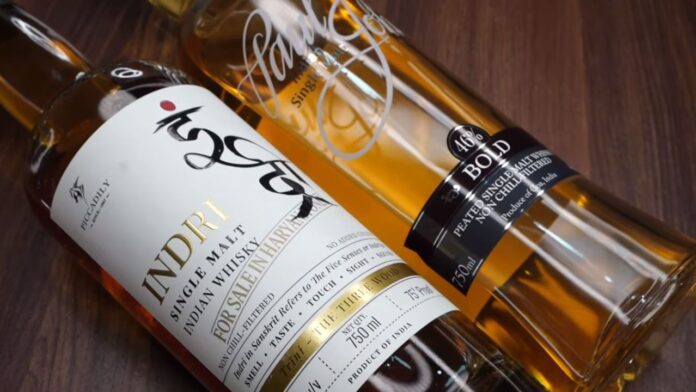 The prestigious title of the world's best whisky brand has been bestowed upon "Indri Diwali Collector's Edition 2023" (Indri whisky), an Indian-made whisky. This remarkable achievement was recognized by Whiskies of the World, who awarded Indri whisky the esteemed "Double Gold Best In Show" accolade during one of the largest whisky-tasting competitions globally. With over 100 different whisky varieties from all corners of the world in the running, Indri whisky emerged as the standout winner.
What is Indri Whisky?
Indri whisky hails from Piccadily Distilleries in Haryana and stands out as a peated Indian single malt whisky. When we talk about "peated" whiskies, we're referring to those with a distinctive smoky flavor, achieved by drying malted barley using peat fires. The character of this flavor is determined by the length and intensity of the peat smoke used in the process.
Read More: Beer Drinking Countries in the World
The craftsmanship of Indri whisky involves the use of six-row barley and traditional copper pot stills, all proudly made in India, as reported by cntraveller.in. This whisky offers a delightful blend of flavors, including smokiness, candied dried fruits, toasted nuts, subtle spices, oak, and bittersweet chocolate.
For those looking forward to savoring this exceptional whisky, you'll be pleased to know that it will be available in the United States and select European countries starting November 2023. Already enjoying popularity, Indri whisky is currently accessible in 19 states across India and 17 other countries.
What is the Whiskies of the World Awards?
The Whiskies of the World Awards is an annual event dedicated to honoring and celebrating exceptional whiskies from across the globe. This prestigious award serves as a platform for distilleries and alcohol producers to showcase their offerings and vie for the coveted recognition.
Notably, Indri whisky has made history by becoming the first Indian whisky to clinch this prestigious accolade.
What is a Single Malt Whisky?
Blended whiskies usually come together through a combination of single malt whiskies and grain whiskies sourced from various distilleries. On the other hand, a single malt whisky is exclusive to a single distillery and is typically crafted using one type of malted grain, commonly malted barley.
Read Also: Countries With Highest Soda Consumption
It's worth noting that a single malt whisky doesn't necessarily have to originate from a single whisky cask; it can incorporate blends from multiple casks. As long as all these casks hail from the same distillery, the resulting blend maintains its classification as a single malt.
India's Single Malt Whiskies
Some of the renowned Indian single malt whiskies that have made a name for themselves in the world of spirits include Amrut Fusion, Paul John Mithuna, Rampur Double Cask Single Malt Whisky, Paul John Brilliance, Rampur Asava, and Kamet Single Malt, among several others.