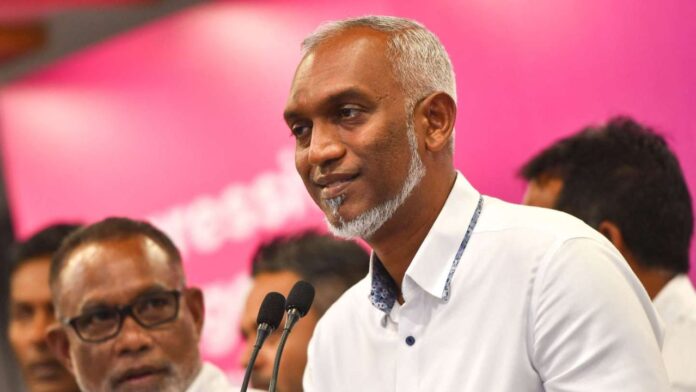 Mohamed Muizzu has won the Maldives' presidential election after a second-round run-off against incumbent Ibrahim Mohamed Solih. The poll was considered as a litmus test for the Indian Ocean archipelago's budding democracy, as well as its ties with China and traditional patron India.
Muizzu, 45, leads a party that welcomed an infusion of Chinese loans while in office and supervised a broad crackdown on opposition.
After the Maldives Elections Commission announced that Muizzu had won 54.06 percent of the vote in the run-off election, incumbent Ibrahim Mohamed Solih acknowledged defeat shortly before midnight.
"Congratulations to President-elect Muizzu," Solih posted on the social media platform X, formerly known as Twitter.
"Thank you for the beautiful democratic example shown by the people in the elections," he said.
Solih, 61, will serve as acting president until his replacement is sworn in on November 17.
During the first round of voting on September 8, Muizzu, 45, emerged as the surprise frontrunner, receiving 46 percent of the votes polled. Solih received 39 percent of the vote, despite poor voter turnout and a schism within his Maldivian Democratic Party (MDP).
The run-off election was viewed as having significant ramifications for the Maldives' foreign policy, particularly in determining China and India's war for influence in the strategically positioned country. Additionally, you can also read about- Largest US Health Care Strike in History Looms as Contract for 75,000 Workers Expires
"Today's outcome reflects the patriotism of our people." "A call to all our neighbors and bilateral partners to fully respect our independence and sovereignty," Mohamed Shareef, a key official in Muizzu's Progressive Party of Maldives, was quoted by the Associated Press news agency as saying.
Muizzu, the mayor of Male, made a brief visit outside his party's campaign headquarters to urge supporters not to celebrate until Sunday morning, when campaign restrictions are lifted.
Muizzu, a former housing minister, was instrumental in an earlier government's construction program, which was funded in part by financial assistance from China's Belt and Road infrastructure effort.
Last year, he told Chinese Communist Party officials that his party's return to power would "write a further chapter of strong ties between our two countries."
The party's return to power may also entail the release of Muizzu's mentor, former President Abdulla Yameen.
Yameen, who was deposed in 2018 after bringing the country closer to China and becoming increasingly dictatorial, is serving an 11-year prison sentence for corruption and money laundering. According to his supporters, the charges against him are politically driven.
Transparency Maldives, a watchdog group, stated there had been several cases of "electoral violence," but provided no further specifics.
There were around 282,000 eligible voters, and turnout was 85%, somewhat higher than in the first round.
Read More: US Senator Bob Menendez and His Wife Charged With Bribery, Conspiracy, and Honest Services Fraud
India, China Angle
Solih, who was elected president for the first time in 2018, was facing claims from Muizzu that he had allowed India an unchecked presence in the country.
Solih has stated that the Indian military's presence in the Maldives is solely for the purpose of constructing a dockyard under a bilateral agreement, and that his country's sovereignty will not be compromised.
Muizzu stated that if elected, he would withdraw Indian troops from the Maldives and balance the country's trade connections, which he believed were highly skewed in favor of India.
Former Maldives foreign minister Ahmed Shaheed interpreted the result as a verdict on the government's failure to achieve economic and governance aspirations rather than fears about Indian influence.
"I don't think India was at all in the people's minds," Saheed stated.
Closer to the election, Solih suffered a blow when Mohamed Nasheed, a charismatic former president, broke away from his Maldivian Democratic Party (MDP) and ran his own candidate in the first round. In the second round, he chose to remain impartial.
"Nasheed's departure took the motherboard away from the MDP," Shaheed stated.
During his administration from 2013 to 2018, Yameen, the leader of the Maldives' Progressive Party, included the Maldives in China's Belt and Road Initiative. The program aims to create railroads, ports, and highways in order to increase trade and China's influence across Asia, Africa, and Europe.
Nonetheless, Muizzu is unlikely to abandon his foreign policy of giving India a prominent place. Rather, opposition to Chinese projects is likely to decrease, balancing power, according to Shaheed.