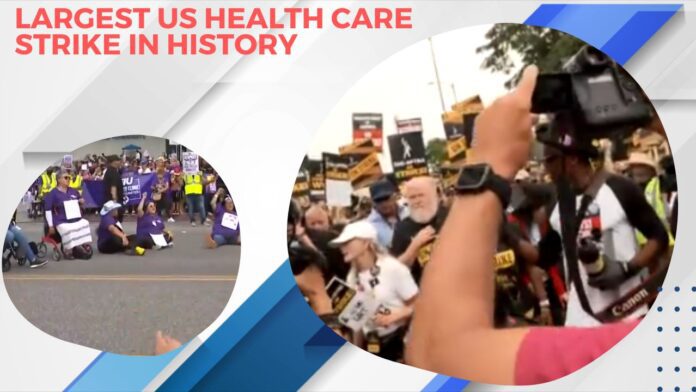 A labor contract covering a substantial number of unionized healthcare workers in five states and Washington, DC, is nearing its expiration, scheduled for Saturday at 11:59 pm PT. This situation could potentially lead to the largest healthcare strike in U.S. history.
Over 75,000 healthcare employees employed across numerous Kaiser Permanente facilities are planning to go on strike from October 4th to October 7th if an agreement is not reached.
Although hospital management, doctors, and registered nurses are not part of this work stoppage, experts suggest that patients receiving care at Kaiser Permanente, one of the country's largest nonprofit healthcare providers, may experience disruptions as a result of the strike.
Close to half of Kaiser Permanente's Workers may Strike
A coalition of eight unions is representing the workers who are considering striking in California, Colorado, Oregon, Washington, Virginia, and Washington, DC. These workers fill various healthcare support roles, including nursing assistants, x-ray technicians, pharmacists, optometrists, and more. According to Renee Saldana, a spokesperson for the Service Employees International Union-United Healthcare (SEIU-UHW), which is the largest union in the coalition, these unions collectively represent around 40% of Kaiser Permanente's entire workforce.
In response to the potential strike, Hilary Costa, a spokesperson for Kaiser Permanente, shared a statement with CNN on Thursday. Costa mentioned that there has been progress in the negotiations and urged workers to reconsider their plans for a strike.
Read More: Safest Countries in the World
Costa stated, "While the threat of a strike is disappointing, it doesn't necessarily mean a strike will take place. We take any potential disruption of care for our members seriously and have plans in place to ensure that we can continue delivering high-quality care should a strike indeed occur next week."
A short-term strike at Kaiser Permanente is unlikely to significantly impact the company's revenue. Unlike traditional fee-for-service medical systems in the United States, Kaiser Permanente's patients pay membership dues for healthcare services. Kaiser Permanente boasts a membership of 12.7 million individuals and operates 39 hospitals and 622 medical offices, as stated on its website.
In the event that a resolution isn't reached following a potential strike in October, the Service Employees International Union-United Healthcare (SEIU-UHW) mentioned that the coalition is ready to initiate a "longer, stronger" strike in November. This would coincide with the expiration of a separate contract for some unionized employees in Washington state, potentially increasing the number of workers participating in the strike.
The coalition's demands include across-the-board raises to address the rising cost of living, job security against outsourcing and subcontracted workers, updates to retiree medical benefits for employees, and a plan from Kaiser Permanente to tackle a staffing shortage described as a "crisis" that has left employees feeling overworked, according to information on SEIU-UHW's website.
Renee Saldana, a spokesperson for SEIU-UHW, noted, "Workers are really feeling the squeeze right now. They've endured the worst global health crisis in a generation, and now they're concerned about paying rent, losing their homes, and even ending up living in their cars."
Efforts to Reach a Deal are Ongoing
The most recent update from the coalition indicates that there is still a significant gap between the two sides in contract negotiations. The coalition is requesting a 6.5% raise across the board for the first two years of the labor contract, followed by a 5.75% raise in the subsequent two years. On the other hand, Kaiser Permanente has reportedly offered a maximum 4% raise for the initial two years of the contract and a 3% raise for the following two years, according to information available on the SEIU-UHW website.
Betsy Twitchell, a representative for the coalition of Kaiser Permanente unions, informed that contract negotiations with Kaiser Permanente management are scheduled to continue on Saturday, just ahead of the 11:59 pm deadline.
Twitchell emphasized, "An agreement cannot be reached until Kaiser executives engage in good faith negotiations with frontline healthcare workers to address the staffing challenges at Kaiser."