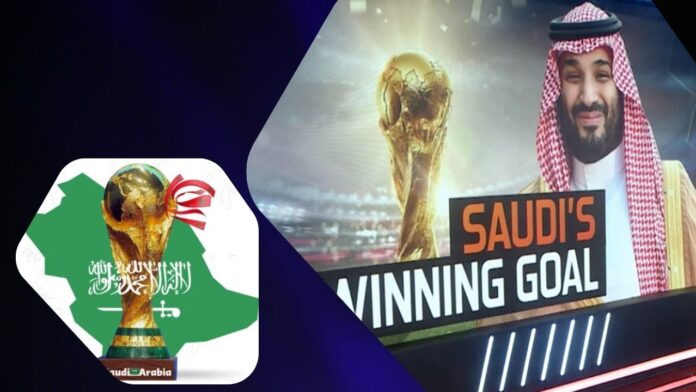 Saudi Arabia is poised to host the 2034 FIFA World Cup after the Australian football federation declined to enter the bidding contest, leaving the Gulf nation as the sole candidate to host the global soccer tournament.
FIFA, world soccer's governing body, had set a Tuesday deadline for countries to submit bids to host the 2034 World Cup. With Australia opting not to bid, Saudi Arabia has a clear path to being awarded the hosting rights, pending official approval from FIFA expected next year.
The decision not to bid was announced by Football Australia, the governing body for soccer in Australia, in a statement on Tuesday.
"We have explored the opportunity to bid to host the FIFA World Cup and – having taken all factors into consideration – we have reached the conclusion not to do so for the 2034 competition," the statement said.
Securing the World Cup would cap Saudi Arabia's aggressive efforts in recent years to establish itself as a major player in global sports. The kingdom has spent lavishly to recruit star soccer players to its domestic league, acquired English club Newcastle United, backed the upstart LIV Golf tour, and hosted major boxing bouts.
Australia will not bid for the 2034 World Cup, clearing the way for Saudi Arabia to host the tournament.

— Ahmed Al Omran (@ahmed) October 31, 2023
When FIFA awarded the 2030 World Cup hosting rights to Spain, Portugal and Morocco earlier this month, it also announced an expedited bidding process for 2034, limiting it to Asian and Oceania soccer federations.
The tight deadline gave prospective bidders less than four weeks to mount a bid. But within hours of FIFA's announcement, the Saudi Arabian Football Federation declared plans to bid for 2034, and received the backing of the Asian Football Confederation.
Saudi Arabia Expanding Sports Infrastructure Ahead of 2034 World Cup
Saudi Arabia has embarked on widespread construction and renovation of stadiums in anticipation of hosting the 2034 World Cup. FIFA requires host countries to have at least 14 stadiums capable of hosting tournament matches.
Today, we enter the next chapter of Saudi football: intending to bid to host the 2034 FIFA World Cup™

Our bid is inspired by Saudi Arabia's transformation journey, the passion of our fans, and a commitment to deliver an amazing tournament.#Saudi2034
Learn more ➡… pic.twitter.com/zmpNt86Ksl

— الاتحاد السعودي لكرة القدم (@saudiFF) October 4, 2023
"Hosting a FIFA World Cup in 2034 would help us achieve our dream of becoming a leading nation in world sport and would mark a significant milestone in the country's transformation," said Saudi Arabia's Sports Minister Abdulaziz bin Turki Al Faisal.
The kingdom is also scheduled to host the 2027 Asian Cup, further cementing its ambitions to become a regional sporting hub. Saudi officials view hosting major sporting events as integral to the country's economic diversification plans and global status.
"As an emerging and welcoming home for all sports, we believe that hosting a FIFA World Cup is a natural next step in our football journey," the sports minister added.
Human Rights Groups Criticize FIFA Over Saudi World Cup Bid
The likely awarding of the 2034 World Cup to Saudi Arabia has drawn criticism from human rights groups who accuse FIFA of failing to uphold its own human rights policies.
Human Rights Watch said that FIFA is shirking its responsibilities under Article 7 of its human rights policy, which requires the organization to "constructively engage with relevant authorities and other stakeholders and make every effort to uphold its international human rights responsibilities."
"The possibility that FIFA could award Saudi Arabia the 2034 World Cup despite its appalling human rights record and closed door to any monitoring exposes FIFA's commitments to human rights as a sham," said Minky Worden, director of global initiatives at Human Rights Watch.
Saudi Arabia has faced ongoing condemnation from rights groups over its suppression of dissent, restrictions on women's rights, mistreatment of migrant workers, and the 2018 killing of journalist Jamal Khashoggi.
FIFA awarding hosting rights to Saudi Arabia could be viewed as overlooking the kingdom's human rights record in favor of its status as an ultra-wealthy sports investor.
Saudi Arabia Dismisses 'Sportswashing' Criticisms
Saudi Arabian officials have pushed back against accusations that initiatives like the World Cup bid amount to "sportswashing" – using sports to polish the kingdom's reputation and deflect from human rights controversies.
In an interview last month, Saudi Crown Prince Mohammed bin Salman said projected economic benefits outweigh criticisms of the country's human rights record.
"If sportswashing was going to increase my GDP by way of 1 percent, then I will continue doing sportswashing," he said. "I don't care. One percent growth of GDP from sport and I'm aiming for another one-and-a-half percent. Call it whatever you want, we're going to get that one-and-a-half percent."
The World Cup is projected to provide a significant boost to Saudi Arabia's economy and global prestige. With Australia's withdrawal, FIFA is widely expected to greenlight the kingdom's bid in 2023, allowing preparations for the 2034 tournament to ramp up.
Securing the World Cup represents a crowning achievement in Saudi Arabia's multi-billion dollar sports diplomacy push – even as human rights groups promise continued scrutiny over the kingdom's ongoing reforms.