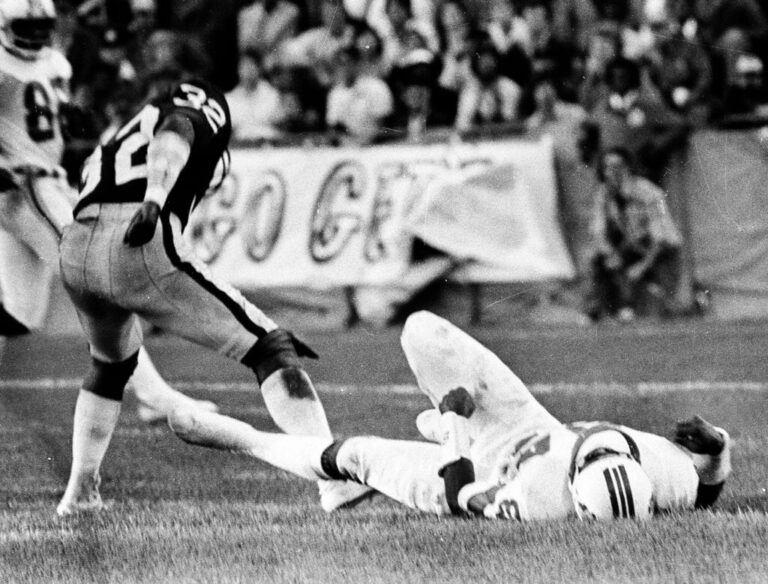 Football is a tough sport in which the players know that they could suffer a nasty injury. Thankfully, most games end without any serious damage being done, but the following are a few horrific examples of bad injuries that have occurred in the NFL.
Rashad Johnson Lost Part of His Finger
In 2013, Johnson was playing for the Arizona Cardinals against the New Orleans Saints when he felt his hand go numb. Trainers then cut off his glove and found that the top part of the middle finger of his left hand had come off and was still in the glove.
It isn't clear exactly what happened, but the player thinks that his finger was driven into the ground after he had tackled Darren Sproles, leading to it snapping off. It was a bizarre incident that only kept him out for a couple of games.
Doctors sewed up his wound after sawing down the bone to prevent infection. It didn't seem to harm his career, but the weird nature of the injury, and the gruesome photos Johnson tweeted, has made it stick in people´s minds ever since.   
Leonard Weaver's Leg Bent Horribly
Weaver was playing for the Philadelphia Eagles against the Green Bay Packers in the first game of the 2010 season when he was tackled and his leg bent sideways at a horrible angle. He had just signed a three-year deal with the Eagles but this would be the last time he ever played in an NFL game, as he was forced to retire due to the injury.
It seems that he went left instead of right on the play, leading him into a pack of rival players. His planted left leg came up against a helmet on the ground and TV viewers winced as his leg was seen to bend nastily.
Read Also: Lionel Messi Becomes Football's Second Billionaire
Weaver's ACL was destroyed and the muscle around his knee was savaged. He was released by the Eagles when he failed the fairly simple medical that his contract called for. Thankfully, he had received a guaranteed $6.5 million of his $11 million contract before this happened.
Johnny Knox's Career Was Ended by a Collision
Wide receiver Knox joined the Chicago Bears in the 2009 draft, but his career was ended in a 2011 game against the Seattle Seahawks, just days after the birth of his second child. He was trying to collect a fumble when he crashed into Anthony Hargrove head-on. 
The sickening collision damaged a vertebra and Knox needed to undergo surgery right away. He was unable to get back to full fitness and was said to be left with a limp and difficulty standing for a long time after the incident. 
Knox admitted he couldn't get back to the same physical level he was at before the injury, but said that he was relieved not to have ended up paralyzed due to the incident. Injuries like this can greatly affect NFL playoff futures by taking a star player out the action for a long time.
Darryl Stingley Was Paralyzed by a Brutal Hit
One of the saddest stories of the NFL involved New England Patriots wide receiver Darryl Stingley. He was playing in a pre-season game against the Oakland Raiders in 1978 when he tried to reach a mis-directed pass. 
Stingley's helmet connected with Jack Tatum's shoulder pad in a brutal collision that smashed two of his vertebrae. The wide receiver was left paralyzed for life and died in 2007 from issues linked to quadriplegia. At the time of the injury, he was preparing to sign a new contract that would have made him one of the best-paid players in the NFL.
The incident that led to his devastating injury remains controversial, as it wasn't called as a foul play at the time and Tatum apparently never fully apologized for his part in the injury.
If you want to read more about NFL gruesome injuries click here to read BetAmerica's article: https://extra.betamerica.com/nfl/most-gruesome-injuries-nfl-history/
Stay safe and always were your protective gear!