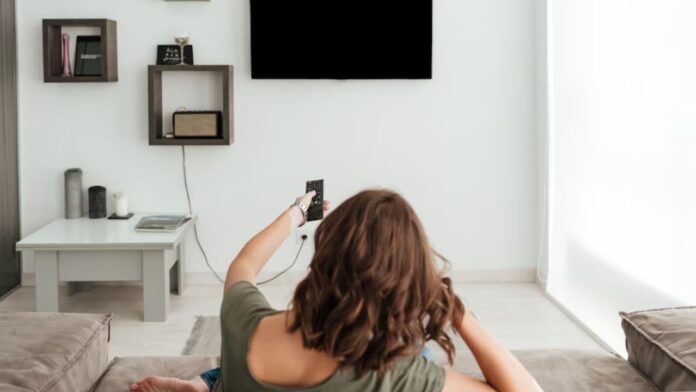 You may have spent a lot of money on a 1080p or 4K-resolution TV with excellent visual quality. However, have you ever thought to yourself that the audio quality produced by the TV's little internal speakers is subpar? Simply by connecting a soundbar to your TV, you may significantly boost sound quality. You may take the upgrading a step further by purchasing a soundbar that includes a subwoofer. Go all out and invest in a complete surround sound system with a soundbar as its centerpiece for a really cinematic experience at home.
Whatever option you choose, the audio that goes along with the immersive visual quality you've come to expect will finally give your favorite TV shows, sporting events, and movies justice. The prices of the TV soundbars in this roundup range from less than $200 to over $1,700. There are some really nice quality TV soundbar options that are extremely reasonable, depending on the size of your viewing space and TV, such as the Roku Streambar Pro. However, if you have a larger budget and require high-quality audio, options such as the Samsung Q910C or Sonos Arc will be an excellent addition to your TV.
Best TV soundbars for substantially enhancing the sound quality of your TV
It is not required to get a soundbar that is manufactured by the same company as your television. Staying with the same brand will provide certain flawlessly integrated functions in a few circumstances, but for the most part, any TV soundbar from any manufacturer will operate with any TV that has an HDMI connector or an Optical Audio connection. Simply reprogram your remote control to control both the TV and the soundbar with the same device.
This collection of the top TV soundbars includes models from Samsung, Vizio, Roku, Sonos, Polk, Bose, and JBL. Any of these can improve the audio quality of anything you're watching on TV, even your favorite streaming material.
Best TV soundbar overall: Samsung Q910C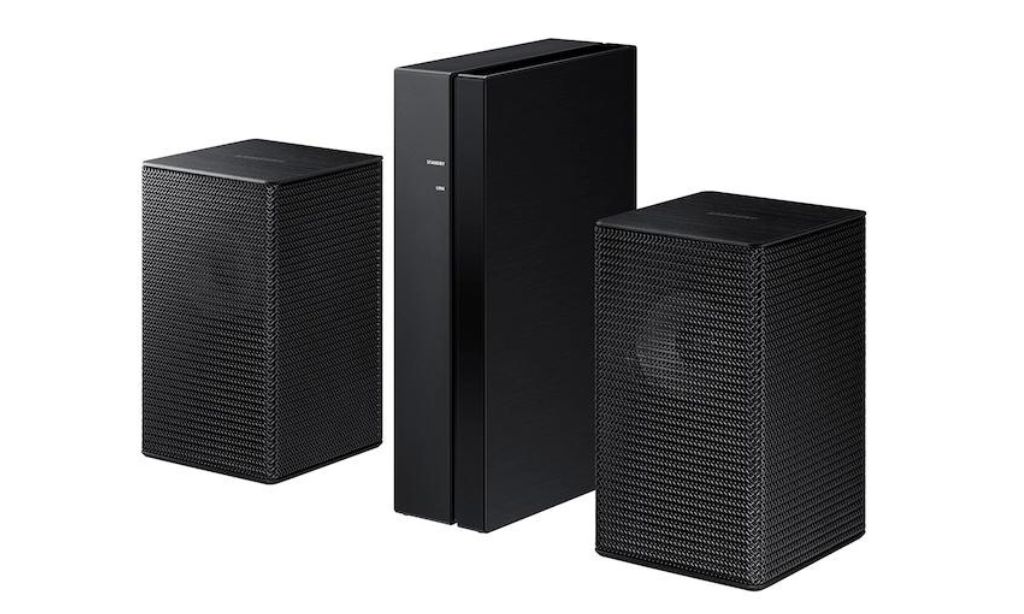 Samsung has done an excellent job in recent years in developing an attractive selection of televisions and soundbars that can make establishing an immersive home theater setup a breeze. The Q-Series Q910C is a Dolby Atmos soundbar with 9.1.2 channels that comes with a wireless subwoofer, two satellite speakers, and a remote. While it may be utilized effortlessly with a Samsung TV, allowing customers to enjoy Samsung's Q-Symphony sound, this sound system will operate with any TV that has Bluetooth capabilities or an HDMI or Optical Audio connector.
The Q910C can provide room-filling sound that self-calibrates to the space it's in, as you'd expect from a higher-end TV surround sound system with a soundbar as its centerpiece, thanks to a feature Samsung calls SpaceFit SoundPro. When this is combined with Dolby Atmos support, which produces amazingly clear and lifelike sound, you'll be drawn into whatever you're watching. The Q910C may operate almost totally wirelessly, reducing cable clutter. There is a power cord, but the TV, soundbar, and satellite speakers can all be connected wirelessly.
Speaking of wireless, if you own an Apple device, you can utilize AirPlay to broadcast audio files from your Mac, iPhone, or iPad. In addition, the Q910C supports Samsung's Game Mode Pro and produces 3D sound in conjunction with many of your favorite games. Another useful feature is the Active Voice Amplifier (AVA), which improves the clarity of all dialogue even while music and sound effects are playing. We chose the Q910C as our top option because it is a reasonably priced, full surround sound system based around a soundbar. It produces high-quality, clear, and natural-sounding audio.
Pros:
A comprehensive surround sound system with a subwoofer and rear speakers is included.
You can listen to 9.1.2 channel Dolby Atmos audio.
When connected to a Samsung TV, it offers Q-Symphony functionality.
The soundbar analyzes its surroundings and adjusts the sound in real time.
The Active Voice Amplifier ensures dialogue is not drowned out by music or sound effects, so it's easier to understand.
Cons:
Chromecast compatibility is not included.
This soundbar does not support HDMI passthrough at 4K 120Hz or VRR.
Best budget TV soundbar: Vizio V Series V5.1 H6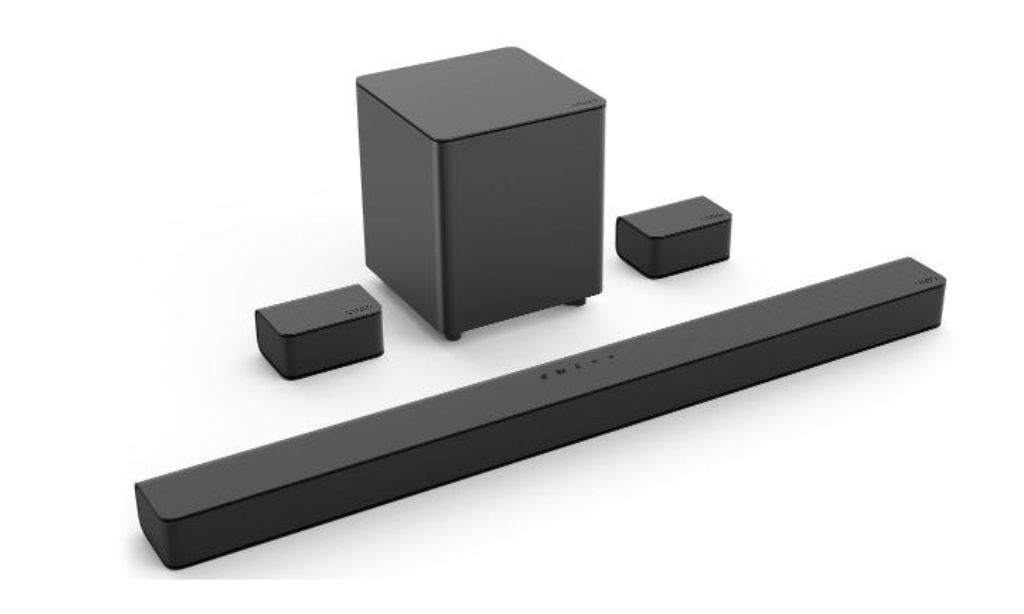 Vizio has demonstrated that you don't have to pay a fortune to get a good soundbar for your TV to improve the audio quality of whatever you're watching. In fact, you can get your hands on this Vizio V-Series 5.1 home theater soundbar for approximately $200. To complete the surround sound listening experience, it has a five-inch wireless subwoofer and two detachable speakers that may be utilized as battery-powered back speakers.
No, you don't get Dolby Atmos compatibility, and the sound quality isn't as good as it would be from a high-end system, but for those on a tight budget, the Vizio V-Series 5.1 improves the sound quality you'll hear compared to other speakers built into TVs owing to DTS Virtual X support. After all, you get a total of six speakers with this system. To connect the soundbar to your TV, all you need is a single HDMI wire.
When the satellite speakers are attached to the soundbar, you hear terrific audio, but the actual surround sound kicks in when you separate the two satellite speakers and set them behind you. The Vizio V-Series 5.1 includes a lighted remote with a small digital display on the front, which is a great touch. Using Bluetooth, you may also wirelessly stream music or audio to the Vizio V-Series 5.1 from your smartphone.
Pros:
With a soundbar, subwoofer, and two rear speakers, you may enjoy a full surround sound system.
The immersive sound is enhanced by Dolby Audio 5.1, DTS:X, and DTS TruVolume support.
The remote contains a digital display with preset EQ modes for movies, games, and other activities.
Cons:
There's no Dolby Atmos support.
Overall, the sound quality is adequate, although there are better options available for a higher price.
Best value TV soundbar: Roku Streambar Pro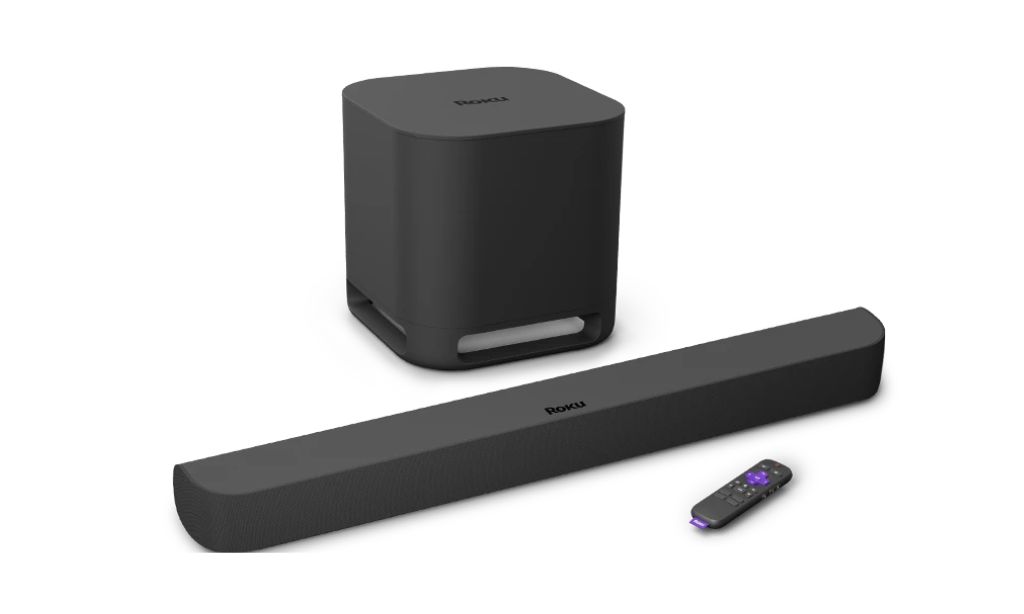 We chose the Roku Streambar Pro as the best value TV soundbar because it provides truly high-quality audio without the need for a subwoofer for the price (about $180 on Amazon). Roku does, however, include an optional subwoofer and rear speakers that may be added at any moment to form a full surround sound system.
This Roku soundbar is distinguished by two features. First, it includes Roku streaming capabilities, allowing you to easily use Roku's smart TV feature, which lets you to access all of the main streaming services (including the free Roku Channel) even if the TV to which the soundbar is attached is not a smart TV. You can also control your TV and soundbar with the supplied voice remote. Furthermore, if you desire a more private viewing/listening experience, you can attach wired headphones straight to the remote. If you don't want to use the Roku remote, you can use the Roku app to control the soundbar wirelessly from your smartphone.
The sound quality is the most compelling argument to add the Roku Streambar Pro to your TV. It's comparable to soundbars that cost three to four times as much and are more complicated to set up and use.
Pros:
Roku streaming capabilities are embedded into the soundbar, allowing it to convert any TV into a smart TV or provide RokuTV OS streaming capabilities to a smart TV.
Enjoy powerful, room-filling sound that rivals the quality of much more expensive soundbars.
The Roku Voice Remote includes a 3.5mm audio connector, allowing wired headphones to be plugged in for private listening.
Cons:
The bass is not as powerful as it could be because there is no subwoofer.
Best premium soundbar: Sonos Arc
Sonos is one of the world's most respected home speaker brands, so it stands to reason that the firm would create a soundbar that is compatible with practically any TV and capable of improving the sound that TV produces. The Sonos Arc is a stand-alone soundbar with a compact profile and graceful rounded corners. The Arc's ability to provide realistic sounding spatial audio without requiring a full surround sound system is, however, what consumers like the most. This is accomplished by incorporating up-firing drivers into the soundbar, which discharge sound in all directions throughout the room.
Of course, if you want to be fully surrounded by sounds, you can upgrade your Arc at any moment with a Sonos subwoofer and back speakers. Because all Sonos speakers can communicate with one another, the Arc can be part of a whole-home audio system controlled by the Sonos mobile app or voice commands. Touch controls are even embedded into the soundbar itself.
The Arc connects to a TV through HDMI, but it also supports Wi-Fi, Bluetooth, and AirPlay 2. Using the Sonos app, you can enable the Speech Enhancement option, which works especially well when watching movies, allowing you to hear the conversation during moments that also include music and/or sound effects. The Arc soundbar can use the microphones included into an iPhone to calibrate and tune the soundbar's EQ based on its surroundings to ensure the audio from the Arc sounds fantastic in whatever room you set it up in.
Pros:
The sleek appearance of the soundbar is unobtrusive.
With Dolby Atmos compatibility, you can enjoy more immersive audio.
Enjoy a large soundstage and dynamic sound.
Cons:
It does not support DTS or DTS:X.
It lacks an HDMI passthrough.
It doesn't support Bluetooth streaming.
Best small TV soundbar: Sonos Bean Gen 2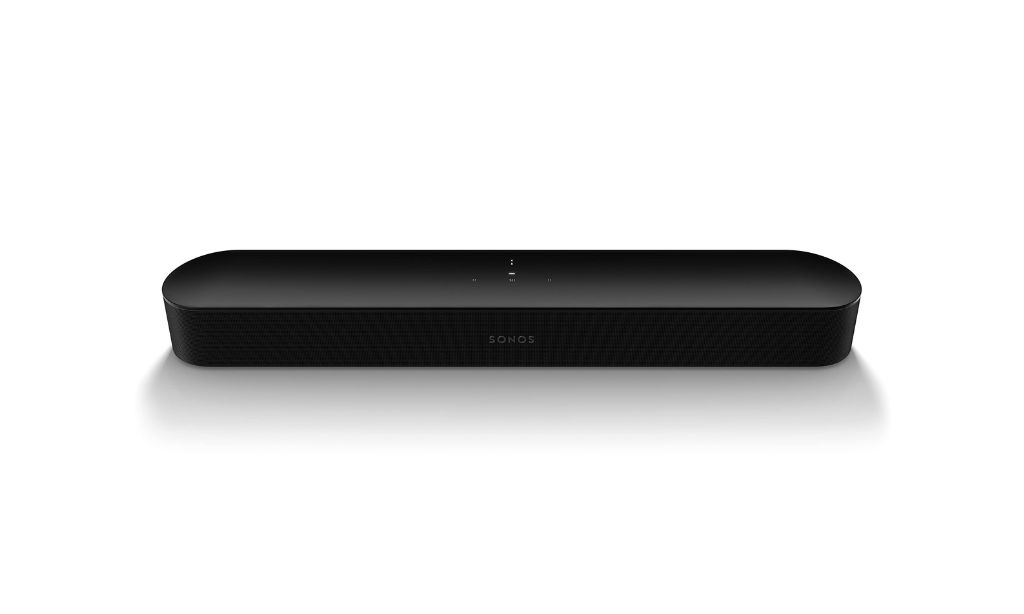 The Sonos Beam (Gen 2) is physically smaller than the Arc (it is 25.63 inches long), but it shares a lot of the same audio technology. In other words, the Beam can generate spatial audio, making the sound from TV shows, movies, and sporting events, for example, appear to surround you–all without the need for a subwoofer and back speakers. And, like the Arc, the Beam supports Dolby Atmos.
Beam may be operated via the Sonos app or voice commands, in addition to the touch controls included within the soundbar. Wi-Fi, Bluetooth, and Apple AirPlay 2 are also supported by the soundbar. Furthermore, the Beam can be used in conjunction with any other Sonos speakers across your home. However, if you want your TV to provide real surround sound with deep bass, you can connect a Sonos subwoofer and rear-speakers to the soundbar (available separately).
Beam works best in a small- to mid-sized space, such as a living room or bedroom, and is best suited for smaller TVs (65 inches or smaller). If you want to fill a larger space with immersive audio, consider the Sonos Arc, which is larger and more powerful while still offering the same core collection of higher-end components and features. Five Class-D digital amplifiers, three passive radiators, one center tweeter, and four elliptical mid woofers are built inside the Beam. You may manually modify the bass, treble, and loudness, as well as activate the soundbar's Speech Enhancement feature, using the Sonos mobile app.
Pros:
Enjoy a large soundstage and powerful sound from a compact soundbar.
Activate features like Speech Enhancement in the Sonos app for clearer speech, especially when music or sound effects are playing.
The Sonos app has EQ controls for bass, treble, and volume.
The soundbar is simple to connect to other Sonos speakers and/or a subwoofer (sold separately).
Cons:
Because there is no subwoofer, it lacks robust bass.
The maximum loudness isn't really loud.
Best soundbar for 55-Inch (or Smaller) TVs: Polk Audio MagniFi Mini AX
In conjunction with its accompanying wireless subwoofer, the Polk Audio MagniFi Mini AX offers a smaller soundbar capable of producing exceptionally powerful (as well as crisp and clear) sound in smaller settings. This soundbar supports a variety of audio codecs, including Dolby Atmos, DTS:X, and Polk's own 3D audio technology, allowing it to produce spatial sounds without the use of rear speakers.
This is also one of the few soundbars that can link to Google Chromecast, Apple AirPlay 2, Spotify link, and Bluetooth wirelessly. This means you can wirelessly stream audio content to the soundbar from your iOS or Android mobile device. The soundbar itself is Roku TV compatible and connects to your TV via an HDMI, Optical Audio, or AUX connection.
Simply use the VoiceAdjust option while watching content when hearing clear dialogue is critical. This makes use of the soundbar's center speaker to boost the volume and clarity of voices without compromising the rest of the audio. You may also effortlessly switch between a few audio presents with the provided remote. While the Polk Audio MagniFi Mini AX soundbar's sound quality, size, and design are all excellent, our main criticism is the small size of the bundled wireless subwoofer. It measures 15.6 x 14.6 x 7.2 inches and is intended to be placed away from the soundbar.
Pros:
A tiny soundbar provides room-filling sound.
The movie mode converts audio to a virtual 360-degree surround sound experience.
The VoiceAdjust feature ensures that the dialogue is clear and does not interfere with the rest of the audio.
You can activate one-touch audio presets using the remote.
This soundbar works with any size TV, although it works best in a small- to medium-sized room with a smaller TV.
Cons:
Its virtual spatial audio isn't as powerful as it could be.
It does not contain built-in up-firing speakers.
Best soundbar for 65-Inch (or larger) TVs: Bose Smart Soundbar 900
Bose is a well-known designer and manufacturer of high-end home audio speakers, as well as popular noise-cancelling headphones and earbuds. Indeed, the Bose QuietComfort Earbuds II are among our top picks. When it comes to TV soundbars, the company's high-end Bose Smart Soundbar 900 just cannot be beat. This is a stand-alone soundbar, but it is compatible with Bose subwoofers and rear-speakers, which are available separately to form a real surround sound system.
The Bose Smart Soundbar 900 supports Dolby Atmos and has two Bose-designed up-firing dipole speakers. These combine with Bose's TrueSpace spatial audio processing to create audio that appears to surround you. This soundbar not only looks modern and stylish, but it's also loaded with technology, including support for Google Assistant and Alexa. Furthermore, the Voice4Video technology automatically improves dialogue clarity. The soundbar connects to a TV through a single wired connection (HDMI or Optical Audio), but it also supports Wi-Fi, Bluetooth, AirPlay 2, and Spotify Connect, making it simple to stream audio from other devices to be heard through the soundbar.
Your smartphone may be used to manage the Bose Smart Soundbar 900 via the Bose Music app, but it also supports voice requests via Alexa or Google Assistant. One fascinating feature is that you may make and receive Internet-based calls and converse with other users of Bose smart speakers (or Alexa-compatible smart speakers and home hubs) from your TV (and the soundbar) without using a smartphone. Finally, regardless of the sort of TV you want to connect the Bose Smart Soundbar 900 to, there's a lot to enjoy about it.
Pros:
This soundbar provides wide and rich audio, including the use of up-firing transducers, which contribute to a virtual 360-degree audio experience.
It has an eye-catching design that is both aesthetically beautiful and slender.
For private listening, the soundbar pairs with Bose wireless headphones or earbuds.
Cons:
It does not produce true surround sound.
The bass is not as rich and deep as it may be (unless a subwoofer is used).
Best soundbar with surround sound system: Bose Premium Home Theater System
The Bose Premium Home Theater System includes a Bose Smart Soundbar 900 as well as a popular and powerful Bass Module 700 wireless subwoofer, which delivers a tremendous amount of bass to whatever you're viewing. This set of Bose audio equipment pairs well with any TV and can fill a medium to large room with superb sound. You may also add a set of Bose surround speakers (available separately) for a genuine surround sound listening experience.
Even without the addition of surround speakers, the Bose Smart Soundbar 900 can provide 360-degree spatial audio that fully utilizes Dolby Atmos. The soundbar itself employs nine speakers to produce multi-directional, room-filling sound, which can be modified using the Bose Music app. While it is a little pricey, the Bose Premium Home Theater System stands up to its "premium" moniker.
There are less expensive Bose soundbars, such as the Bose Smart Soundbar 300, 600, and 700, as well as the less expensive Bose Bass Module 500 wireless subwoofer, but the combination of the company's top-of-the-line soundbar and subwoofer makes a really fine combination that works well with any size TV.
Pros:
The soundbar and subwoofer combination provide a satisfying and cinematic listening experience.
You can personalize the sound by adjusting the bass and treble.
It supports Dolby Atmos content.
Cons:
It's a little pricey, especially given that only the soundbar and subwoofer (Bass Module) are supplied, with no rear speakers.
There is no remote control supplied, however it may be managed remotely via the Bose Music smartphone app.
Best soundbar for spatial audio: JBL Bar 1300X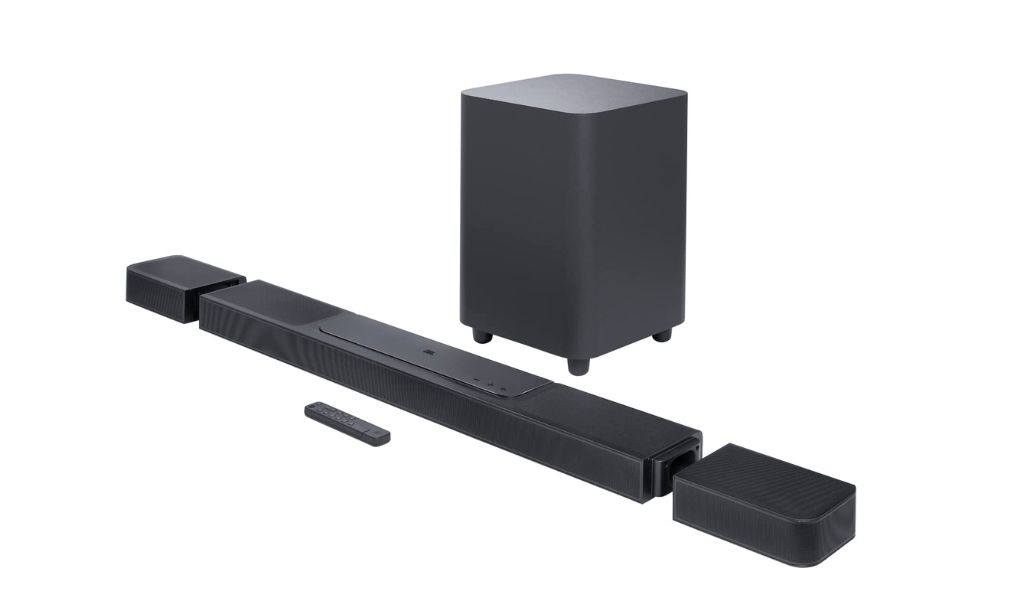 The JBL Bar 1300X is a high-end soundbar, and its pricing reflects this. It includes a wireless subwoofer and a remote. What distinguishes it is the presence of a replaceable, battery-powered speaker on either end of the soundbar. When the soundbar and two speakers are connected, you can enjoy strong, rich, and extra-loud simulated 3D sound from directly in front of you.
When the two battery-powered speakers are disconnected and placed behind you, the JBL Bar 1300X provides full surround sound. The rechargeable battery in each speaker will last up to 12 hours of continuous use and will automatically recharge when connected back to the soundbar. The audio from whatever you're watching will sound lifelike, immersive, and very clear thanks to support for Dolby Atmos, DTS:X, and JBL's proprietary MultiBeam technology.
You can wirelessly stream audio material to the JBL Bar 1300X from any compatible device thanks to Wi-Fi, Bluetooth, Chromecast, and Apple AirPlay 2 connectivity. Overall, you receive 1,170 watts of audio power and deep bass with the 12-inch wireless subwoofer. Furthermore, because the JBL Bar 1300X supports HDMI eARC with 4K Dolby Vision passthrough, you can enjoy uncompressed Dolby Atmos surround sound via the single HDMI eARC connection between the TV and sound system. Meanwhile, you may adjust the music with the custom EQ feature of the JBL One mobile app.
Pros:
Two battery-powered speakers detach from the main soundbar to create a more expansive and immersive sound stage with full surround sound.
It has an output power of up to 1,170 watts.
Experience multidimensional sounds with a powerful and deep bass.
Cons:
It is the longest soundbar in this lineup.
HDMI 2.1 support is not included.
The satellite speakers require frequent charging due to their up to 12-hour battery life.