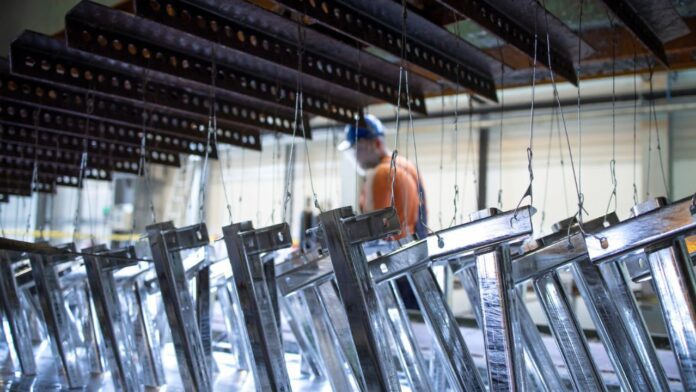 Aluminum is a common metallic element found in the Earth's crust. It has numerous qualities, including being durable, malleable, strong, lightweight, flexible, and corrosion and oxidation resistant. It is also highly reflective and has good electrical and thermal conductivity. It is widely utilized in the production of several vital automobile parts, such as wheels, motors, chassis, and other modern car components. It is also used to make cellphones, tablets, personal computers (PCs), refrigerators, and other electrical devices around the world.
Aluminum market growth can be due to the metal's widespread use in various sectors around the world. For example, in addition to being important for electronics and automobiles, it is used in the food and beverage industry to make packaging containers, the cosmetics industry to pack and protect cosmetic products, the pharmaceutical industry to make capsules, creams, lotions, liquids, and powders, and other pharma products.
The COVID-19 issue had a significant impact on the aluminum market, as well as other sectors of the economy. However, demand for automobiles and electronics has soared since then. The aluminum industry has not fully capitalized on this increase in demand because the beginning of inflation following the market recovery has resulted in a labor shortage in the industrial sectors, as well as a drop in demand from the aerospace and automotive industries. To some extent, growing packaged food consumption offsets this.
Despite short-term obstacles, the aluminum market is likely to grow in the next years. Conservative projections of the aluminum market size until the end of this decade set it at roughly $277 billion, with a compound annual growth rate of more than 5.6% predicted. Among the leading companies in the aluminum industry are Nucor Corporation (NYSE:NUE), Wheaton Precious Metals Corp. (NYSE:WPM), and Freeport-McMoRan Inc. (NYSE:FCX), which are all described in length below.
1. Rio Tinto Group (NYSE:RIO)
Rio Tinto Inc.Rio Tinto Group (NYSE:RIO), an Anglo-Australian multinational corporation, is the world's largest aluminum company. It was established in 1873 and has grown through a number of mergers and acquisitions. The corporation is heavily involved in the refinement of bauxite and iron ore. The company's aluminum operations are separated into three major areas: bauxite, alumina, and primary metal. Raw bauxite is mined in Australia, Africa, and Brazil by the bauxite and alumina unit. Through its hydroelectric projects and technological advances aimed at reducing waste and de-carbonization, the company focuses on sustainable development.
2. Saudi Arabian Mining Company
Ma'aden, also known as the Saudi Arabian Mining business, is a Saudi state-owned mining business in which the government controls 50% of the shares and the remaining 50% are traded on the Tadawul exchange. The firm is one among the world's major mining companies. It has significant projects in both gold and aluminum mining, including Al Amar for gold and base metals, Ras AZ-Zour (Ras Al Khair) for phosphate and aluminum projects, and Az Zabirah for aluminum and industrial minerals. Ma'aden, formed in 1997, is one of the world's fastest growing mining firms, with a world-class, fully integrated mining value chain. In 2021, the company's revenue was $7.12 billion, making it one of the largest in the world's aluminum business. Ma'aden has 17 mines, employs over 6,000 people, and exports its products to over 30 countries.
3. Vedanta Aluminum
Vedanta Aluminum, a part of India's Vedanta Limited, is one of the world's largest aluminum producers. The corporation emphasizes the importance of aluminum by referring to it as the Metal of the Future. The firm is India's largest manufacturer of green metal aluminum. The corporation is one of the largest private companies in India, with a capacity of 5300MW and a market share of more than 40%. Vedanta has risen to international prominence throughout the years as a result of its global governance and sustainable development strategies. The organization intends to utilize worldwide expertise, use green technology, and use resources wisely. The company's primary focus is on industrial safety, occupational health, and environmental preservation. In order to achieve sustainable development goals, Vedanta intends to align and engage with businesses on a collective carbon policy. Vedanta's aluminum smelter at Jharsuguda is one of the world's largest, with a capacity of 1.75 million tonnes per year.
4. Norsk Hydro ASA
Norsk Hydro ASA is a Norwegian corporation that works with aluminum and renewable energy. The company has grown its operations throughout the aluminum value chain, from energy to bauxite mining and alumina refining, primary aluminum, aluminum extrusions, and aluminum recycling. Renewable energy is the company's primary focus for developing innovative goods and solutions. Hydropower innovation has led the corporation to joint ventures such as HydroVolt, a collaboration between Hydro and Northvolt, to develop Europe's largest electric battery recycling facility in Norway. The company, which was started in 1905, now works in over 50 countries.
5. United Company Rusal
United corporation Rusal, a Russian worldwide public joint stock corporation, is a major producer of low carbon aluminum. The company is noted for its technological advances in the worldwide aluminum sector, and it is one of the world's largest aluminum enterprises. The company, which was created in 2007, has activities in a number of countries, including Ireland, Guinea, Jamaica, Ukraine, Italy, and Russia. The corporation owns and runs mines for bauxite, coal, limestone, nepheline, and syenite. Russia, the United States, Japan, South Korea, Turkey, Greece, the Netherlands, Poland, Norway, France, Sweden, Italy, Germany, and China are the principal markets for United Company Rusal's products.
6. Aluminum Corporation of China
Aluminum Corporation of China, or Chalco, is a significant Chinese company that is listed in Hong Kong and New York. Chalco is a worldwide corporation that manufactures aluminum goods. It is the world's second largest alumina producer, largely engaged in aluminum oxide extraction, processing, and output. The firm also provides trading, engineering, and technical services. Through partnerships and mergers, the corporation has extended its global activities. Chalco and Rio Tinto, the world's second largest mining firm, formed a joint venture in 2011 to explore resources in China. Chalco, launched in 2001, focuses on synergistic business development.
7. Hindalco Industries
Hindalco Industries, an aluminum and copper manufacturing firm established in India, is a component of the Aditya Birla Group. The company, which was created in 1958, is ranked 895th in the Forbes Global 2000. In 2020, the business bought Aleris Corporation, a US-based aluminum manufacturer. Furthermore, the corporation is the world's largest copper smelter and a leader in aluminum and copper production. To reach global significance, the company strives for product innovation and quality. Hindalco Industries operates aluminum and copper value chains in 13 countries, with sustainability as a major concern. The organization focuses on environmentally appropriate industrial waste disposal, energy conservation, recycling, safety measures, socioeconomic development of underserved communities, and employee empowerment.
8. SOUTH32
SOUTH32, an Australian mining and metals corporation, is one of the world's largest aluminum producers. SOUTH32, created in 2015, specializes in the mining, processing, transportation, and marketing of a variety of commodities, including bauxite, alumina, aluminum, copper, energy and metallurgical coal, manganese, nickel, silver, lead, and zinc. The company's expansion is powered by its strategic commitment to improving operational performance through investments in new markets. To maximize efficiency in global marketplaces, the company has established a robust network. The company's sustainability aims concentrate upon using resources in an energy-efficient manner and sustaining long-term profitability in highly uncertain global markets.
9. Alcoa Corporation (NYSE:AA)
Alcoa Corporation (NYSE:AA), situated in the United States, is one of the world's leading aluminum producers. The company, which was formed in 1888, has activities in ten countries and produces aluminum, manufactured aluminum, and alumina. The corporation has become more involved in the sector's technologies, mining, refining, fabricating, smelting, and recycling. The corporation is divided into two divisions: Alcoa Corporation, which mines and manufactures raw aluminum, and Arconic Inc., which processes aluminum and other metals. Alcoa Corporation has R&D centers in the United States, with the largest, the Alcoa Technical Center, having its own zip code and a vast intellectual and physical resource for innovation.
At the end of the third quarter of 2022, 44 hedge funds in Insider Monkey's database held holdings in Alcoa Corporation (NYSE:AA) worth $580 million, compared to 39 in the previous quarter worth $1.2 billion.
10. Shandong Nanshan Aluminium Co., Ltd.
Shandong Nanshan Aluminium Co, a Chinese manufacturer and distributor of aluminum goods, has grown to become one of the world's largest aluminum firms. The company, which was created in 2001, offers a variety of aluminum products, including alloy ingots, alumina powder, hot-rolled products, electrolytic aluminum, aluminum foils, aluminum profiles, and cold-rolled products. Shandong Nanshan Aluminum Co sells aluminum in both domestic and foreign markets. The company's operations are expanding to satisfy the demands of worldwide markets, primarily Australia, the United States, Canada, Italy, Singapore, and Hong Kong. The company employs 40,000 people and strives to provide exceptional products and services to clients worldwide while also achieving long-term growth.
11. Hitachi Metals
Hitachi Metals is a Japanese firm that manufactures and markets advanced metals products. As of 2020, the company employed 29,805 people. Infrastructure, automobiles, and electronics are the primary products. The company has a 100-year history in the sector, which allows it to integrate varied human resources, technologies, and products with great success. The company is well-known around the world as a leading metal manufacturer with an amazing track record. Hitachi Metals, formed in 1965, seeks to give the highest quality goods to everyone while achieving long-term growth and operational integrity.
12. VSMPO-AVISMA Corporation
VSMPO-AVISMA Corporation, founded in Russia, produces titanium, magnesium, steel alloys, and aluminum and has operations in Ukraine, the United Kingdom, Switzerland, Germany, and the United States. The company is known as a production-engineering corporation that also works with global aircraft corporations like as Boeing and Airbus. VSMPO-AVISMA Corporation, founded in 1933, is one of the world's major aluminum enterprises and the largest titanium producer. It is known as the world's most customer-friendly corporation, with satisfying specific customer/client needs given first priority.The company's dedication to process efficiency, technological innovation, and environmentally friendly production has resulted in growing global prominence. VSMPO-AVISMA Corporation controls more than 30% of the global titanium market, and its goods are critical not only to the global commercial aviation industry but also to the Russian defense sectors.
13. Yunnan Aluminum
Yunnan Aluminum, a Chinese manufacturer and distributor of aluminum goods, is primarily involved in bauxite mining as well as aluminum and carbon smelting. The company distributes both locally and globally, and it has received nearly 100 accolades and prizes for its unique industrial achievements. The company, formed in 1970, is a state-owned holding and one of the world's largest aluminum companies. Over the last five years, the corporation has prioritized a low-carbon approach. It aspires to create a green, low-carbon, and integrated aluminum sector. Joining the Aluminum Stewardship Initiative (ASI) is a step in the right direction.
14. Henan Mingtai Al.Industrial
Henan Mingtai Al.Industrial is a big manufacturer of aluminum foil and aluminum coil situated in China, with an annual capacity of 860,000 tons. The enterprise, which was created in 1997, is China's largest private aluminum roll mill, with 1+4 tandem hot mills. Henan Mingtai Al.Industrial is one of the world's largest aluminum firms, with over 20 years of expertise. The corporation has a significant aluminum product manufacturing plant. Through its R&D department, the corporation, which employs 2,000 people, focuses on continual technical innovation. Notably, the company has over 40 invention patents and exports to over 100 countries, making it one of the world's leading aluminum companies.
15. Showa Denko K.K
Showa Denko K.K, a Japanese chemical industry corporation, focuses on the electrochemical industry's future prospects. With a total workforce of 33,689 individuals, the company has achieved operational excellence and has risen to become one of the world's leading aluminum companies. Showa Denko K.K. is primarily involved in the production and marketing of chemical products. Petrochemicals, Electronics, Inorganics, Chemicals, Aluminum, and Others are the business segments of the corporation. The corporation, which was started in 1939, is currently focusing on global expansion through its operations. In order to reduce complications and inefficiencies, the corporation intends to rebuild its IT infrastructure in European markets and develop a stronger worldwide network.
Showa Denko K.K, like Nucor Corporation (NYSE:NUE), Wheaton Precious Metals Corp. (NYSE:WPM), and Freeport-McMoRan Inc. (NYSE:FCX), is a global metals company.