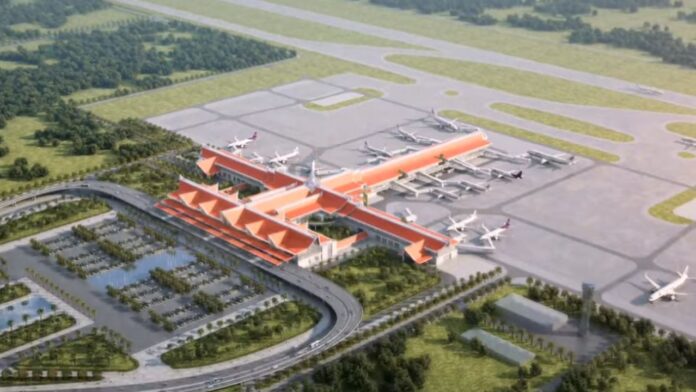 Cambodia's largest and most modern airport began operations this week in Siem Reap province, aiming to boost tourism to the renowned Angkor archaeological site nearby.
The China-funded Siem Reap-Angkor International Airport opened its runways to commercial flights on Monday. A Bangkok Airways plane was the first to land at the new airport, located 40 km from the historic Angkor complex.
Read More: Countries that Accept Dual Citizenship
With its IATA code of SAI, the spacious airport replaces the smaller Siem Reap Airport (REP) just a few kilometers from Angkor. The $1.1 billion project was financed by China as part of its Belt and Road Initiative.
Designed for 7 Million Passengers Annually
The new airport's initial capacity is 7 million passengers per year, 2 million more than its predecessor. Its runway stretches 3,600 meters, able to accommodate larger long-haul aircraft.
China constructed the airport on a "Build-Operate-Transfer" model, the first such overseas project for Chinese firms. Its architecture incorporates traditional Cambodian influences.
Although details remain scarce on food, shops and services, the airport's website provides flight schedules. The world-class facilities aim to boost Siem Reap's tourism appeal.
Reviving Cambodia's Tourism After COVID Closures
Cambodia welcomed 3.5 million foreign visitors in the first 8 months of 2023, a 250% increase over 2022. But it remains 20% below pre-pandemic levels.
The country reopened borders in March 2022 after closing during COVID. It's projected to receive 4.5-5 million tourists this year as the industry steadily recovers.
Many visitors come to Siem Reap to tour Angkor's vast temple complex, a UNESCO World Heritage Site. But only a few landmarks like Angkor Wat draw heavy crowds currently.
The new airport's added capacity can help revive tourism across the sprawling 400 sq km park. Its economic windfalls will aid locals reliant on foreign visitors to Angkor.
With expanded amenities and modern comforts, the Chinese-built airport aims to elevate Siem Reap as a premier Asian hub. Its opening signifies Cambodia's eagerness to reclaim its standing as a world-class tourism destination after the pandemic's severe impact.