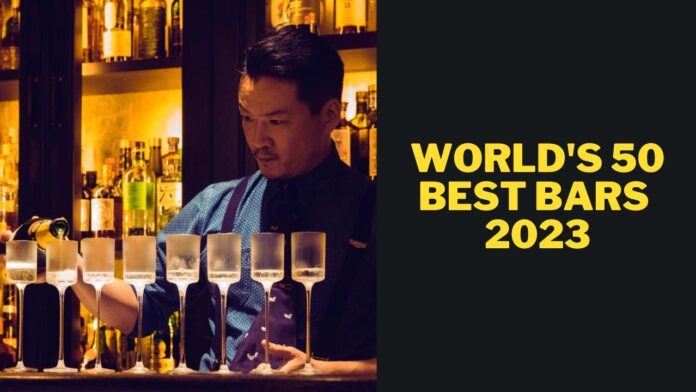 Barcelona has cemented itself as a cocktail capital after intimate bar Sips took the top spot at the 2023 World's 50 Best Bars awards. This marks the second year in a row that a Barcelona establishment has claimed the coveted No. 1 ranking, with Paradiso winning last year before slipping to fourth place this time.
The awards ceremony was held outside Europe for the first time, taking place in Singapore's renovated 1950s power plant. The list reflected increasing diversity, with Mexico City boasting four bars including third-placed speakeasy Handshake Speakeasy. Buenos Aires and host city Singapore also each counted three bars in the top 50. In addition, you can also read an article on- Mexican Liquors and Beers Take Over the U.S., Driven by Changing Tastes and Demographics
Several Asian cities like Seoul and Bangkok saw their first ever bars on the list, indicating the region's rising cocktail credentials. Bangkok's Mahaniyom Cocktail Bar and retro BKK Social Club finished at 19th and 13th place respectively, marking a strong showing. The top 50 list is voted on anonymously by the 680-member World's 50 Best Bar Academy made up of industry experts.
While New York and London Still Strong, Diversity Rules
Although New York and London remain powerful, their grip on the top spots has weakened over the years. Only 3 New York bars made the list versus 8 back in 2015, and no London bars cracked the top 3 this year despite having the most top 50 bars overall. Connaught Bar, ranked 1st in 2020 and 2021, fell to fifth place.
Double Chicken Please in New York took runner-up behind Sips, and venues from Miami and New Orleans represented America's cocktail diversity by snagging spots too. For Sips' owners who opened amid the pandemic, landing pole position could be game-changing. Co-founder Simone Caporale called it "a dream", welcoming the spotlight on Barcelona's food, architecture and weather alongside its ever-improving drinks. Additionally, you can also read about- Beer Drinking Countries in the World [Top 20 List]
World's Best Bars for 2023
1. Sips, Barcelona
2. Double Chicken Please, New York
3. Handshake Speakeasy, Mexico City
4. Paradiso, Barcelona
5. Connaught Bar, London
6. Little Red Door, Paris
7. Licorería Limantour, Mexico City
8. Tayēr + Elementary, London
9. Alquímico, Cartagena
10. Himkok, Oslo
11. Tres Monos, Buenos Aires
12. Line, Athens
13. BKK Social Club, Bangkok
14. Jigger & Pony, Singapore
15. Maybe Sammy, Sydney
16. Salmon Guru, Madrid
17. Overstory, New York
18. Zest, Seoul
19. Mahaniyom Cocktail Bar, Bangkok
20. Coa, Hong Kong
21. Drink Kong, Rome
22. Hanky Panky, Mexico City
23. Caretaker's Cottage, Melbourne
24. Café La Trova, Miami
25. Baba au Rum, Athens
26. CoChinChina, Buenos Aires
27. Katana Kitten, New York
28. Satan's Whiskers, London
29. Wax On, Berlin – New Entry
30. Florería Atlántico, Buenos Aires
31. Röda Huset, Stockholm – New Entry
32. Sago House, Singapore – New Entry
33. Freni e Frizioni, Rome – New Entry
34. Argo, Hong Kong
35. A Bar With Shapes For A Name, London
36. The SG Club, Tokyo – A Re-Entry from No.18 in 2021
37. Bar Benfiddich, Tokyo
38. The Cambridge Public House, Paris – New Entry
39. Panda & Sons, Edinburgh, Scotland
40. Mimi Kakushi, Dubai, United Arab Emirates – New Entry, The Best Bar in Middle East & Africa
41. Scarfes Bar, London – New Entry
42. 1930, Milan
43. Carnaval, Lima, Peru
44. L'Antiquario, Naples, Italy
45. Baltra Bar, Mexico City
46. Locale Firenze, Florence, Italy
47. The Clumsies, Athens
48. Atlas, Singapore – A Re-Entry from No. 16 in 2021
49. Jewel Of The South, New Orleans – New Entry
50. Galaxy Bar, Dubai
You May Find Interest: India's Indri Whisky Wins Best Single Malt in the World