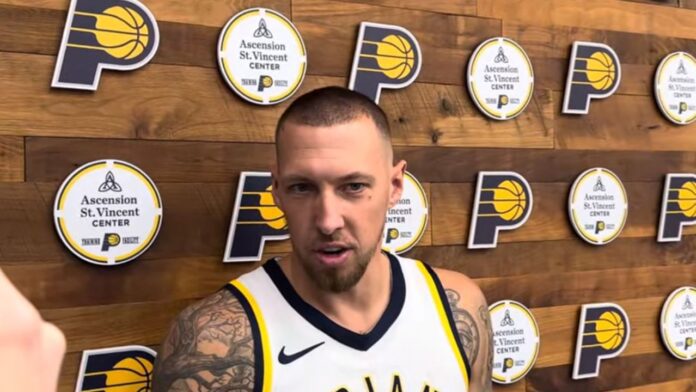 Veteran center Daniel Theis has reached a contract buyout agreement with the Indiana Pacers, paving the way for him to join the Los Angeles Clippers as a free agent once he clears waivers on Friday.
The move will provide needed frontcourt depth and experience to a Clippers team on a concerning six-game losing streak.
The 30-year-old Theis had been buried on the bench for the young, fast-paced Pacers this season. After arriving in Indiana this past summer, he appeared in just one game, quickly falling out of the frontcourt rotation.
Read More: NFL Goes International
With $7.8 million remaining on his $9.1 million salary for this season, Theis sought an opportunity for more playing time elsewhere. The buyout allows him to join a contender while saving the Pacers money.
After clearing waivers, Theis is planning to sign a veteran minimum contract with the Clippers worth approximately $2.1 million. The prorated minimum deal fits within the Clippers' limited spending flexibility.
Theis provides an upgrade at backup center at a discount price. The Clippers will now have 15 roster spots filled, including newly converted two-way guard Josh Primo.
At 6'8″ and 245 pounds, Theis brings valuable size and rim protection to the Clippers' frontline rotation. Starting center Ivica Zubac is their only other true big man while backup Mason Plumlee remains out injured.
Theis can soak up minutes at center so the Clippers aren't forced to rely on smaller lineups. His presence on the boards and interior defense should help shore up an area of need.
While not a star, Theis delivers steadiness, rebounding, and quality screen-setting. He has appeared in 130 career playoff games, bringing valuable postseason experience.
The 2015 undrafted free agent has averaged 7.5 points and 5 rebounds over seven NBA seasons with Boston, Chicago, Houston, and Indiana. His maturity and high basketball IQ will aid the Clippers.
Read Also: The Most Gruesome Injuries in NFL History
The timing of Theis' arrival comes with the Clippers mired in their worst slump of the season. They have lost six straight games since acquiring star guard James Harden from Philadelphia.
The Clippers hoped Harden would solidify their offense but the struggles have persisted. Theis boosts their depth and shores up an interior defense that has been exploited recently.
At just 31-28 after entering February with championship aspirations, the Clippers have sunk to their lowest point of the season. Their stars aren't meshing, the defense has declined, and the losses keep mounting.
Theis isn't a marquee move but he fills an obvious need and brings sought-after experience to aid this underperforming group. The Clippers will be counting on him to provide a boost off the bench during this difficult stretch.
Despite their extended slump, the Clippers remain in position for a top-four Western Conference playoff seed. Their talented roster is capable of getting back on track.
Theis should help stop the bleeding in the short term while the team works to right the ship. The Clippers are hopeful his contributions can help spark them towards a deep postseason run.