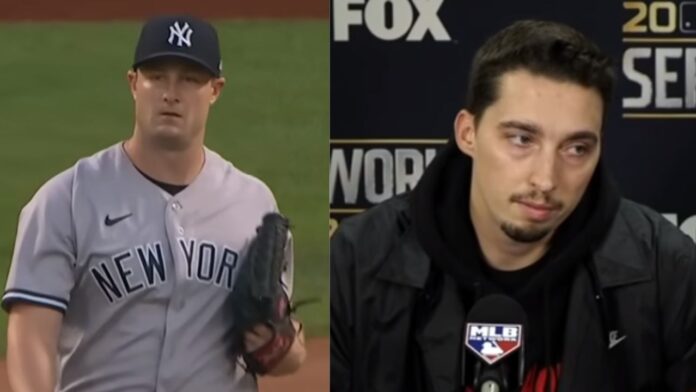 New York Yankees ace Gerrit Cole was voted the unanimous American League Cy Young Award winner, finally claiming the coveted prize after multiple near misses in his career. In the National League, San Diego Padres left-hander Blake Snell capped off an incredible comeback season by earning his second career Cy Young Award.
Cole Dominates All Year for First CY Young
Cole put together a masterful 2023 campaign for the Yankees, going 15-4 with a league-best 2.63 ERA and 222 strikeouts over 209 innings. He allowed two or fewer runs in 26 of his 33 starts, exhibiting rare consistency at the top of New York's rotation.
Read More: David Beckham Style
The 33-year-old received all 30 first-place votes in Cy Young balloting conducted by the Baseball Writers Association of America. This marked Cole's first Cy Young triumph after finishing as the runner-up in 2019 and 2021 and in the top five several other times.
Joining elite company, Cole became the sixth Yankees hurler to capture the honor. The last New York pitcher to win was Roger Clemens in 2001. Cole provided exactly the type of ace performance the Yankees envisioned when they signed him to a massive $324 million contract in 2019.
Snell Overcomes Dismal Start for NL Cy Young
In the National League, Snell authored one of the most dramatic turnarounds in recent memory. After going just 1-6 with a 5.40 ERA through May, Snell was left for dead. But he completely resurrected his season, dominating over his final 22 starts.
The left-hander ended 2023 with a 14-9 record and a major league-best 2.25 ERA. His eye-popping 234 strikeouts led the NL, as he found another gear after the All-Star break. Snell also won the AL Cy Young with Tampa Bay in 2018.
Read Also: NFL Popularity is Soaring
By claiming the award in both leagues, he joined a select group of legendary pitchers like Randy Johnson, Pedro Martinez, and Max Scherzer. Snell earned 28 of 30 first-place votes, with Logan Webb and Zac Gallen finishing behind him.
Top Pitchers for Disappointing Teams
Interestingly, both Cole and Snell stood out on teams that failed to reach expectations. Despite their individual brilliance, the Yankees and Padres finished with identical 82-80 records and missed the playoffs.
But the Cy Young Award focuses solely on individual excellence. Cole and Snell clearly distanced themselves from peers with consistent dominance despite limited team success.
Snell Set for Lucrative Free Agency
Fresh off his Cy Young campaign, Snell enters free agency in a strong position to land a massive contract. He recently rejected the Padres $20.3 million qualifying offer in search of a more lucrative long-term deal.
At just 31 years old, Snell showed in 2023 he still has plenty left in the tank. His stunning turnaround will earn him a big payday this winter as the premier starter on the open market.
Young Arms Impress in Voting
While veterans Cole and Snell took home the Cy Young hardware, some promising young starters also fared well in voting. Minnesota's Sonny Gray finished second in the AL, while San Francisco's Logan Webb and Arizona's Zac Gallen placed just behind Snell.
Their emergence points to a bright future for pitching talent across the majors. This youth movement will challenge established aces like Cole and Snell moving forward.
Cy Young Wraps Up Baseball's Awards Season
With the Cy Youngs awarded, baseball's 2023 awards season has concluded. The past week also saw Aaron Judge (AL) and Paul Goldschmidt (NL) capture Most Valuable Player honors.
While the individual accolades provide validation, Cole, Snell and other stars now shift focus to preparing for 2024 as they pursue that elusive World Series championship.
But they'll always have the distinction of Cy Young dominance in 2023. Cole finally grabbed his long-awaited first, while Snell etched his name in history with a second unexpected career Cy Young.