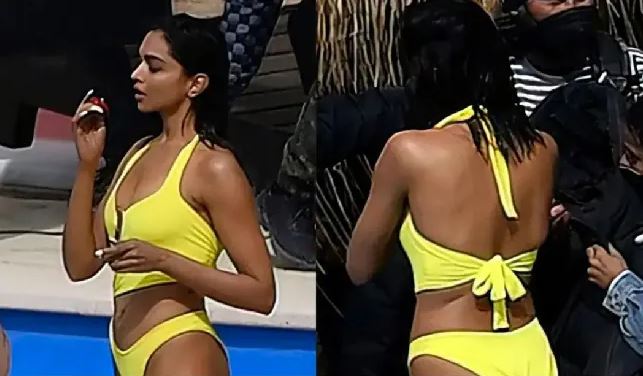 Remember how Ranveer Singh mentioned a few days ago that Deepika Padukone's appearance in Pathaan would light up the screen? Well, it appears that the actor was not joking, since several photos of Deepika are circulating on social media sites, with the actress looking really sensual. The photo appears to have been taken on the sets of Pathaan in Spain, where Shah Rukh Khan and Deepika Padukone are now filming. In the viral photo, the actress is wearing a yellow monokini and flaunting her gorgeous curves.
Shah Rukh Khan's viral photo from the day before had people fawning over his chiseled figure. The actor appeared shirtless in the photo, with eight-pack abs and long hair.
 

 

View this post on Instagram

 
Ranveer Singh was just talking about how fantastic Pathaan is going to be last week, and he even unveiled Deepika's outfit. He described her appearance as "extremely fit and super gorgeous," adding that she will be seen in a "super fit and super glamorous" avatar. Ranveer even informed his fans about a song that Shah Rukh Khan and Deepika Padukone are currently filming in Spain," he explained. "I'm familiar with the song. It's incredible. It's Vishal-Shekhar and Sid Anand. You're getting the picture. Vaibhavi ma'am, I believe, is filming the song. Because I have the honor of being her husband, she lets me have an early glimpse at how she's looking. You'll have to wait a while, man. She's scorching the place. Superfit and superstylish."
Shah Rukh Khan and Deepika Padukone will team up for the third time. Pathaan will also mark the return of King Khan after a four-year hiatus. On January 25, 2023, the film will be released in theaters.