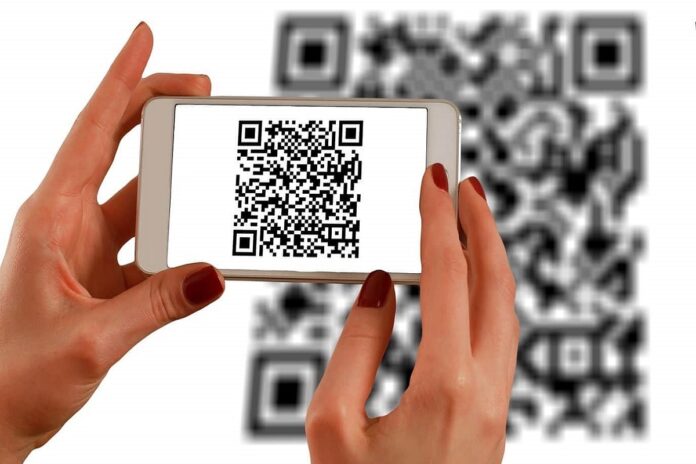 QR codes are a type of barcode that can be read by smartphones. They are generated through a process called encoding. These codes have been used for many purposes, including tracking shipments and inventory, providing directions, or even as a marketing tool.
You can scan a QR code using a smartphone or a QR code reader. This allows you to quickly access information such as websites, contact numbers, and more.
QR code technology is being utilized in many ways by businesses, large and small. For example, some companies use it for marketing purposes, while others use it in their customer service processes.
How Can QR Codes be Utilized as a Creative Marketing Tool?
QR codes are excellent for marketing your business or product. They are a creative, cost-effective, and easy way to reach customers. You can use all your creativity with QR codes and have fun while creating unique codes for your audience! 
For example, PosterMyWall allows its users to develop high-quality marketing material for small businesses right from scratch or pick a template from the library. Then, the user can proceed with editing, where they mention the required details of the product or an event. Next, they can add the QR code to the poster, which, when scanned, helps the customer to visit the website or the event web page containing additional details. Once everything is ready, they can download the high-resolution poster and publish it on social media to get the word out! 
QR Code Marketing Ideas for Businesses
Engaging Customers with Video Content:

Watching videos helps viewers retain 90% of the message in a promotional video. Businesses can use video QR codes to show the stellar characters of their product or service to attract and retain customers. 

Introduce a QR Code Game:

Marketers can look forward to implementing a QR code game for shoppers. A game will help customers win freebies such as points, redeemable coupons, and discounts. Such interactive QR code generation helps any company increase the conversion rate and keep the audience engaged! 

Conversion to Repeat Buyers: Adding a QR code to the post-purchase order helps a first-time buyer use the QR code for a refill without going through the shopping hassle right from scratch. Additionally, incorporating geolocation allows the company to add information based on location. For example, suppose a QR code displays product information in a store. In that case, the same can be helpful in re-ordering after the customer purchases and leaves the store. Additionally, implementing a loyalty program for customers through a Digital Rewards Platform can assist in conversion to repeat customers.
A Musical Experience:

According to research, classical music has the power to stimulate the mind. Therefore, upscale and luxury stores use it to justify the extreme prices of their products. You can create a personal experience for users to listen to their favorite songs by scanning a QR code. For example, Reebok directed athletes to a curated playlist on Spotify as per their sport using a QR code. You can do it by allowing customers to pick language, artists, genres, and more using a QR code and boost ROI significantly.

Feedback and Rating: Reviews help any business to stay in business! About 90% of customers read reviews for a product or service before making a decision, and about 85% treat reviews as personal recommendations. Therefore, introducing a QR feedback system helps a business nudge shoppers to leave feedback without human interaction and avoid venting their anger on social media. You can ask the customers to leave feedback at checkout using the QR code for which you can offer a discount for every positive review. 
OOH Ads and QR Codes:

OOH advertising is powerful, and 75% of consumers reported that digital advertising is more appealing than online ads. When you pair an OOH advertisement with a QR code, you can drive a consumer to take immediate action, such as using maps to locate the store or the phone number to make a call. 

Generating Leads:

You can promote your business and prepare a marketing list using a QR code. You can use them to send to your customers in aesthetically appealing designs and collect responses by offering incentives. The call to action could be "Scan for a free trial" or "Scan to get the song" or more, effectively improving lead generation. 

Customize Products:

You can use the QR code and provide an opportunity for a customer to customize the product. For example, Porsche launched an immersive experience to its customers for the Digital Signage Expo in 2018, where attendees had the opportunity to customize the Porsche Cayenne Turbo model. Everything was possible for an attendee by simply scanning a QR code put at the event. 
Customized Solutions
You will need a graphic design tool to create flyers, posters, menus, videos, and more for various promotional requirements. PosterMyWall is one such tool where you can find solutions for different needs through their customizable poster templates. You can create or pick a template, make the necessary changes, including a QR code, and download it in high resolution. 
Suppose you want to publish the QR code without leaving a platform. In that case, PosterMyWall offers services such as social media publishing, email maker, premium subscription, and social media scheduling. All it takes is a few clicks!
If you like to create your own template, you can do it from scratch. You can pick a custom dimension or the common standards under marketing, videos, documents, menus, social media, and online ads. You can choose the poster's background, add images, text, clipart, QR code, media, and more! 
You can collaborate with others if you are working among a team or publish it directly to social media using the company's account. The options available ease designing and deploying a QR code for your marketing requirements that helps customers have the best experience. 
Verdict
Businesses are deploying QR codes, and the market is booming. However, one should understand that deploying a code does not serve the purpose of attracting and retaining customers. Instead, you should optimize the site, content, media, posts, and images for mobile use. Investing in a dynamic QR code is effective, as marketers can change the content and destination per the business needs. Additionally, a marketer will have information on the number of people engaged with the company using the QR code, which helps them change or tailor their marketing strategy. 
Get started with QR codes for a more comprehensive solution that targets all potential customers and turns them into repeat buyers for a profitable business!