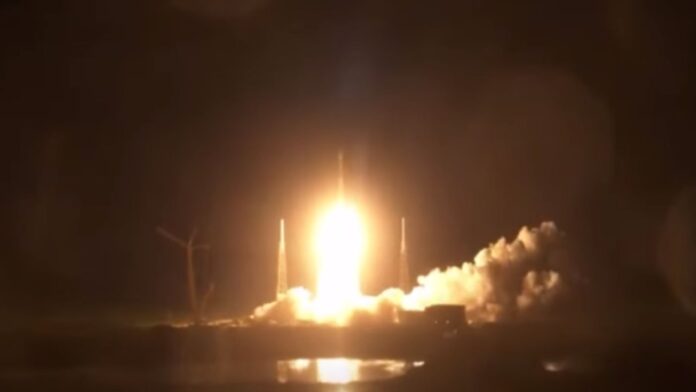 SpaceX successfully launched another batch of 23 Starlink internet satellites into orbit on Monday, after aborting an initial attempt on Sunday night. It was the company's 90th orbital mission this year as launch pace rapidly accelerates.
Launch Goes Ahead After Sunday Night Scrub
SpaceX's Falcon 9 rocket lifted off at 7:20 PM EST from Cape Canaveral Space Force Station in Florida on Monday night.
The mission came one day after SpaceX automatically aborted a launch attempt just 30 seconds before liftoff due to an issue detected with the rocket separation system.
Liftoff! pic.twitter.com/TkcBM2iSHq

— SpaceX (@SpaceX) October 30, 2023
Eighth Flight for Falcon 9's Record-Breaking Booster
The Falcon 9 booster supporting Monday's launch previously powered six prior SpaceX missions including crew and cargo flights.
The reusable first stage landed successfully on a drone ship around 8 minutes after liftoff. Recovery enables significant cost savings through re-use.
Falcon 9's first stage has landed on the Just Read the Instructions droneship pic.twitter.com/apQwE5BpIH

— SpaceX (@SpaceX) October 30, 2023
Third Starlink Launch in Under Two Weeks
This launch deployed the latest batch of SpaceX's Starlink broadband satellites to join the existing constellation in low Earth orbit.
It was the third Starlink mission in just 11 days as SpaceX maintains a rapid pace, aiming to launch up to 52 Starlink flights in 2023 alone.
Falcon 9 launches 23 @Starlink satellites to orbit from Florida pic.twitter.com/4t9yALw73h

— SpaceX (@SpaceX) October 31, 2023
Starlink Constellation Now Over 5,000 Satellites Strong
With this mission, SpaceX has launched over 5,000 Starlink satellites to date as it builds out its ambitious global satellite internet network.
The company aims to deploy up to 42,000 satellites in total to provide space-based high-speed broadband around the world, pending regulatory approvals.
On Track to Hit 100 Launches in 2022
Monday's successful launch marked SpaceX's 90th orbital mission in the past 365 days, keeping it on pace for 100 flights by year's end.
CEO Elon Musk wants to further accelerate launch cadence, targeting 144 Falcon 9 and Falcon Heavy flights in 2024.
Rapid Reusability Critical to High Launch Rate
High booster recovery and re-use rates are critical to enabling SpaceX's sky-high launch targets. Frequent rapid reuse of boosters maximizes cost efficiency.
As reliability increases through design and testing refinements, SpaceX hopes to relaunch boosters much more quickly going forward.
In summary, SpaceX overcame its aborted Sunday launch attempt to get another batch of Starlink satellites into orbit on Monday night as it approaches its targeted 100th mission this year at a breakneck pace.