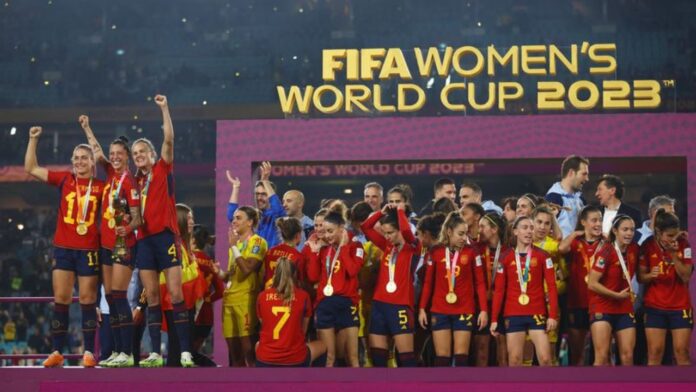 Spain secured a 1-0 victory against England in the Women's World Cup final, marking the conclusion of a tournament that witnessed unprecedented audience engagement. This year's edition, jointly hosted by Australia and New Zealand, was the first in the southern hemisphere, and despite the local heartbreak of Australia bowing out in the semi-finals, nearly two million fans attended the matches across nine cities.
Spain's triumph came courtesy of a solitary goal from Olga Carmona, who also clinched the title of player of the match. Speaking post-game, she expressed her relief and elation, stating the team believed in their victory throughout the nail-biting encounter.
Remarkably, Spain's journey wasn't devoid of obstacles. The team grappled with internal disputes, leading to some top players missing the tournament. Yet, they managed to dazzle fans with their aggressive, attractive play style.
Stadium Australia in Sydney was a sea of festivity even hours before the final showdown, with fans soaking in the ambience amplified by drummers and performers on stilts.
This final marked a maiden appearance for both England and Spain. England's quest for their first win since the men's 1966 trophy remains unfulfilled. The growth trajectory of women's football in England has been compelling, especially after the Lionesses' European Championship win last year. England's captain, Millie Bright, shared her optimism and pride in the evolution of the women's game.
The "Matilda mania" was evident as Australia's clash with England garnered a whopping 7.13 million viewers, smashing previous records. Ticket demand for the Matildas' matches was off the charts, with an expected average turnout surpassing 30,000. In comparison, the previous Women's World Cup in France drew an average of 21,756 spectators per game.
However, New Zealand saw a diminished interest, necessitating FIFA to distribute complimentary tickets. Yet, the local team's games set new attendance records.
The disparity in funding remains a challenge. Players from Australia, despite their commendable performance, voiced concerns over the need for increased investment at grassroots levels. Sam Kerr, a Matildas' striker, emphasized the importance of comprehensive funding for the sport.
In response to the rallying calls for bolstering support for women's football, Australian Prime Minister Anthony Albanese pledged a substantial A$200 million for women's sports. The proposed fund will focus on enhancing sports infrastructure, particularly for women and young girls. Additionally, the government aims to ensure prominent women's sporting events are accessible via free-to-air channels. This move follows critiques that a majority of World Cup matches were available only behind paywalls, barring those featuring Australia.