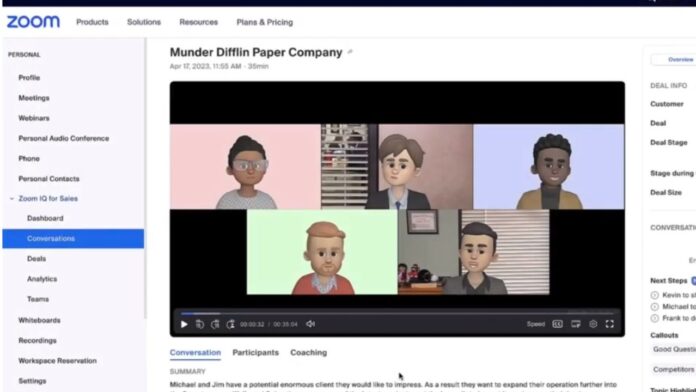 Zoom has announced that it will be significantly expanding the capabilities of its generative artificial intelligence tool, now known as Zoom AI Companion, starting this fall. The good news is that if you're already a paying customer for the video-meeting service, you won't have to pay extra for these new features.
Zoom is planning to integrate AI Companion across its platform, which means you'll encounter it in Team Chat, Meetings, Phone, Email, Whiteboard, and other upcoming features. Some of these new capabilities will be rolled out immediately, while others will be introduced over the next few months.
Read More: Google AI Life Coach
Zoom is best known for its video chat feature, especially for work meetings. With the new Zoom AI Companion, if you happen to be running late to a Zoom meeting, you can now quickly catch up by asking questions through a convenient side panel. After the meeting, you'll also have access to Zoom recordings with highlights and smartly segmented chapters. Additionally, you can enjoy auto-generated meeting summaries, provided the meeting's host has enabled these features.
But Zoom's plans don't stop there. By the spring, they aim to provide "real-time feedback" through their AI tool, assessing your performance in meetings and even offering coaching to improve your conversational and presentation skills.
Read Also: Bybit Launches AI-Powered TradeGPT
In summary, Zoom AI Companion is set to enhance your Zoom experience with a range of new features and improvements, and the best part is that it's included at no extra cost for existing paid users. Keep an eye out for these updates as they roll out over the coming months.
Zoom is introducing several updates to enhance its platform. One of these updates is generative AI summarization for Team Chat, which will be available in the coming weeks. This feature aims to help users catch up on lengthy chat threads.
Looking ahead to early 2024, Zoom has plans to enable users to auto-complete sentences and schedule meetings directly from a chat interface. They're also working on adding other features for meeting preparations, debriefing, and more.
It's worth noting that Zoom AI Companion will be turned off by default. Users with account control will have the responsibility of enabling these features. This move comes in response to concerns about data usage for Zoom's AI tools. It's important to clarify that Zoom does not utilize customer audio, video, or other content to train its AI.
In terms of technology, Zoom is leveraging its own large language models, as well as Meta's Llama 2, OpenAI, and Anthropic to power its AI features. These large language models are the driving force behind generative AI chatbots like OpenAI's ChatGPT, Google's Bard, and Microsoft's Bing. This collaborative effort ensures that Zoom's AI capabilities remain cutting-edge and efficient.