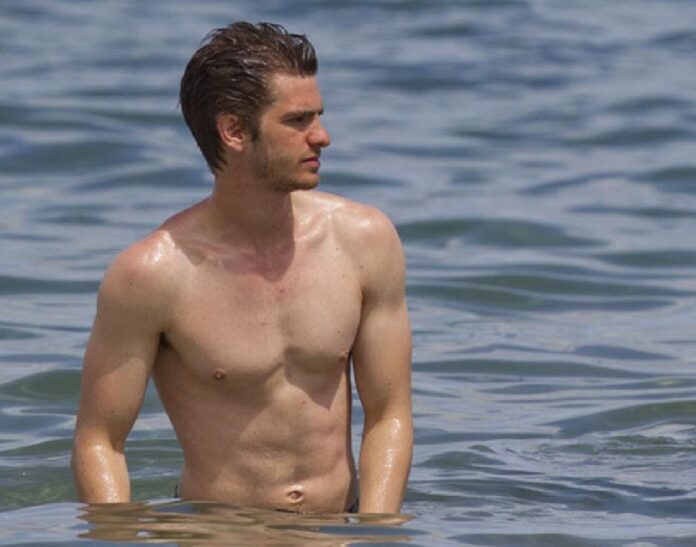 Andrew Garfield isn't The Rock, and he doesn't have the muscles of Chris Hemsworth. But not everyone can or wants to have muscles that look like mountains, so he's a good example of how to get ripped and toned without having a huge body. It looks like a scene from a comic book.
The actor has already played an action hero in a movie. He played Peter Parker after Tobey Maguire and showed that the most realistic and approachable athletic look can also be seen perfect in a suit of spandex.
Andrew Garfield works out and stays fit every day, just like any good actor (who deserves an Oscar and will get one someday). He is a good Role Model because he doesn't overdo it, he doesn't go to the extreme, and he follows a plan that is much more doable for regular people who don't have hours to spend working out (because there are other responsibilities involved).
Garfield surprised everyone with some shirtless photos he took while on vacation in Bali. In the photos, you can see that he has defined and toned muscles, which he got by working out.
Andrew Garfield's workout to show off his muscles and tone his abs. Superhero Jacked says that Garfield works with a personal trainer named Armando Alarcon. Together, they made a five-day-a-week workout plan that focuses on strength and core.
The routine is said to include some pilates and yoga, as well as jumping exercises called plyometrics that help build endurance and speed which is something that no doubt served him well as Spider-Man: No Way Home. Each day of the routine focuses on a different group of muscles, so that the whole body can get what it needs.
Routine: According to Superhero Jacked, the actor works out regularly two to six times a week. One of his routines is split into two days, where he works out his upper body first and then his lower body. At the end of the routine, he does a few minutes of cardio that isn't too intense.
Andrew Garfield in Bali. pic.twitter.com/FU64SO41xT

— Film Updates (@FilmUpdates) August 17, 2022
And this does not say it, but it should also include a cool-down session at the end, probably with some Foam Roller exercises, which are of great help to relax and avoid pain.
Heating:
800 meter light run
Pull-Ups – 3 sets of 10 reps
Free squats – 3 sets of 15 reps
Push Ups – 3 sets of 20 reps
Chest, arms, shoulders and back
Clapping Push Ups – 3 sets to fatigue
Ball Slams – 3 sets of 12 reps
Bench Press – 3 sets of 15 reps
Clean and Press- 3 sets of 10 reps
Dips – 3 sets to exhaustion
Overhead triceps extension – 3 sets of 12 reps
Arnold Press – 3 sets of 10 reps
Dumbbell Shrugs – 3 sets of 15 to 20 reps
Cardio:
10 to 20 minutes of jogging or cycling
Legs, calves, abdomen, thighs and buttocks:
Weighted lunges – 3 sets of 10 reps (per leg)
Leg Press Leg Press- 3 sets of 10 reps
Box Jumps – 3 sets of 15 reps
Front squats – 3 sets of 12 reps
Calf raises – 3 sets of 10 reps
V-Ups – 3 sets of 25 reps
Straight Legged Deadlift – 3 sets of 10 reps
Plank Holds – 3 sets with 60 second holds
Cardio:
10 to 20 minutes of jogging or cycling
Apart from these articles, you can also read:
JoinPD
,
Things to focus on when mentally struggling
,
Marvel Spider-Man Game for PC
, 
Chicago Fire Season 11
, 
Emmy Awards 2022
, 
4Anime
, 
All American Season 5
, 
Amber Midthunder movies
, 
Russian Doll Season 3
, 
iPhone 14
, 
Tom Cruise All Mission Impossible Movies
, 
Billions Season 7
, 
Best camera for travel
, 
Water Skiing
,
 FFMovies
, 
Bolly4U
, 
Moviesflix
, 
TrueID
, 
Crystals for Protection
, 
Mewing
, 
How to charge crystals
, 
Knightfall Season 3
, 
Vampire Diaries season 9
, 
Homeland Season 9.
Sherlock season 5
, 
Goodyear Viva 3
, 
High sleeper bed
, 
Cash for Cars
, 
F95zone
, 
Aloe Vera Juice
, 
the 100 seasons 8
, 
Salvation Season 3
, 
Shadowhunters season 4
, 
Poldark season 6
, 
Good Place season 5
, 
Madison beer net worth
, 
Gravity Falls season 3
, 
Hunter x Hunter season 7
, 
Marvelous Mrs. Maisel Season 4
, 
Bloodborne 2
, 
Derry Girls season 3
, 
highest paid CEO
, and, 
Bhushan Kumar net worth
, 
Knightfall Season 3
, you can follow our 
Entertainment
, 
Health
, 
Technology
, and 
Business
 category.