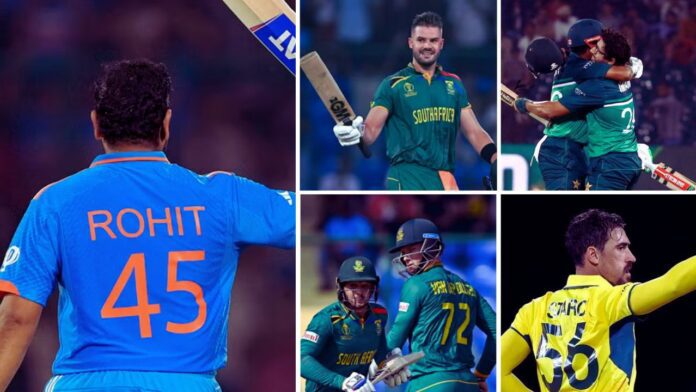 The current ICC Men's Cricket World Cup 2023 in India has seen a flurry of records broken as batsmen make merry on batting-friendly pitches.
Mitchell Starc Shatters Record for Fastest to 50 World Cup Wickets
Australian pace spearhead Mitchell Starc cemented his status as the preeminent wicket-taker in Cricket World Cup history. With his dismissal of India's Ishan Kishan, Starc reached 50 World Cup wickets in just 19 innings, surpassing previous record holder Lasith Malinga's mark of 25 innings.
Starc's unmatched combination of speed and accuracy has made him a feared force at the last three World Cups. His exploits in 2023 add to his domination in 2015 and 2019 when he claimed 22 and 27 wickets respectively.
Aiden Markram Obliterates Fastest World Cup Century Record
South Africa's Aiden Markram blitzed the Sri Lankan bowling attack to smash the fastest century in Cricket World Cup history. Markram brought up his 100 in just 49 balls, breaking Kevin O'Brien's long-standing 50-ball record set in 2011.
Markram's blistering knock, which included 14 fours and 3 sixes, formed the cornerstone of South Africa's massive 428/5 – the highest-ever World Cup total. On batting belters this World Cup, Markram's record may not stand for long, but for now he holds one of cricket's most prestigious records.In addition, you can also read an article on- South Africa on Fire, Record Highest World Cup Total, Fastest Hundred, and Three Centurions
South Africa Post Highest Ever World Cup Total of 428/5
On the back of Markram's heroics, South Africa shredded the Sri Lankan bowling to bits to post a mammoth 428/5 – the highest team total in Cricket World Cup history. Markram, Quinton de Kock and Rassie van der Dussen all cracked centuries in a batting masterclass.
The Proteas bludgeoned 107 boundaries in all, reaching 418 runs in just 40 overs before slogging their way past Sri Lanka's 443/9 made against Netherlands in 2006. Over 700 runs were scored in the game – another World Cup record.
Pakistan Scale New Heights with Incredible Run Chase of 345
Pakistan's batting shone bright in one of the greatest World Cup chases, hunting down Sri Lanka's daunting 344/6 with 10 balls to spare. Centurions Mohammad Rizwan and Abdullah Shafique were Pakistan's saviors after an early collapse.
Their 176-run stand neutered the Sri Lankan attack before Iftikhar Ahmed's 10-ball blitz sealed the record chase. Pakistan broke Ireland's 329/7 chased down against England in 2011.Additionally, you can also read about- Centuries From Rizwan, Shafique Power Pakistan to Record World Cup Chase
Rohit Sharma Claims New World Cup Hundreds and International Sixes Records
India skipper Rohit Sharma powered his way into the Cricket World Cup record books yet again, blasting 131 off 84 balls against Afghanistan. In doing so, Rohit claimed his 7th World Cup hundred to go past Sachin Tendulkar's tally of 6.
Rohit now has the most World Cup hundreds despite playing only 3 tournaments compared to Tendulkar's 6. He also surpassed West Indies legend Chris Gayle to become the leading six-hitter in international cricket with 556 maximums.
Slow Start Leaves Defending Champions Australia Reeling
Australia's title defense has gotten off to an awful start, losing their first two games against India and South Africa. Their opening loss to India was their first in a World Cup opener since 1996.
The humiliation against the Proteas was particularly scarring – a 132-run drubbing that marks Australia's biggest-ever defeat by runs at a Cricket World Cup. For the 5-time champions, this is an unprecedented and demoralizing beginning.