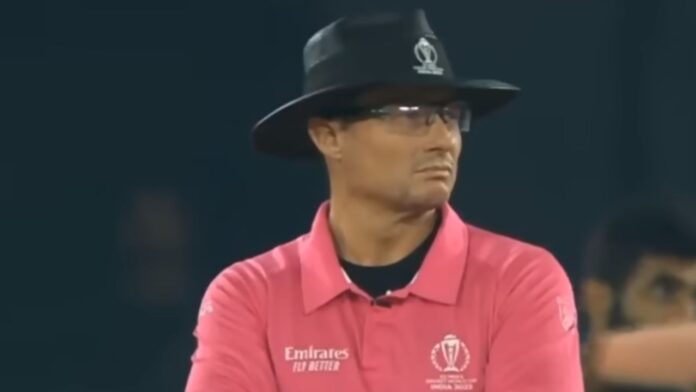 A minority of Indian fans have drawn heavy criticism online for their behavior during the Cricket World Cup final in Ahmedabad, which saw Australia defeat co-hosts India to claim the trophy. Specifically, Indian supporters have been condemned for booing match officials throughout the medal ceremony and offering only muted applause for Australian batsman Travis Head's brilliant century.
Boos Directed at Umpires Seen as Unsporting and Unwarranted
The most controversial incident occurred when umpires Richard Kettleborough, Richard Illingworth, Joel Wilson, and Chris Gaffney were introduced to receive their winners' medals. With the stadium mostly empty by the ceremony, televised boos from remaining fans were clearly audible.
Read More: Indian Fans Slam Irresponsible Rohit
This reaction baffled experts and commentators given the well-officiated, controversy-free match. The only debatable umpiring decision was a rejected Australia review for LBW, hardly justification for post-match hostility from home spectators.
Richard Kettleborough getting booed when he was on the stage

Biggest panauti of Indian team and he proved once again today. Also, LBW didn't go in our favour with Labuschagne#INDvAUS #CWC2023Final pic.twitter.com/boIAf951N9

— Vinesh Prabhu (@vlp1994) November 19, 2023
Crowd started booing as soon as Richard Kettleborough's name announced. pic.twitter.com/Ec1GtdVgBO

— Mufaddal Vohra (@mufaddal_vohra) November 19, 2023
Former players criticized the partisan fans' conduct as immature and disgraceful towards officials who facilitated a globally viewed final. Without the umpires' integrity and oversight, chaos could prevail even on cricket's greatest stage.
Head's World Cup Final Century Met With Ambivalence
In another show of poor sportsmanship, Indian fans reportedly clapped unenthusiastically as Australian opener Travis Head reached a century, which propelled his player-of-the-match dominance.
Read Also: Messi vs Ronaldo the Greatest Football Rivalry
Observers inside Ahmedabad's Narendra Modi Stadium noted Head's celebration elicited only muted reception from the largely pro-India capacity crowd of 110,000 spectators, not matching the occasion's magnitude.
Since 2013, India has lost 10 ICC Touranments and 8/10 times 'Richard kettleborough' was on field or TV umpire. pic.twitter.com/WLbqwFp1LT

— Sayam Ahmad (@sayam_ahmad_) November 19, 2023
Considering Head's sensational innings broke Indian hopes while posting a daunting total, this cold response from home supporters came across as sour grapes rather than appreciating a special performance.
Kettleborough Targeted With Claims of Anti-India Record
Some Indian supporters even singled out umpire Richard Kettleborough for criticism, spuriously claiming an anti-India bias in matches he's officiated previously.
Booing umpires and officials at a presentation of a World Cup final!!

That's just pathetic and immature from the Indian crowd at Ahmadabad!

Have a little bit of dignity and respect, you wouldn't have a game without officials#INDvAUS #CWC23 #CWC2023Final

— Jack Rule (@JackRuleLD) November 19, 2023
But these attempts to personally malign Kettleborough's neutrality were seen as desperate excuses to justify booing amid disappointment over Australia dethroning the strongly favored hosts.
Without any evidence, allegations over Kettleborough's body of work across over 140 ODIs seemed merely reactionary vitriol, not substantive complaints.
Social Media Backlash Over Poor Fan Conduct
The incidents have sparked backlash on social platforms condemning factions of Indian fans for the unsportsmanlike conduct.
Has a brilliant hundred on such a massive occasion
Been greeted with such ambivalence?

— simon hughes (@theanalyst) November 19, 2023
Some users declared the booing "a disgrace to cricket" and terrible example to set during a globally televised showcase event meant to inspire cricket's future stars and unite diverse cultures.
Hopefully the strong rebuke serves notice that partial umpire harassment and cheering opponents' failures represent outdated perspectives lacking place in modern competitive environments.
While supporting India was expected, fans crossed reasonable lines of biased support into unsportsmanlike hostility, detracting from a legendary Australian achievement.
Going forward, expectations should clearly establish respectful acknowledgment of outstanding individual performances no matter the jersey, reflecting cricket's spirit as a gentleman's game.