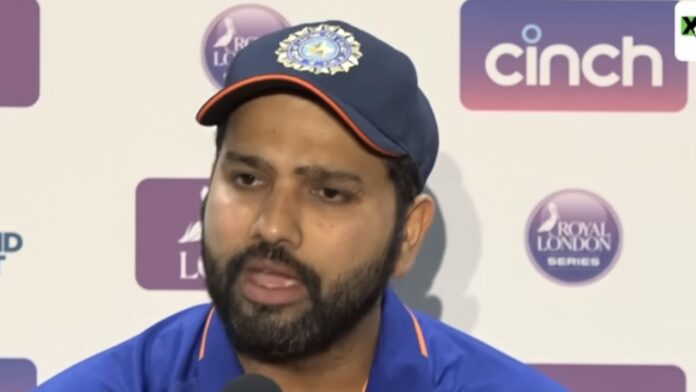 Indian skipper Rohit Sharma faced heavy criticism online after his aggressive but risky innings ended with a tame dismissal in India's surprise Cricket World Cup final loss to Australia. Fans slammed Rohit's shot selection as irresponsible given his immense experience.
Known for his swashbuckling batting approach, Rohit Sharma smashed 47 runs off just 31 balls to give India early momentum after they chose to bat first at Ahmedabad's Narendra Modi Stadium.
Rohit lit up the packed home crowd by taking Australia's fast bowlers apart. He crunched six fours and three sixes playing his signature pull shots and lofted drives.
At 76-1, Rohit's onslaught paired with Shubman Gill had India dominating. But Rohit's eagerness led to his downfall the very next over.
Facing Glenn Maxwell, Rohit had already struck him for six and four in the same over. But he then went for another big shot and could only manage a mis-hit outside edge.
A brilliant diving catch by Travis Head dismissed Rohit for 47. This halt in momentum was a turning point as India lost wickets in a clump soon after.
From a commanding position, India stumbled to an underwhelming 240 all out. Critics blamed Rohit's shot as the catalyst behind India's failure to set a bigger total.
Enraged fans took to social media to vent over Rohit's rash stroke, using words like "irresponsible" and "immature" to describe his shot selection.
What happens if you don't attack in 10th over you will lose 10 to 20 runs in final scoreboard.

What happens if you lose a wicket in 10th over you lose 80 -90 runs..

This is not selfless this is sense less
This is irresponsible and careless ness.

#INDvsAUSfinal #RohithSharma pic.twitter.com/bqAAxA5yzw

— k (@_Rocksays) November 19, 2023
Irresponsible captain should be held accountable for this loss.

— Sai Krishna (@SaiKingkohli) November 19, 2023
Full blame for this batting collapse is on this guy who couldn't resist the temptation of playing a big shot when everything was going smoothly. Irresponsible, senseless clown. pic.twitter.com/IGk3Giex9Z

— !_ (@bholination) November 19, 2023
Rohit Sharma was so untidy, so irresponsible. You are playing ODIs, not T20s man. Should have used brains more instead of going with brainless instincts.

— Nadim. (@nadimspeaks) November 19, 2023
They highlighted India were already well-placed and did not need additional boundaries. By gifting his wicket through high-risk batting, Rohit opened the door for an Australian comeback when patience was prudent.
Some felt a senior player and captain should have shown better situational awareness during a crucial final rather than repeating the same attacking template.
Rohit's fireworks earned him multiple records, including becoming the highest run-scorer in a single World Cup edition. Butpersonal milestones meant little to fans after his batting lapse keyed a reversal in fortunes.
Just when India seemed set for 300-plus batting first, Rohit's wicket punctured the momentum. Australia's bowlers regrouped while India's middle-order crumbled.
The premature aggression Rohit exhibits in T20Is backfired given the context demanded more restraint and responsibility to consolidate India's excellent start and make it count.
By needlessly taking risks, Rohit opened the door for an Australian resurgence. Fans felt Rohit didn't fully absorb lessons from previous World Cup failures linked to flawed approaches.
The polarizing debate around Rohit's mode of dismissal reflected differences in cricket philosophies. Some former captains argued Rohit backs himself by continuing to attack, while others felt he has to evolve strategy.
Ex-captain Sunil Gavaskar suggested India were on course for 300-plus if their aggressive batting approach continued successfully. Conversely, analysts like Mark Taylor criticized the shot considering India's already commanding position when Rohit got out.
These divided perspectives highlight the lack of consensus on whether Rohit could have tempered his aggression without blunting India's momentum.
Regardless of philosophy, the tangible consequence was India's abrupt loss of attacking impetus and failure to consolidate when well-set. That inability set the stage for their stunning defeat.
Besides batting tactics, skipper Rohit also faced scrutiny around India's questionable decision to bowl slow bowlers against Australia's renowned players of spin.
Rohit's choices as leader ultimately came under fire given Australia's comfortable six-wicket win powered by Travis Head and Marnus Labuschagne's aggressive 190-run alliance.
As captain, Rohit has to shoulder blame for failing to lift India to a third World Cup trophy, especially after dominating on home soil.
The post-mortem on India's baffling defeat will analyze whether Rohit erred in both strategy and focus under pressure. Despite fans' backlash, Rohit maintains his attacking DNA even amidstValid criticism. But with captaincy possibly his last chance to win global glory, greater adaptability was demanded from India's seasoned leader.