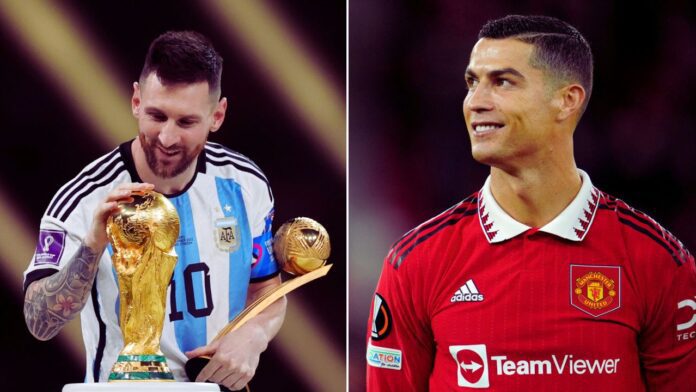 Lionel Messi and Cristiano Ronaldo have dominated world football for over a decade, breaking records and inspiring fans across the globe with their breathtaking skills and seemingly superhuman goalscoring feats. Their intense rivalry has sparked endless debate in pubs, studios, and living rooms over who is the greatest footballer of their era and perhaps of all time.
The Magical Mini Maestro With Remarkable Natural Talent
Messi is a one-club phenomenon who has mesmerized audiences with his mind-boggling dribbling, visionary passing, thunderous shooting, and lethal finishing ever since breaking through as a teenager at Barcelona. Blessed with prodigious natural ability, Messi plays with joy and often makes the magical look routine. Some experts and legends like Lineker and Rooney feel his preternatural talent exceeds even Ronaldo's.
The Relentless Record-Breaking Machine Sculpted Through Dedication
While not as naturally gifted as Messi, Ronaldo's unrelenting dedication to self-improvement has molded him into a goal-scoring machine and a physical specimen. His work ethic and athleticism have enabled him to thrive in the Premiership, La Liga, and Serie A. Former teammates like Carlos and Ferdinand argue his unparalleled drive and consistency give him the edge over the mercurial Messi.
By the Numbers: Who Wins the Neverending Stats Battle?
Looking at their stats over their illustrious careers, both Messi and Ronaldo have put up video game-like numbers. While Ronaldo has more career goals, Messi has more assists, a better goal-per-game ratio, and has won more trophies. For every stat Ronaldo leads Messi in, the Argentine maestro leads in another. Their statistical rivalry is as close as their sporting one.
You May Find Interest: Saudi League Now Home to Football's Biggest Names
Appreciating Two Legendary Talents Who Took the Sport To New Heights
Rather than just endlessly argue over who is the better footballer, perhaps we should appreciate how incredibly fortunate we are to have seen two of the greatest players ever simultaneously push each other to ever higher heights for over a decade. Their jaw-dropping exploits will live long in the memory of football fans.
Lionel Messi vs Cristiano Ronaldo
| | | |
| --- | --- | --- |
| Details | Lionel Messi | Cristiano Ronaldo |
| Games | 1,046 | 1,195 |
| Career mins | 85,937 | 97,233 |
| Goals | 821 | 865 |
| Assists | 361 | 246 |
| Hat-tricks | 57 | 63 |
| Free-kicks | 65 | 61 |
| Ballon d'Or wins | 8 | 5 |
| European Golden Shoe wins | 6 | 4 |
| Goals per game | 0.78 | 0.72 |
| Trophies | 44 | 34 |
| League titles | 11 | 7 |
| Champions League | 4 | 5 |
| Games per trophy | 23.8 | 35.1 |
| International caps | 179 | 204 |
| International goals | 106 | 128 |