The mystery is over! In the market, now available Google Pixel 4 and Google Pixel 4 XL with Android 10 version. The expected day arrived. At the Made by Google event on October 15, 2019. We were able to finally see the new Google Pixel 4 and Google Pixel 4 XL smartphones. Although, the truth, there were so many previous rumors that it seems that we already knew everything before its official launch.
But well, we have learned something new too. The new Google Pixel 4 (5.7 inches) and Google Pixel 4 XL (6.3 inches) from Google arrive with a new color, new look, and new finish, although their bezels are anything but reduced. They come with 6GB of RAM, a 90Hz display and Pixel Neural Core.
Video Credit: Unbox Therapy/YouTube
New functions
But that is not all. In addition, these Pixel smartphones have new sensors that allow us to use the phone with simple gestures to, for example, answer or reject calls or turn off the annoying alarm that awakens us every day. Also, as Sabrina Ellis stressed during the presentation, the new Google Pixel 4 comes with a faster and smoother facial unlocking sensor.
Moreover, these flagship phones have a much smarter Google Assistant in order to simplify some tasks and answer all requests or questions we have.
And, another of the new functions or features that come with Google's Pixel 4 and Pixel 4 XL is the Recorder app. It is a new system to make voice or audio recordings that will allow us, for example, to transcribe what we have recorded or found in a simpler and faster way some specific keywords or phrases. However, for now, transcripts and searches can only be done in English, but Google says it will add the possibility of using more languages ​​soon.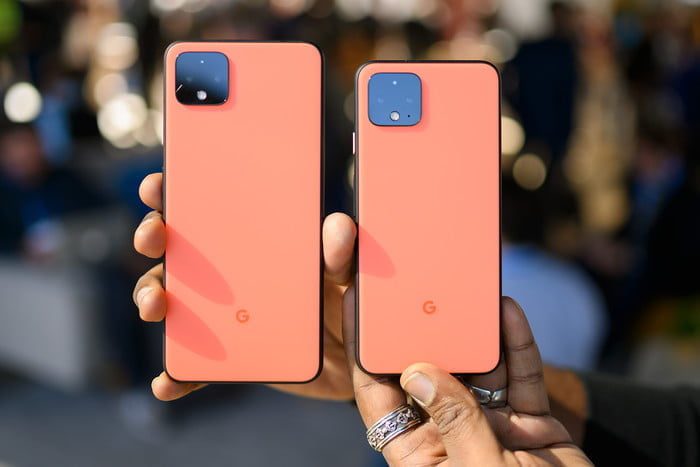 Android 10
Of course, and how could it be otherwise. Both the Pixel 4 and its older brother, the Pixel 4 XL, come with the latest version of Google's operating system, that is, Android 10, to give users the best possible experience.
Camera
And as Google knows that one of the most relevant aspects of smartphones is the camera, it has not only wanted to create a new quadrangular module in the Pixel 4 and Pixel 4 XL, but also has equipped the camera with both phones of the best software possible thanks to Machine Learning.
In this way, the new Google Pixel 4 and Pixel 4 XL come with a Live HDR + mode with double control to adjust the brightness and shadows of each photo in the best possible way, an improved white balance system, an improved mode for portraits, and a night mode with astrophotography. In other words, "we can not only capture the Moon, but also the Lune and its landscape."
Price and availability
The new Pixel 4 and Pixel 4XL will arrive in the United States with all the main operators, that is, AT&T, C Spire, Cellcom, Google Fi, Spectrum Mobile, Sprint, T-Mobile, US Cellular, Verizon, Visible and Xfinity Mobile
Both phones can be booked as of October 15, 2019. The price of Google Pixel 4 has been set starting at $799 (From 739 Euros) and that of the Pixel 4 XL starting at $899 (From 769 Euros).
Its worldwide availability will be from October 24, 2019, and will be available in three colors: Clearly White, Just Black and a limited edition, Oh So Orange.
You can choose between the option of 64 GB of internal memory or 128 GB, except in the orange model, only available with 64 GB of internal storage. You can visit Google store to purchase this smartphone.