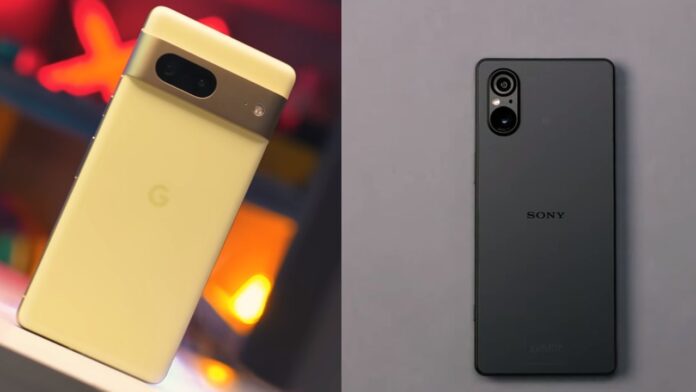 The Xperia 5 V has just hit the market, and it's clearly gunning for a top spot in the compact flagship phone arena. In today's article, we're pitting the Google Pixel 7 against the Sony Xperia 5 V to see how they stack up. These phones are natural rivals, not just because they're high-end offerings from their respective brands, but also due to their similar screen sizes. Yep, if you're in the market for a compact smartphone, these two are definitely contenders.
While they may be competing in the same category, they're far from identical. From their looks to their specs, there are some noteworthy differences. We'll start by diving into their spec sheets to see what each phone brings to the table, and then we'll compare them head-to-head in various categories. By the end, you should have a clearer idea of which phone could be your next pocket-sized powerhouse.
Specs
Specifically, the Sony Xperia 5 V and Google Pixel 7
Screen size (main)
AMOLED display, 6.3 inches, 90 Hz, HDR10+, 1,400 nits
Display: 6.1-inch OLED (120 Hz, 1B colors, HDR10)
Display resolution (main)
SoC
G2 Google Tensor
Gen 2 Qualcomm Snapdragon 8
RAM
Storage
128GB/256GB (UFS 3.1)
128GB/256GB (UFS 3.1)
Rear cameras
12MP (ultrawide, f/2.2 aperture, 114-degree FOV, 1.25um pixel size), 50MP (wide, f/1.9 aperture, multi-directional PDAF)
12MP (ultrawide, f/2.2 aperture, Dual Pixel PDAF), 48MP (wide, f/1.9 aperture), and OIS are available.
Front cameras
f/2.2 aperture, 1.22um pixel size, 10.8 MP
f/2.0 aperture, 1.25um pixel size, 12 MP
Battery
Charging

(Charger not included) 20W wired, 20W wireless, and reverse wireless
(Charger not included) 30W wired, wireless, and reverse wireless
Dimensions (unfolded)
155.6 x 73.2 x 8.7mm
154 x 68 x 8.6mm
Weight
Connectivity
5G, LTE, NFC, Wi-Fi, USB Type-C, Bluetooth 5.2/5.3
Security
optical in-display fingerprint scanner
fingerprint scanner on the side
OS
Price
Design: Google Pixel 7 vs Sony Xperia 5 V
The Pixel 7 and Xperia 5 V both rock a metal and glass design, but they've got their own unique spins on it. While the Pixel 7 opts for a flat display framed by slim bezels and a centered punch-hole camera, the Xperia 5 V goes a different route. It features a flat display as well, but skips the punch-hole camera, resulting in slightly thicker top and bottom bezels.
When you flip them over, the differences continue. The Pixel 7 sports a distinctive camera visor that stretches across the back, connecting to the frame on both sides. The Xperia 5 V, on the other hand, houses its cameras on a more compact island located in the top-left corner.
Button placement? Also different. The Pixel 7 keeps all its buttons on the right side, while the Xperia 5 V spreads them out. In addition to its power/lock button on the right, it even throws in a camera shutter button lower down. Volume controls? They're on the left.
Both phones are IP68-certified, meaning they're built to withstand water and dust. But size-wise, the Pixel 7 is a tad taller and noticeably wider, although they're pretty much neck-and-neck in terms of thickness. And yes, the Pixel 7 is a bit heavier, but that's not surprising given its larger 6.3-inch display, compared to the Xperia's 6.1-inch screen. Oh, and speaking of screens, they both use Gorilla Glass Victus, but the Xperia 5 V gets the upgraded Victus 2 on the back.
In the end, both phones feel like high-quality gadgets when you hold them, but they offer different experiences. It really boils down to personal preference.
Display: Google Pixel 7 vs Sony Xperia 5 V
The Pixel 7 boasts a 6.3-inch fullHD+ AMOLED display with a resolution of 2400 x 1080. Not only is it flat, but it also supports a smooth 90Hz refresh rate and HDR10+ content. When it comes to brightness, the screen peaks at a solid 1,400 nits. Protected by Gorilla Glass Victus, the display carries a 20:9 aspect ratio, making it slightly wider compared to Sony's offering. The Pixel 7 also edges out the Xperia 5 V when it comes to the screen-to-body ratio.
On the other hand, Sony's Xperia 5 V features a 6.1-inch fullHD+ OLED display with a 2520 x 1080 resolution. This flat panel not only supports a faster 120Hz refresh rate but also delivers HDR10 content and up to a billion colors. The screen is more on the narrow and tall side, thanks to its 21:9 aspect ratio, and it's topped with the more advanced Gorilla Glass Victus 2.
Now, both screens are pretty fantastic but in different ways. While the Xperia 5 V has a faster refresh rate—something you might notice if you're used to 120Hz displays—both are pretty much on par in terms of brightness. They might not outshine some of the brighter flagships out there, but they're plenty bright for most situations—except maybe under direct sunlight. As for color and viewing angles, both phones deliver vibrant, clear displays that look great from any angle.
Performance: Google Pixel 7 vs Sony Xperia 5 V