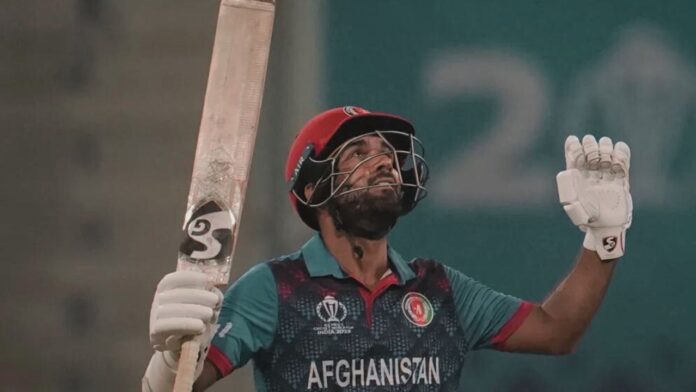 Afghanistan has defied expectations and stunned many at the ICC Men's T20 World Cup 2022, winning 4 out of 6 matches after losing their first two games to Bangladesh and host nation India. Under English coach Jonathan Trott, Afghanistan has fully embraced the mentality that they can beat any team at the World Cup, no matter the opposition's reputation.
Trott has hammered home the idea that Afghanistan's players are not just in India to make up numbers, but are there to win matches against top sides. This mantra has been internalized by the squad, leading to major upsets against former champion sides like England, Pakistan, Sri Lanka and the Netherlands.
Afghanistan's progress to the top of their Super 12 group behind India, with impressive victories over two former World Cup winners in England and Pakistan, is as much a product of the team believing in themselves as it is a reflection of their cricketing skills.
Now, with those four remarkable victories under their belt, Afghanistan find themselves with a real chance at a semifinal berth. On Tuesday in Mumbai, they face an Australian team who have also exceeded expectations and are brimming with confidence. In addition, you can also read an article on- Netherlands Stun Cricket World Cup with Epic Win Over South Africa
Political Situation Adds Intrigue to Australia-Afghanistan Match
There is an intriguing political conundrum surrounding Afghanistan's crucial match against Australia. Australia's governing body Cricket Australia (CA) has canceled bilateral fixtures against Afghanistan's men's team twice in the past two years, citing the Taliban government's restrictions on women's rights and access to sports.
A one-off Test match scheduled for Hobart in 2021 was postponed indefinitely soon after the Taliban took power in Afghanistan. Earlier this year, CA withdrew from a planned three-match ODI series that was set to be played in the UAE, making a stance against the Taliban's oppressive policies against women.
CA consulted with the Australian government before making those decisions to withdraw from bilateral series against Afghanistan under the current regime. They also spoke with several Afghan women cricketers who had escaped to Australia after the Taliban takeover, balancing their hopes with pride in the men's team's success.
While bilateral fixtures are fully under CA's control, World Cup matches like Tuesday's have major consequences. As such, Australia has continued to compete against Afghanistan in ICC events like last year's T20 World Cup and the current tournament.
An ICC spokesperson explained, "There is a distinction between playing bilateral series against Afghanistan which falls directly under CA control as compared to playing in a World Cup tournament which is an ICC event and subject to their regulations." Additionally, you can also read about- Rohit Sharma Smashes Record 7th World Cup Century Against Afghanistan
ICC Faces Dilemma Promoting Women's Cricket in Afghanistan
The Taliban policies on restricting women's rights have created a tricky situation for the ICC, which actively trumpets the rapid growth of women's cricket globally.
When Afghanistan was granted full ICC membership in 2017, there were no clear requirements or timeframes imposed on the Afghanistan Cricket Board (ACB) to establish a women's national team or development pathway. The ICC accepted that "social, religious and cultural challenges" existed in developing women's cricket in the country.
The ACB was in the process of establishing a women's program before the Taliban takeover. But the Taliban has now banned women from playing sports, discontinuing Afghanistan's nascent women's cricket initiative.
The ICC Board has discussed the matter but seems reluctant to penalize the ACB, stating that "the ICC position, like that of other major sporting organisations, is that it continues to support its Member (the ACB) in its endeavours to promote cricket in the country and does not believe that it is appropriate to sanction the ACB for obeying the laws of its country."
With no clear pressure or timeline for change, it is hard to see how Afghanistan's women's cricket program can be reinstated unless the Taliban softens its stance or the government changes again in the future.
For now, the ICC appears content to provide Afghanistan funding for men's cricket without any portion earmarked for future women's cricket development, despite having a stated goal of global growth in the women's game.
You May Find Interest: India vs Australia World Cup Rivalry: That Is Sure to Produce More Records and Firsts
Afghanistan's Men's Team Seeks Historic Upset of Australia
With several remarkable wins under their belt, Afghanistan now seeks to add Australia to their list of World Cup conquests. It would be a truly historic achievement if the rising Afghan team could beat the defending champion Aussies.
Afghanistan will undoubtedly come into the match as underdogs, but coach Trott points out "they quietly have a sort of inner steeliness about them recently. That's exciting. They now have confidence, like, we've beaten England. We've beaten Pakistan. They've won World Cups before. Why can't we beat Australia who have won it the most times?"
An advance to the T20 World Cup semifinals would be a monumental accomplishment for Afghan cricket. It would powerfully reinforce Trott's message that his team is not just happy to be here, but hungry to keep beating the best teams in the world.
Backed by legions of passionate fans in India waving their flag, Afghanistan hopes to continue serving as ambassadors for the growth of cricket beyond its traditional strongholds.
Beating the Aussies would give Afghanistan's cricket-crazed fans even more reason to celebrate. It would also bolster Afghanistan's credentials as a rising force in cricket, despite the frustrating politics that limit their opportunities for matches off the field.