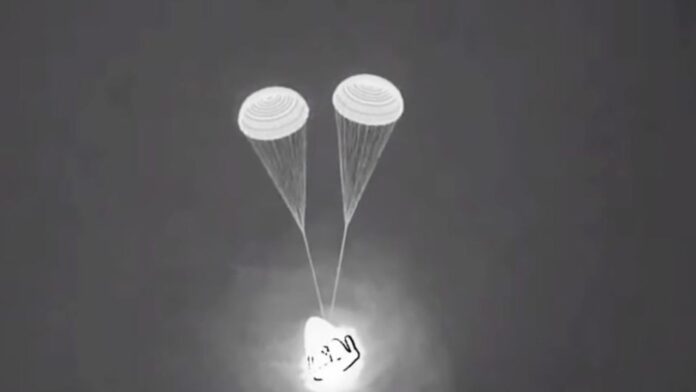 Four astronauts have come home from a six-month mission on the International Space Station, splashing down off the coast of Florida on Monday aboard their SpaceX Crew Dragon spaceship.
The astronauts, who are part of NASA and SpaceX's Crew-6 mission, left the space station around 7:05 a.m. ET on Sunday. The team spent the day aboard the team Dragon vehicle, which traveled through Earth's orbit and toward its planned landing spot off the coast of Jacksonville, Florida, where they landed shortly after midnight ET.
As it began the final leg of its descent, the spacecraft's exterior heated up to about 3,500 degrees Fahrenheit (1,900 degrees Celsius) as it sliced back into the thickest part of Earth's atmosphere. The occupants were covered by a heat shield inside the spaceship cabin, and the temperature should have kept comfortably below 100 degrees Fahrenheit (37.8 degrees Celsius).
The capsule then deployed parachutes to slow its descent even further. Rescue personnel are preparing to lift the spaceship out of the ocean and onto a special boat called the "Dragon's nest," where final safety checks will be performed before the crew can exit.
NASA said before the astronauts departed the space station that it had been watching the impact of Hurricane Idalia, which made landfall on Florida's Gulf Coast on Wednesday morning. The storm plowed over northern Florida before moving into southern Georgia and the Carolinas.
The Crew-6 team consists of NASA astronauts Stephen Bowen and Warren "Woody" Hoburg, as well as Sultan Alneyadi, the United Arab Emirates' second astronaut to journey to space, and Russian cosmonaut Andrey Fedyaev.
After launching to the station in March, the team spent six months on board the orbiting laboratory. Crew-6 astronauts spent the last week preparing to welcome and pass over operations to Crew-7 team members, who arrived at the space station on August 27.
Read Also: Rogue Scientist: NASA Found Life on Mars in 1973 and Killed Them
The Crew-6 astronauts were supposed to oversee more than 200 research and technology projects during their time in space.
"We got a lot done during our mission," Hoburg remarked on August 23 at a remote news conference with the astronauts. "We had two SpaceX cargo vehicles visit us — the CRS-27 and 28 missions with a lot of science on board." And, as a crew, we completed three spacewalks."
During their stay, the Crew-6 astronauts also housed the Axiom Mission 2 crew, which consisted of one former NASA astronaut and three paying clients, including an American businessman and two Saudi astronauts. That voyage was part of a plan to carry tourists and other paying customers to the International Space Station on a regular basis, as NASA seeks to enhance commercial activities in low-Earth orbit.
"It's been a big adventure and a lot of fun," remarked Hoburg.
Read More: NASA Scientists Grow Plants in Moon Soil