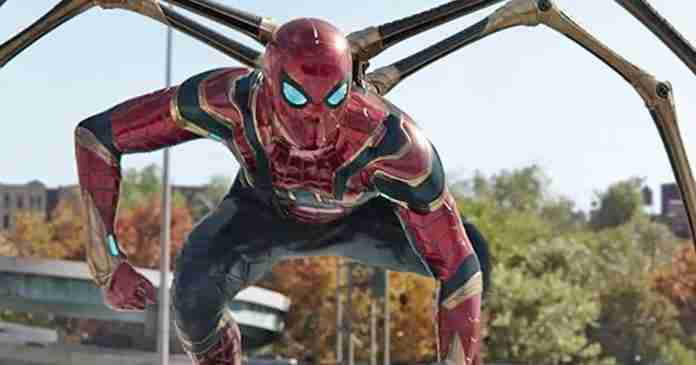 Spider-Man: No Way Home is a film that attempts to accomplish a number of goals. It's the third installment in the MCU's Spider-Man trilogy, directed by Jon Watts, and it wraps up Tom Holland's rendition of Peter Parker's narrative. It's a direct sequel to Spider-Man: Far From Home, and it picks up where the 2019 film's cliffhanger credit scene left off. It's the fourth installment of the Marvel Cinematic Universe's "Phase Four" plot arc. It's also a nod to the previous 20 years of Spider-Man films.
That's a lot of balls to keep track of. And the fact that No Way Home manages to pull off so many of them is astounding, especially when it comes to fan service — but, like Peter Parker, this film can't have it all.
Spider-Man: No Way Home continues where the previous film, Far From Home, left off. Through one last trick of Mysterio, Peter Parker's secret identity as Spider-Man has been disclosed to the world, and now everyone blames the webslinger for the villain's rampage through London.
The opening part of No Way Home, which eschews heroics in favor of grinding down the costumed hero, does not let Peter off easy. Half of the world despises Peter and believes he assassinated Mysterio. He has no idea how he is going to pay for college. (As an aside, since this is the third time this narrative point has been mentioned in an MCU production this year, did none of the Avengers get paid? Tony, please.) After her apartment is besieged by reporters and protestors, Aunt May (Marisa Tomei) is forced to relocate. And Peter's best buddy, Ned (Jacob Batalon), and his girlfriend, MJ (Zendaya), get rejected from every college they apply to simply because they are friends with Peter.
So, in order to safeguard his loved ones, Peter approaches Doctor Strange (Benedict Cumberbatch), a fellow Avenger, and asks him to use his magic to solve the problem. Things, of course, go wrong. The spell breaks open the multiverse, revealing villains from Sony's previous five Spider-Man films, spanning nearly two decades: Green Goblin (Willem Dafoe reprising his role from Spider-Man), Doc Ock (Alfred Molina, Spider-Man 2), Sandman (Thomas Hayden Church, Spider-Man 3), Lizard (Rhys Ifan, The Amazing Spider-Man), and Electro (Rhys Ifan, The Amazing Spider-Man) (Jamie Foxx, The Amazing Spider-Man 2). Each villain has been taken from the moment they were about to get their web-slinging comeuppance and given a new chance for vengeance on (another) Spider-Man, who now needs to track them down and return them to where they came from.
The return of these characters is a highlight of No Way Home. Long-time Spider-Man fans will delight in seeing Doc Ock crash his way through a highway of automobiles, a devilishly grinning Green Goblin cackling his way from scene to scene, or Jamie Foxx's Electro not having to be a blue CGI Doctor Manhattan knockoff. While Molina's tortured scientist battles to control his out-of-control creature, Dafoe leads the charge, jumping between his ferocious and affable identities without missing a beat in the intervening 19 years. The main characters from Watts' trilogy are also returned. Holland's portrayal of Peter is his best yet: he's still fresh-faced and quipping his way through fights, despite the increasing weight of having to be Spider-Man. MJ and Ned are further removed from the action, however, Aunt May is given a lot of screen time in the film's quieter moments.
It's all a lot of fun, but it's the same problem that all of Holland's flicks have had: the buffet of bad people are once again other characters' opponents that Peter simply happens to be dealing with, much like he was cleaning up Tony Stark's mistakes in Homecoming and Far From Home. Peter's Inception-style mirror dimension clash with Doctor Strange has almost as much weight as some of the villain fights because at least he knows who he's up against.
In fact, practically all of the film's major emotional beats rely on the audience's knowledge of the previous five Spider-Man films, seeking to finish up each villain's story while also providing closure for the characters in the Tom Holland trilogy that No Way Home nominally concludes. There's a lot going on right now.
Still, once No Way Home gets going, it's difficult to care about any of it. In situations that feel engineered to have fans cheering in theaters, there are a plethora of characters and appearances. There are major revelations, catchphrases are faithfully recounted, and the last hour is essentially a payout for two decades of Spider-Man flicks, handled with a surprising amount of humor and emotion despite some darker swings halfway through. Whether you like Sam Raimi's, Marc Webb's, or Jon Watts' films, No Way Home tries its hardest to please. (Of course, if you've seen all seven previous Spider-Man films, you'll get the most mileage out of it.) It's all extremely fulfilling for fans, even if it does feel like the film is as much about Sony and Disney's conflicting studio interests as it is about Spidey himself at moments.
No Way Home also doesn't let its characters rest, pressing the reset button and sowing the seeds for future sequels, with the now-traditional post-credit scenes setting up additional adventures for Spider-Man and Doctor Strange, as is almost Marvel tradition.
Still, Holland's Spider-Man is expected to return for a few more films, and the finale of No Way Home suggests that Peter will shed some of his MCU baggage in exchange for a kinder, more neighborly Spider-Man. So it's likely that future installments may finally allow the character to fly across the city on his own merits, rather than relying on the ghosts of previous films.