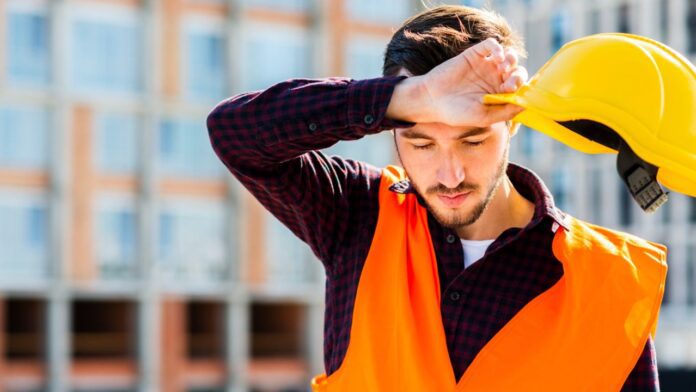 This summer has seen record-breaking heat waves. A heat dome engulfed much of the South in July, while Phoenix had a 31-day streak of temperatures above 110 degrees.
Another wave of scorching temperatures is currently sweeping the central United States, with the heat index — a number that combines relative humidity and air temperature to determine how hot it feels — rising past 120 degrees in numerous locations.
The Midwest is used to harsh winters, but rarely such scorching summers: some buildings lack air conditioning, and infrastructure such as asphalt roads may not have been designed for intense heat.
As the temperature rises, many jobs in the United States become significantly more difficult and dangerous — and not just on construction sites and farm fields, where the majority of heat-related deaths occur. Many individuals who operate in facilities with no cooling or ventilation are also at risk, including those in factories and warehouses, restaurant personnel, and delivery drivers and gig workers who are exposed to deadly temperatures while lugging packages out in the sun. Even employees who work in interior workplaces with cooling mechanisms are vulnerable, because broken or inadequate HVAC systems are frequent, as teachers around the country are discovering. The number of jobs where heat might be hazardous to one's health is extensive. Additionally, you can also read about- What is Heat Stroke and What to do if you have It?
According to the federal Occupational Safety and Health Administration (OSHA), 121 workers perished from heat from 2017 to 2022, while the agency admits that this figure is likely an undercount. Between 2011 and 2020, the Bureau of Labor Statistics recorded about 34,000 work-related heat injuries and illnesses that needed time away from work. Eugene Gates, a 66-year-old Dallas letter carrier, died on the job on a June day when the temperature hit 97 degrees, while Dario Mendoza, a 26-year-old farm worker, died a month later after working in the fields during the Phoenix area's infamous heat wave.
"Many people are saying that this summer feels worse than the summer before," Mayra Reiter, project director of occupational safety and health for Farmworker Justice, a worker protection non-profit, explains. "And it's making people work harder in the fields — people are feeling unsafe."
The recent incidence of heat-related illnesses and deaths among employees is just a taste of what's to come as climate change continues to raise summer temperatures in many US cities. Some cities' typical summer highs will rise by up to 6 degrees Celsius by 2050. According to an EPA assessment, wildfire smoke, as well as an increased risk of infections from insects such as ticks and mosquitoes as the warmer weather extends their habitats, would put additional burden on outdoor workers. Indoor workers will be at risk as well, as buildings with inadequate insulation and ventilation may become ovens during heat waves.
Climate change's far-reaching ripple effects will affect where we can work, when we can work, and how long we can work. However, there is no federal rule that establishes a threshold for when heat makes it unsafe for employees to work, or what companies are obligated to provide their employees in certain conditions, such as water, more frequent breaks, shade, or air conditioning.
There is simply no relief in sight for many workers.
How Heat May Hurt Your Health and Make Your Job Dangerous
There is no specific temperature at which physical activity becomes dangerous for everyone. However, researchers discovered that at a wet bulb globe temperature of roughly 95 degrees Fahrenheit – a reading that combines humidity, wind speed, if there is direct sun exposure, and other factors – even the fittest people will overheat. Even six hours of exposure to that degree of heat could result in death.
Heat, on the other hand, begins to affect how efficiently we can operate long before the temperature reaches 95 degrees. The best temperature for physical outdoor work varies by place, but in the United States, it is 57.7 degrees. Productivity begins to diminish after that stage. It demonstrates how quickly heat affects our body.
When a worker overheats, they get weak and dizzy. Their speech may be slurred. These early warning signs can progress to heat stroke, rhabdomyolysis (the breakdown of muscular tissue), or even a heart attack. There are also longer-term consequences. A person's heat tolerance can decrease after suffering a heat stroke, and scientists are also investigating a possible link between working in hot conditions and kidney illness, which has been reported among agricultural workers.
Temperatures do not have to be extremely high for heavy work to be lethal. Workers are commonly killed due to a lack of heat acclimation; the majority of workers who die from heat do so within the first few days on the job. "A lot of workers will actually suffer from heatstroke during their first week on the job," explains Brenda Jacklitsch, a health expert at the National Institute of Occupational Safety and Health (NIOSH).
Extreme heat is also having an impact on productivity. According to The Lancet's 2022 study on the relationship between climate change and public health, over 470 billion hours of labor were missed in 2021 owing to excessive heat. The United States alone lost 2.5 billion hours, largely in construction, manufacturing, service, and agriculture. "Workers slow down," says Shouro Dasgupta, a co-author of The Lancet paper and an environmental economist. "They either have to work fewer hours or put in less effort during the hours that they can work." Work hours restrictions will most certainly effect all sectors of the economy, slowing the pace and availability of consumer goods and services, slowing delivery orders, and delaying air travel.
Across the country, airport ground service personnel, whether cabin cleaners, baggage handlers, or others who must operate on the tarmac, have experienced extreme temperatures. Rashele Bates, a 26-year-old member of the Service Employees International Union (SEIU) who cleans plane cabins at the Charlotte, North Carolina airport, told Vox that she felt sick and nauseous on the job one day in late July after she and a coworker had been cleaning for about three hours without a proper break. Bates vomited, and her coworker collapsed and was taken to the hospital.
"I'm sitting there drowning in sweat," recalls Bates. According to Bates, the air conditioning on the plane isn't always turned on while they work, and there's no air conditioning on the jet bridge linking the plane to the terminal, when she and her coworker became ill. Bates and a group of other airport workers signed a petition requesting water bottles and working air conditioning in each break room from the airline contractor she works for, Jetstream Ground Services. The SEIU also supports legislation to enhance airport work conditions. Jetstream Ground Services did not respond to an interview request.
There is no huge mystery about how to deal with heat illness at work. NIOSH, which is part of the Centers for Disease Control and Prevention, issued its initial recommendations on occupational heat safety in 1972, and the recommendations haven't altered much since.
"A lot of the work done isn't rocket science," said Andrew Levinson, OSHA's head of standards and guidelines. "It's making sure people have enough water, rest, and shade, and that they can ease into work that first week to make sure they're adequately acclimatized."
Why Are There No Workplace Heat Protection Laws?
Only California, Oregon, Washington, Colorado, and Minnesota have set their own workplace heat regulations, despite the fact that nearly half of the states have the ability to do so. In California, an 80-degree heat index requires employers to provide outdoor workers with regular rest, shade, and water. Heat safety standards in Oregon, according to Reiter of Farmworker Justice, go into effect at 80 degrees and apply to indoor employees as well.
Texas, on the other hand, is heading in the opposite direction. After Austin and Dallas passed ordinances mandating more frequent water breaks for construction workers in 2010 and 2015, respectively, Governor Greg Abbott signed a bill in June prohibiting local regulations that go beyond state-level occupational safety rules. Employers are not required to provide employees with breaks at the state level. Texas is the most dangerous state for heat-related workplace deaths, with 42 people dying there since 2011, according to the Bureau of Labor Statistics, which also tracks heat-related workplace deaths.
A federal OSHA heat standard is still years away, and this is not because the agency is unaware of the issue. It began working on a proposed rule in 2021, but developing a new standard is notoriously difficult since Congress forces the agency to go through a lengthy, cumbersome procedure. It must, for example, do a cost-benefit analysis, assessing the cost not only to the agency but also to all affected industries, and go through many rounds of public discussion.
"That doesn't mean the agency isn't out there, shouting from the rooftops about how important this is," Levinson says, adding that many workers are urging OSHA to develop heat rules immediately.
The agency must also deal with political challenges. The conservative position on workplace safety rules is that they should not exist. "Republican administrations don't do OSHA rules," says Jordan Barab, a former Obama administration deputy assistant secretary of labor who now publishes a workplace safety journal.
In the absence of a heat requirement, OSHA has relied on the "General Duty" provision, which states that employers must provide a safe workplace free of "recognized hazards." The clause, however, has four steps to it, and OSHA must develop its case for each one. "These cases are very legally vulnerable," Barab explains.
According to Reiter of Farmworker Justice, OSHA might declare an emergency heat standard while working on a more permanent standard, but such standards have been successfully challenged in court. Instead, Reiter's organization, along with many unions, is supporting a federal plan recently filed in the Senate that would allow OSHA a year to create an interim standard and make it more difficult to dispute. A number of Democratic lawmakers have endorsed the bill.
The Coalition of Immokalee Workers (CIW), an organization that fights for farm workers in Florida and elsewhere, is not waiting for the federal government to act. In 2011, the organization developed the Fair Food Program, which establishes higher labor standards on farms, including heat standards. So far, more than 20 crop growers have joined forces with Burger King, McDonald's, Whole Foods, Trader Joe's, and other major food corporations.
Gerardo Reyes Chavez, a CIW activist and former farmworker, says the contrast between circumstances on farms that participate in the program and those who do not is like night and day. "Before, you had no way of protecting yourself; you were essentially at the mercy of fate." But, in my opinion, human rights should not be based on chance."
Other unions, such as the United Steelworkers, Teamsters, SEIU, ROC United (which campaigns for restaurant workers), National Nurses United, and others, are directly negotiating regulations with big employers: UPS drivers recently unionized with the Teamsters and secured a contract that, among other things, requires air conditioning in new corporate vehicles. Many older delivery vehicles will also be upgraded with air conditioning, fans, and vents.
Some companies and industry leaders are concerned about an impending OSHA heat requirement. The American Farm Bureau Federation, a trade association representing farm producers — an industry with some of the highest rates of heat-related worker injuries and deaths — has argued that the General Duty clause already protects workers and has questioned whether new regulations can be implemented "without imposing new, onerous burdens on farmers and ranchers that will lead to economic losses." It then urged the agency to focus on "the individual employee's responsibility and the personal health choices that are made outside of the workplace," a position echoed by other pro-business organizations. An interview for this story was denied by the organization.
According to Barab, this demonstrates how heat isn't always the cause of worker illness. "It's really more about employers' refusal to implement worker-protection measures." Workers are being killed as a result of this."