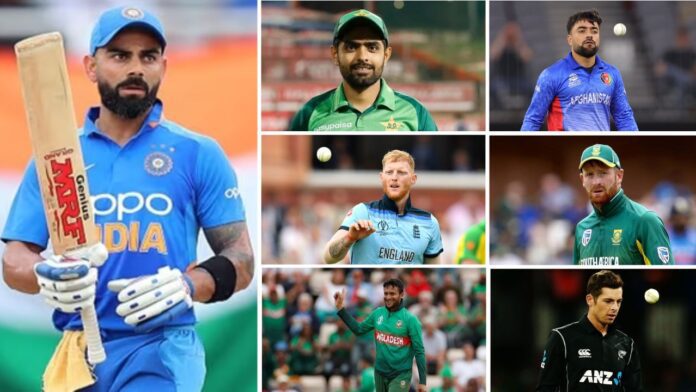 The 15-member squads for the ICC Men's Cricket World Cup 2023, which will be held in India from October 5 to November 19, have been announced by all ten competing teams.
Some teams relied on experience to win cricket's most cherished trophy, while others relied on a combination of old and fresh faces.
Only a few of these will be notable players for their team's campaign on cricket's grandest stage.
Here Are the Top Ten Names to Keep an Eye on During This Year's Tournament:
Babar Azam: Pakistan
Given his dominance at the top of the ICC men's one-day international (ODI) rankings, Pakistan's captain and most prolific run scorer in recent years is an obvious option. Over the last six years, Babar has consistently been ranked among the best five batters in the format.
Although the 28-year-old had a mediocre run at the recently concluded Asia Cup (207 runs in four innings) and was unable to lead his team to the final, Pakistan's chances of reaching the World Cup semifinals will be closely linked to his batting form and on-field decisions.
Several former greats have praised Azam, including Pakistan's sole Cricket World Cup-winning captain and former Prime Minister Imran Khan, who described him as a "complete" hitter.
"He has a brilliant technique, talent, and temperament." "It's very rare to find all three of these things in one batsman, but he has them all," Khan said earlier this year in an interview. Additionally, you can also read about- Irfan Pathan Predictions in World Cup 2023: Top Batter and Top Bowler
Virat Kohli: India
Virat Kohli, arguably the biggest celebrity in world cricket and one of India's all-time great players, has practically all major international titles. Despite his age, the 34-year-old is one of the sport's fittest athletes and continues to score runs with almost unbelievable consistency.
Kohli has three centuries this year, one less than Indian legend Sachin Tendulkar's record of 49 ODI hundreds.
The former India captain, who was a member of India's World Cup-winning team in 2011, has promised to bring the cricket-crazy country another championship.
"The memories of past World Cup victories, especially the iconic 2011 win, are etched in our hearts, and we want to create new memories for our fans," Kohli stated in the run-up to the competition.
Rashid Khan: Afghanistan
The Afghan leg-spinner has become the country's first internationally recognized cricket icon. Khan made his debut in 2015 at the age of 17 and has since taken 336 wickets across all formats of the game.
Khan's perplexing googlies and unwavering ability to take wickets have helped him become a cornerstone of Afghanistan's side over the last eight years. With his contributions deeper down the order, the 25-year-old's ODI batting average of nearly 20 comes with a strong strike rate and the capacity to drive his side to significant totals.
Afghanistan will look on their former (youngest) captain to help them challenge for a spot in the semifinals.
Adam Zampa: Australia
Zampa will be Australia's lone specialist leg-spinner when they take the field on normally spin-friendly Indian surfaces. The 31-year-old has a reputation for breaking down opposition alliances and creating vital breakthroughs for his squad.
With a strike rate of 31.5 and an economy rate of 5.53, he will be Australia's most crucial bowler in the 50-over format, where he has 45 wickets in the last 20 months.
Heinrich Klaasen: South Africa
In a lineup stacked with power hitters, Klaasen stands out for his ability to go into the crease later in the order and get right to work hitting home runs.
He has one of the highest strike rates among modern batters and frequently scores the majority of his runs on fours and sixes. The 32-year-old wicketkeeper holds the record for 10 wicketkeeping dismissals and scoring 200 runs in a series.
Last month, the power-hitter smashed 83 off 174 balls against Australia in a home ODI series, and South Africa will be hoping that Klaasen can replicate that form on the greatest stage.
Ben Stokes: England
Stokes is perhaps England's most important player of this generation, and he was their standout performer during their 2019 success. Following a temporary hiatus, the 32-year-old returned to ODI cricket and was named to England's squad last month.
Ben Stokes made his comeback with a 124-ball-184 against New Zealand in the current One-Day International series, breaking Jason Roy's record (180) for the greatest individual score in an ODI for England and leading his team to a 181-run victory.
In recent months, the all-rounder has been used as a specialist batter, but his superb fielding and commitment to on-field decision-making will be important to captain Jos Buttler.
Moreover, India's Kohli just named Stokes his current favorite cricketer.
Shakib Al Hasan: Bangladesh
Shakib Al Hasan is widely regarded as Bangladesh's greatest cricketer of all time, as well as one of the world's finest all-rounders.
For nearly 14 years, the deft left-arm spinner and left-handed batter has ruled the ICC ODI all-rounder standings. In different versions of the game, he has regularly been among the finest bowlers and all-rounders.
The 36-year-old has incredible ODI statistics, with 308 wickets and 7,384 runs to go along with other individual records he has accumulated over his 17-year career.
Despite his individual brilliance, Bangladesh's skipper has yet to led his team to victory in an ICC competition. But his followers are hoping that will change this time.
Read More: Shreyas Iyer Seals No.4 Spot with Consistent Performances, a Testament to His Talent
Shaheen Shah Afridi: Pakistan
Just as Pakistan skipper Azam's form might be decisive in Pakistan's tournament run, fast bowler Shaheen Shah Afridi's periods with the ball will be critical to Pakistan's chances of chasing down batters on high-scoring Indian grounds.
Afridi, who made his international debut as an 18-year-old in 2018, has quickly taken over as Pakistan's bowling spearhead and has frequently found himself at the top of the ICC bowlers' rankings.
The left-arm bowler has a habit of getting wickets in his opening over, giving his team an early lead. With right-arm fast bowler Naseem Shah out injured, Afridi's importance as an opening bowler would be doubled, but the pacer has previously demonstrated his ability to handle big-match pressure.
Mitchell Santner: New Zealand
The all-rounder has quietly established himself as a key member of New Zealand's squad. The 32-year-old has been his skipper Kane Williamson's go-to bowler in stressful situations, including a critical session in their 2019 Cricket World Cup semifinal win over India.
Santner's best performances and top ICC rankings have frequently occurred in ODIs.
The southpaw is regarded as one of the best fielders in the world.
Matheesha Pathirana: Sri Lanka
Pathirana, one of Sri Lanka's breakout stars over the last year, having taken 15 wickets in 10 matches since making his ODI debut in June.
He hails from the Lasith Malinga school of slingy round-arm fast-bowling movement and is known for limiting opponent scoring rates.
The 20-year-old has made an immediate impact in international cricket by combining unplayable yorkers with awful bouncers.
Pathirana finished last month's Asia Cup with the most wickets, impressing many past and current cricketers.