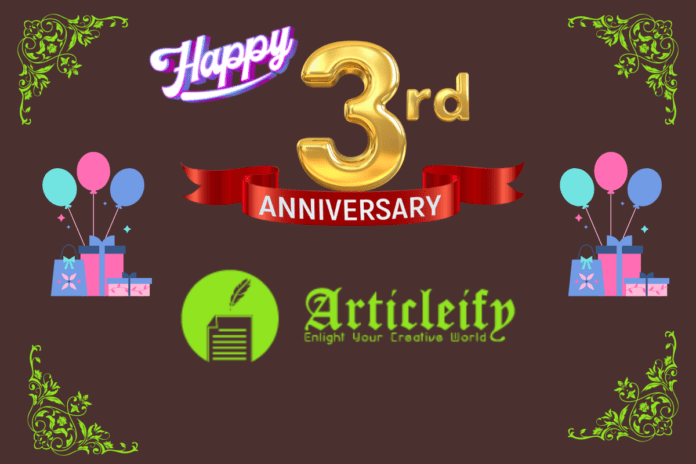 ArticleIFY turns three today. On the occasion of its third birth anniversary, it is observing a grand celebration on Tuesday (September 27, 2022).
ArticleIFY was founded in 2019 by Sukanta Parthib, who is also founder and chief executive officer of Editorialge and TechIdea. Sukanta is a renowned writer, journalist, digital marketer and also a poet. 
With the theme of "Enlighten Your Creative World", ArticleIFY started as a blogging platform on the very day of 2019. We all know its slogan of IFY, that means — I feel you.
Now it has been flourishing its wings to the readers worldwide. It always tries to keep the trust of its readers and continue the journey with this support in the future.
On this ArticleIFY birthday, we'd like to express gratitude to all of our viewers, readers, advertisers, well-wishers, and other important people in our lives. We also want to say thanks to everyone who has helped us along this journey. Also, we want to say how much we appreciated the support they gave us.
We'd like to thank the famous people from different sectors, as well as the officials and employees who have helped us in different ways, wished us a happy birthday, and given us advice. We honor the respected viewers, readers, advertisers, and well-wishers who have helped the show grow. Thank you to them.
On this special day, we welcome writings from the new bees and different quarters of the world.
Celebrating the third birth anniversary, ArticleIFY congratulates its readers, admirers, well-wishers, comrades and the people worldwide.
Doing a splendid journey in the area in these three years, ArticleIFY has been able to get approval from Google News on September 23.
Happy Birthday, ArticleIFY!