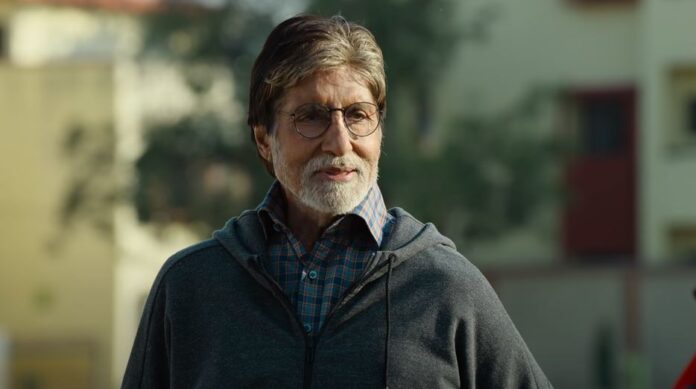 The three-hour film Jhund revolves around retired football coach Vijay Borade's (Amitabh Bachchan) ability to spot talent in a group of youngsters in a nearby slum and his belief that they could form a formidable football team, not only to represent their country but also to channel their energy to better their lives by giving up violence and drugs, and how he succeeds in his goal.
'Jhund', as depicted by Nagraj Manjule, is not simply a ragtag group of skilled footballers living in a slum, but real people with real hopes and aspirations. They are not represented as people who are wallowing in self-pity despite their lives being full of difficulties; rather, they are portrayed as people who are ready to grab the opportunities that life presents to them. As the characters they portray, their honesty and creativity are obvious.
Yes, the stories are tragic, and their problems are highlighted, but the purpose of the video is to inspire, since it is packed with life lessons.
Manjule is focused in his approach of the subject and does not sway with superfluous backstories or entertaining gimmicks. He spends far too much time painstakingly describing their life and surroundings and making them appear unreal. In the end, these are tiresome to watch.
Following the intermission, the tempo quickens, sucking you unwittingly into the lives of the people and their desires, causing you to empathize with them. Characters overcoming challenges and reaching the finish line absolutely engrosses you.
Although the film is labeled as a sports film, it is actually an uplifting one. It instills patriotism, emphasizes on emancipation, and has a positive tone throughout. The film is full of heart and has several emotional moments. The adrenaline thrill of a collegiate football game against slum dwellers is as real as Don alias Ankush Meshram receiving his passport at the last minute and rushing to the airport in the nick of time.
You should watch the trailer if you want the full article on Jhund movie review. You can Watch the trailer below:
Although there are subtle parallels to the slum's Dalit residents, particularly in the celebration scene, the caste components are never stressed. Vijay Borade does not appear to be larger than life in any way. He's quite relatable. The character of Vijay Borade, played by Amitabh Bachchan, is based on the life of retired sports professor Vijay Barse, who created the NGO Slum Soccer. His portrayal is not only natural, but also believable and lovable. His passionate plea to the Lady Judge on behalf of the slum dwellers harkens back to his charisma and oratorical abilities.
Given the personalities they are portraying, the rest of the ensemble cast gives flawless performances. They effortlessly look and feel the part. Ankush Gedam's Don is endearing because of his sensitivity, and he demonstrates his versatility as an actor. Rinku Rajguru makes her impression, as does Akash Thosar, who appears in a new guise.
The soundtrack is nearly stereotypical of Manjule's films in that it brilliantly captures and enhances the soul of the film. Overall, 'Jhund' underlines that the impossible can be accomplished if the intent is good and the convictions are strong, and as the slum kids leave for the global championship league abroad, you no longer see them as just a throng.
Director: Nagraj Manjule
Cast: Amitabh Bachchan, Abhinay Raj Singh, Ganesh Deshmukh, Vicky Kadian
Rating: 4.5 stars (out of 5)
Apart from it, you can read these articles: Peaky Blinders Season 6, Samsung Galaxy S21 FE review, DaBaby net worth, Shetland Season 6, Primal Season 2, Cells at work Season 2, Goku, 6ix9ine net worth, The Shannara Chronicles Season 3, Death Note season 2, KProxy, Kung Fu Panda 4, 7StarHD, 123Mkv, Afdah, FFMovies, Bolly4U, Moviesflix, TrueID, Crystals for Protection, Mewing, How to charge crystals, Knightfall Season 3, Vampire Diaries season 9, Homeland Season 9, Sherlock season 5, Goodyear Viva 3, High sleeper bed, Cash for Cars, F95zone, the 100 Season 8, Salvation Season 3, Shadowhunters season 4, Poldark season 6, Good Place season 5, Madison beer net worth, Gravity Falls season 3, Hunter x Hunter season 7, Marvelous Mrs. Maisel Season 4, Bloodborne 2, Derry Girls season 3, and Knightfall Season 3, you can follow our Entertainment, Health, Technology, and Business category.