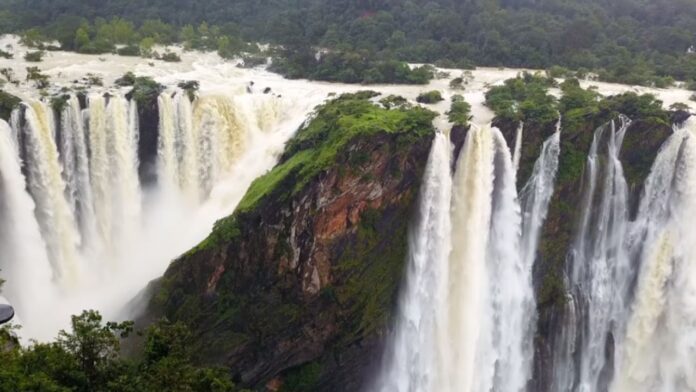 Waterfalls represent some of the most awe-inspiring natural wonders across the globe. Ranging from thunderous deluges to gentle cascades, waterfalls provide calming sanctuaries and thundering spectacles. We spotlight unforgettable waterfalls spanning diverse corners of the planet.
Jog Falls, India – Lofty Cataracts in Southern India

Plunging 830 feet, Jog Falls is India's highest waterfall. The Sharavathi River tumbles in four distinct chutes attractively named Raja, Rani, Rover and Rocket. Located inland in the state of Karnataka, vibrant rainbows often form in the mist.
Barron Falls, Australia – Jungle Cascades in Queensland

Barron Falls impresses with its mammoth 490 foot single drop amidst the tropical rainforest of Queensland's Kuranda village. Over 75 million gallons flow over the falls each minute during the wet season.
Victoria Falls, Zimbabwe/Zambia – The Smoke That Thunders

Straddling the border of Zimbabwe and Zambia, Victoria Falls stretches over a mile wide and drops 354 feet into bathtub-like pools. The falling water kicks up so much mist it appears like smoke, earning its name Mosi-oa-Tunya meaning 'The Smoke That Thunders'.
Skógafoss, Iceland – Stair-Stepped Cascade Along the Coast

Iceland's Skógafoss cascades 200 feet over a cliff onto the Skógá River below. A staircase alongside the dramatic two-tiered falls allows visitors to admire from above and below. On sunny days, magnificent double rainbows often emerge through the mist.
Gullfoss, Iceland – Golden Falls of the Hvítá River
Fed by Langjökull glacier, Gullfoss meaning 'Golden Falls' derives its name from the golden hue of the Hvítá River's sediment in sunlight. The cascade's crevice obscures its second drop, making the waterfall seem to disappear into nowhere.
Read More: North Greenland Ice Shelves Lost Over one Third Volume
Niagara Falls, USA/Canada – Iconic North American Behemoth

Niagara Falls contains the highest flow rate of any waterfall on Earth. Horseshoe Falls on the Canadian side is the tallest at 167 feet, while American Falls and Bridal Veil Falls also impress. From thunderous to serene, Niagara offers varied vantage points.
Epupa Falls, Namibia – Desert Oasis Cascades
Located near the Angolan border in the Namib Desert, Epupa Falls provides a shocking splash of greenery and cascading pools. The tallest drop measures around 130 feet, but the falls' overall length spanning 0.6 miles constitutes the main attraction.
Huangguoshu Falls, China – Colorful Watery Rainforest Cascade
Meaning 'Yellow Fruit Tree' in Chinese, these falls derived their name from the local vegetation. The 251-foot waterfall impresses with pristine, multi-hued pools and outflows winding through the surrounding rainforest.
Palouse Falls, USA – Hidden Gem of Eastern Washington
Plunging 198 feet into a canyon along the Palouse River, Palouse Falls is located within a state park in southeastern Washington. Thefalls boast mesmerizing emerald pools, as well as fascinating flood-carved basalt rock formations.
Iguazu Falls, Argentina/Brazil – Spectacular Network of 275 Cascades
Spanning nearly two miles across the Iguazu River, Iguazu Falls consists of 275 individual waterfalls and cataracts along the border of Argentina and Brazil. The Devil's Throat on the Argentine side is the tallest single chute at 262 feet.
Yellowstone Falls, USA – Double Cascade Jewels in America's First National Park
As the tallest waterfall in Yellowstone National Park, Lower Yellowstone Falls drops an astonishing 308 feet. Further upstream, Upper Yellowstone Falls also impresses at 109 feet high. Local rhyolite canyon walls frame the falls for an added color burst.
Cascata delle Marmore, Italy – Stair-Stepped 165 Foot Roman Cascade
Created by Roman engineers to drain the Valnerina swamps, Marmore Falls is one of Italy's tallest at 541 feet. The cascade consists of three segments dramatically plunging over terraced travertine stone into the River Nera below.
Ouzoud Falls, Morocco – Spectacular Tiers in a Sacred Olive Grove
Dropping 360 feet in three tiers, Ouzoud Falls thunders through a lush valley of sacred olive trees. Located just south of the Atlas Mountains, the falls' panoramic views and cool mists provide a serene oasis.
Plitvice Lakes, Croatia – Chain of 16 Terraced Lakes
Fed by two rivers, Plitvice Lakes features 16 cascading lakes ranging from turquoise to emerald. Travertine and limestone deposits have created dozens of natural dams turning the waterfalls into a dynamic staircase. It represents Croatia's top natural attraction.
Ruacana Falls, Namibia – Thundering Cataract on the Border with Angola
On the Kunene River bordering Angola, Ruacana Falls plunges nearly 400 feet into the rocky gorge below. Ruacana also denotes a nearby hydroelectric dam and power plant, illustrating the falls' abundant power.
Aponwao Falls, Venezuela – Otherworldly Hidden Gem
Also called Chinak-Merú Falls, Aponwao Falls' single drop of 345 feet ranks among the world's tallest. The falls' remoteness within Canaima National Park keeps crowds away, maintaining its mystical allure. Nearby Angel Falls draws more visitors.
Yosemite Falls, USA – Towering Horsetail Cascade in California's Yosemite Valley
Plunging 2,425 feet in three tiers, Yosemite Falls is the tallest waterfall in North America. The upper chute alone drops 1,430 feet. While best viewed in spring, the falls run year-round but generally peak in May. The thunderous roar carries throughout Yosemite Valley.
From thundering giants to delicate trickles, waterfalls transfix us with their primal power and ephemeral beauty. As enduring monuments to nature's might, the world's most superlative falls continue inspiring awe in all who behold them.