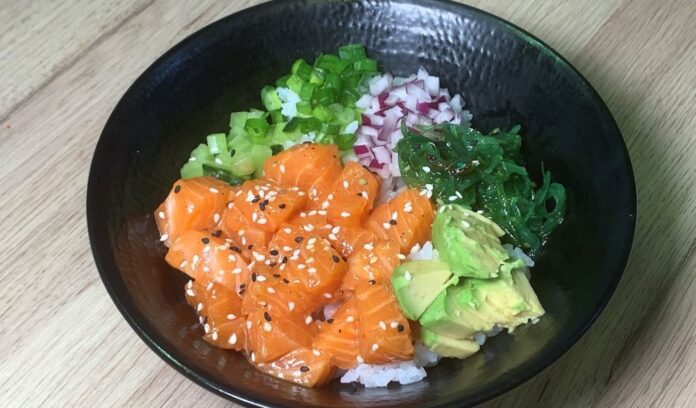 Enjoy this delicious fresh salmon poke at home and learn how to prepare it with this detailed Comedera recipe.
If you love seafood dishes or marinated raw fish, this poke recipe should be among your favorites. Enjoy the combination of flavors and textures in a single dish.
Poke is a dish originating in Hawaii that fuses various ingredients and consistencies in a bowl. Mostly fish, octopus, shrimp, or other shellfish are added, along with vegetables, seaweed, seeds, and a special dressing with soy sauce, sesame, and lemon.
Read More: Protein-Rich Foods for Shiny Hair
It is a kind of salad where fresh ingredients are the protagonists, and in some cases, cooked rice is added to make it more complete.
On this occasion, we show you how to prepare a salmon poke bowl, one of the most popular versions. Let us begin!
Learn How to Prepare a Delicious Salmon Poke at Home?
Prepare this delicious salmon poke, a special Hawaiian recipe.
Ingredients
120 

grams 

of salmon

125 

grams

of cooked rice

1 

handle

1 

large cucumber

1 

radish

1/2 

onion

1 

avocado

40 

grams

of wakame
To Marinate the Salmon
juice of two lemons

2 

tablespoons 

of sesame oil

1 

teaspoon

grated fresh ginger

2 

tablespoons 

of soy sauce
To Decorate the Poke
Sesame seeds

chopped chives

sweet chili sauce
Step by Step Preparation
Start your recipe by cutting the salmon into medium cubes and adding them to a bowl. Garnish with the lemon juice, the teaspoon of grated ginger, the sesame oil, and the soy sauce. Mix, cover with plastic wrap, and leave to marinate in the least cold part of the fridge.

While the salmon is marinating, proceed to cut up all the ingredients you need. Take the cucumber, peel it, and slice it into very thin slices. Do the same with the radish; the slices must be thin.
Read Also: Prevent Heat Stroke
Take the mango, peel the fruit, and cut the pulp into medium-sized squares. Fillet the onion. Now peel the avocado and slice it into not-so-thin slices.

Once the marinating time is over, you are going to use a deep bowl to serve the poke.

Make a bed with the rice, then place the marinated salmon in the center. Proceed to pour the rest of the ingredients around: the mango, the cucumber, the onion, the avocado, and the radish.

Finally, dress all the poke with the sweet chili sauce and decorate with the chives and sesame seeds.

It will be ready to taste. Enjoy!
Nutrition