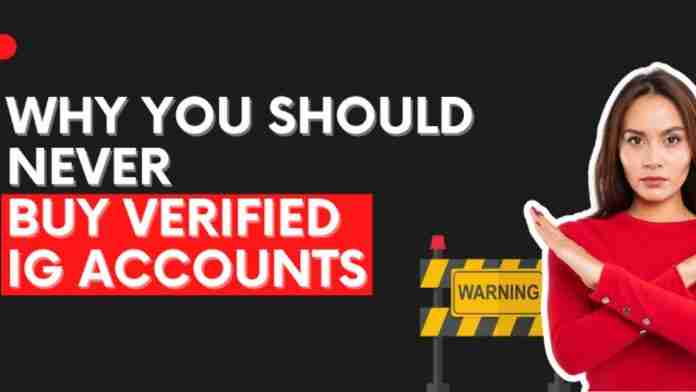 I mean, where do I even start? If there is one thing that communicates credibility in the world of social media, it's the verified checkmark. Yes, having mouth-watering and awe-inspiring content is epic. Sure, lots of followers and engagement are ideal. But nothing else communicates raw notability, credibility, and trust of an account like the blue verified badge does. It instantly makes you appear important and well-known. People may not know who you are, but they'd immediately know that you are not just a random person or brand. You mean business. You know people, and people know you.
And this is the exact reason why there is an underground market for trading pre-verified Instagram accounts. And, no, you really do not want to be a part of that market. Believe me, and I'm not judging. It's not that it's 'not right' to buy a pre-verified account. It's not about that. It's the fact that more often than not, you'll fall for a scam when looking to buy a pre-verified account. So let's explore a bit more about pre-verified Instagram accounts.
What are pre-verified Instagram accounts?
People love to trade social media properties. You may have come across posts of people selling their accounts. People looking to trade their photography Instagram page for a Twitter account. And so on. There is a whole business model to this. Sellers work on dozens of accounts for a few months, grow it from zero to several thousand followers (by botting the account), and then sell it on the marketplace. The buyer gets a head start on Instagram as they now have an account with tens of thousands of followers. And, in all, it feels like a win-win situation.
Similarly, there are marketplaces where you can buy reverified accounts for a pretty penny. Meaning, these are sellers who own an Instagram account with a blue verified checkmark next to it. The range for these types of accounts can be anywhere from $3000 to $10,000 but averages at around $6000.
Compare this to the cost of getting an Instagram verified via an agency through legitimate PR and submission, which could cost you nearly $15,000; the offer starts to look enticing. But wait, there is a catch.
The problem with pre-verified Instagram accounts
So, you are looking to buy a verified Instagram account, and you found one that you like. Unfortunately, the username of the account goes something like @idontknow55.
Here is the first thing that you need to understand. You cannot rename a verified Instagram account. Yes, please let me repeat that. You cannot rename a verified Instagram account by going to the app settings and typing your new username. So, whatever the username the account comes with, that's the username you're going to be stuck with. If you're looking to build a consistent brand in the online world, then this locked username condition should immediately make this a deal-breaker. Why would you buy a verified account when you cannot change its username to what you want?
But it gets better (or worse). Instagram verifies accounts that pass a particular set of requirements in terms of notability. In other words, only real people or companies that have a real web presence in notable and reliable news sites can get verified. This means that the verified Instagram account you're looking to buy, even if it has fewer followers, is only verified because it was impersonated as someone else. So, what do we mean by this? Well – the only way an account gets verified is based on notability. Now, a whole group of bad actors that create accounts impersonating actors (from lesser-known countries like Pakistan or Indonesia) who have plenty of press (since they are famous in their country) and then apply for verification for these profiles. Most of the accounts in the marketplace are verified under impersonation. Bad actors look for celebrities in smaller countries that don't have an Instagram account. They then build up an account impersonating that celebrity. They photoshop a fake ID of the celebrity. And, outcomes the verified blue checkmark.
And this means that, sooner or later, the badge that the profile has will be revoked. Yes, Instagramcontinuously checks profiles it has verified in the past and makes sure to check if they have made a mistake routinely. And, it may happen the next day of your purchase or several months later, but you will lose that badge one day. So, whether you've invested $3000 or $10,000 – the badge is not permanent.
Compare this to paying for PR and IG verification service; your badge stays permanently because you legitimately have notable PR, and you were verified under your true identity.
Well, it gets worse
And, if you thought we were done, we aren't. There is more. Let's say you have purchased this verified account. Let's say for a moment you don't care that it was verified under impersonation. Let's say you're OK with the fact that maybe a few months from now, the badge will be revoked. And the username is OK too. To top it all off, you bought a verified Instagram account with almost no followers. I mean, talk about a perfect start!
So, life is good. Well, maybe. There is one more thing that adds to this equation. And that is, trading Instagram accounts is not safe. Whenever you buy an Instagram account, log in to it, and change the password, the phone, and email – you still have not truly secured the account. There is always a possibility that the original owner can try to 'recover' his account and claim that it was 'hacked.' And, well, there is nothing you can do to stop that from happening.
So – never buy an Instagram account because it can always be pulled back. And, more importantly, don't ever buy a verified Instagram account because, a few weeks later, the seller may 'change' his mind and decide to take back his account. Pathetic, isn't it? 
We've seen this far too many times. People fall for offers that are too good to be. Hey, look, someone is selling a verified account for $500. That's amazing; let me send them the cash and get the account. And, wait, two days later, the seller pulled back the account and is now looking to rinse and repeat the same scam with other unsuspecting users.
And this is not just specific to Instagram or verified Instagram accounts; this happens with generic Instagram accounts that have a large number of followers. We've seen it happen with large Twitter profiles that are sold and then pulled back a day later. And on and on it goes.
Conclusion
We hope you enjoyed the article, and we hope this article will help people from falling into a trap. Whether you are looking to Buy Verified Instagram Accounts or accounts with a large existing follower base, always remember that these trades come with a significant amount of risk. Yes, it may be expensive to get verified the right way – and yes, it takes a lot of time to grow a profile from scratch – but, at least in those scenarios, everything you achieve is legitimate and permanent.
And that's all for today. Until next time!