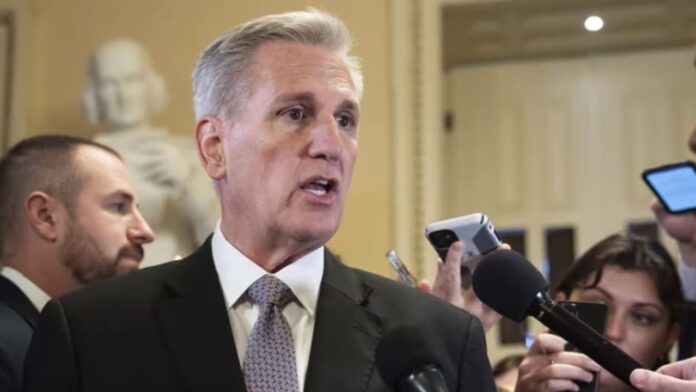 On Tuesday, dissident Republicans in the U.S. House joined forces with Democrats to remove Kevin McCarthy from his position as Speaker of the House. This historic move came just nine months after McCarthy had secured the gavel through intense negotiations with the GOP's right-wing members and 15 rounds of voting.
The aftermath of this vote left the House in uncharted territory, as no speaker had ever been removed by the House before. In the interim, North Carolina Representative Patrick McHenry was designated as speaker pro tempore until the election of a new speaker.
The final vote count was 216-210 in favor of a motion to vacate, which had been filed by Florida Republican Representative Matt Gaetz the previous evening. This outcome marked the culmination of months of increasing dissent within a small faction of House Republicans.
Read More: 2 Major Warnings of Jamie Dimon
The Republican representatives who voted to remove McCarthy included Andy Biggs of Arizona, Ken Buck of Colorado, Tim Burchett of Tennessee, Eli Crane of Arizona, Matt Gaetz, Bob Good of Virginia, Nancy Mace of South Carolina, and Matt Rosendale of Montana. Notably, they also voted against tabling the motion just before the vote, which would have halted the process.
On the other hand, Warren Davidson of Ohio, Cory Mills of Florida, and Victoria Spartz of Indiana voted against tabling the motion but were in favor of retaining McCarthy as speaker.
All House Democrats present unanimously voted to declare the office of the speaker vacant.
It's important to note that there have only been three instances in history where a motion to vacate the speaker's position was filed: once in March 1910, once in July 2015, and the most recent one this month.
In History, Only Three Vacate Motions
Before the vote took place, Kevin McCarthy expressed his belief that Matt Gaetz's actions were more of a bluff than a genuine threat, though he seemed to understand that he might be removed as Speaker.
McCarthy stated, "In the end, if you remove a Speaker who had the support of 99% of their conference and who ensured the government remained open and troops were paid, it raises significant concerns about how Congress will function going forward."
He also defended his decision to support a bipartisan short-term spending bill that had passed on Saturday, which prevented a partial government shutdown. McCarthy firmly believed that this was the right choice, saying, "I stand by that decision, and if I have to lose my position as Speaker as a result, then so be it. I will continue to fight for what I believe is right."
McCarthy Excoriated
Matt Gaetz and other staunch conservatives have publicly criticized Kevin McCarthy for not honoring a private agreement made in January, which was crucial in securing his speakership.
This group of Republican lawmakers, including some from the Freedom Caucus, has expressed dissatisfaction with McCarthy's decision to strike a deal with President Joe Biden in May to prevent a default on the nation's debt. They have also taken issue with McCarthy's reliance on Democratic votes to pass a short-term government spending bill.
Read Also: Irfan Pathan Predictions in World Cup 2023
On Monday, Gaetz addressed the House floor and called on McCarthy to disclose whether he had brokered a private agreement with Biden to hold a vote on legislation providing additional aid to Ukraine in its fight against the Russian invasion. Gaetz also criticized McCarthy for reportedly including discussions about border security in those talks. Gaetz emphasized the importance of treating issues like Ukraine and the Southern border separately, respecting their individual significance.
House Democratic Leader Hakeem Jeffries released a "Dear Colleague" letter just before the vote, announcing that House Democrats would vote in favor of vacating the chair.
Jeffries wrote, "Given their unwillingness to distance themselves from MAGA extremism in a genuine and comprehensive manner, House Democratic leadership will vote in favor of the pending Republican Motion to Vacate the Chair."
It's worth noting that the group of Republican dissenters who voted to remove McCarthy represents only a small fraction of the House Republican Conference. Many other Republicans in the House supported McCarthy on the floor and defended his record.
GOP Supporters: 'He did the Right Thing'
Republican representatives weighed in on the situation, offering their perspectives on the motion to vacate the Speaker of the House, Kevin McCarthy.
GOP Rep. Tom Cole of Oklahoma defended McCarthy, stating that he believed McCarthy was facing repercussions because he had taken the necessary steps to prevent a government shutdown on Saturday. By doing so, McCarthy ensured more time for the appropriations process to continue.
Arkansas GOP Rep. Steve Womack expressed his view that the motion to vacate was a distraction and called it a "fool's errand." He emphasized that Republicans should concentrate on passing all 12 appropriations bills before the new mid-November deadline.
Rep. Dusty Johnson of South Dakota criticized Matt Gaetz's efforts, suggesting that there were lingering personal grudges against McCarthy within the party. Johnson believed that Gaetz's actions were causing unnecessary chaos that would not benefit the country.
Republican Rep. Stephanie Bice of Oklahoma expressed skepticism about the motivations behind removing McCarthy as Speaker. She believed that the focus should be on the appropriations process and criticized the diversion of attention.
You Can Read: Indri Whisky Wins Best Single Malt
GOP Rep. Brian Fitzpatrick of Pennsylvania urged fellow Republicans to prioritize fully funding the government and providing aid to Ukraine. He warned of the potential consequences, including a government shutdown and negative economic effects, if McCarthy were removed as Speaker. Fitzpatrick stressed the importance of not jeopardizing Ukraine's situation in its conflict with Russia.
Democrats Cheer behind Closed Doors
Democratic lawmakers gathered behind closed doors for nearly 90 minutes on Tuesday morning to discuss their strategy moving forward and to allow members to express their views on the motion to vacate the Speaker of the House. Sounds of applause and some cheering emanated from the meeting, audible from the hallway outside.
Following the meeting, Democratic representatives shared their sentiments, highlighting a lack of trust in Kevin McCarthy's leadership.
New Hampshire Democratic Rep. Annie Kuster emphasized that the Democratic Party had a "unity of purpose" ahead of the vote. She pointed out that McCarthy had chosen to align himself with an extreme faction within his party, creating a divisive and, in her view, a post-truth environment.
Pramila Jayapal, Chair of the Congressional Progressive Caucus and a Washington state Democrat, stated that the internal struggle within the House GOP regarding their speaker selection was not a concern that Democrats felt compelled to resolve. Jayapal noted that McCarthy had repeatedly breached trust with Democrats, making it difficult for them to support his continuation as Speaker.
Jayapal mentioned several key decisions by McCarthy that had eroded trust, including his comments following the January 6 attack on the Capitol, his withdrawal from a spending agreement brokered with President Biden, and his refusal to bring a bill providing additional aid to Ukraine to the floor. She also criticized Kevin McCarthy for supporting the former president who had enabled the events of January 6. 
House Democratic Caucus Chair Hakeem Jeffries, a Democrat from New York, emphasized the party's commitment to prioritizing the well-being of everyday Americans over politics. He encouraged their Republican colleagues, particularly those who claim to be more traditional, to distance themselves from extremist elements.
Rep. Richard Neal, a Massachusetts Democrat, expressed the sentiment in the room, noting that there was little goodwill for Kevin McCarthy. He stressed the importance of negotiating with someone trustworthy, and there had been limited evidence of McCarthy's ability to keep his word. Neal highlighted the need for trust in negotiations and questioned McCarthy's track record in this regard.
Disputes Over Spending, Ukraine
Just hours before the threat of a government shutdown this weekend, Congress passed a short-term funding bill to keep the government running until November 17. The House approved this stopgap measure in a 335-91 vote, with 90 Republicans voting against it. In the Senate, the bill passed 88-9, with nine Republicans in opposition.
Notably, this funding deal did not include additional funding for Ukraine. However, President Biden announced on Sunday that he and Speaker Kevin McCarthy had agreed to work together to secure the necessary votes for a supplemental package aimed at providing military assistance and humanitarian relief to Ukraine, which is facing ongoing Russian aggression.
This recent stopgap funding bill to prevent a government shutdown was not the first instance of McCarthy cooperating with Democrats to avert financial crises. In May, the Speaker brokered a deal with President Biden to raise the debt ceiling, preventing a default on U.S. loans. This deal, known as the Fiscal Responsibility Act, also established agreed-upon spending levels for the current fiscal year that began on October 1.
Throughout this year's appropriations process, McCarthy faced challenges in uniting his far-right members behind the established spending levels, nearly leading to a partial government shutdown.
It's worth noting that McCarthy's journey to the speakership in January involved significant obstacles, including 15 rounds of ballots and opposition from more than a dozen far-right conservatives during a four-day standoff. He ultimately secured the position on the 15th ballot after making concessions to the ultra-conservative wing of his party. These concessions included changes to the motion to vacate, allowing any member to essentially call for a no-confidence vote on the speaker. McCarthy also promised to allocate key committee positions to far-right members and reached a handshake agreement with the House Freedom Caucus, committing to reduce spending levels.