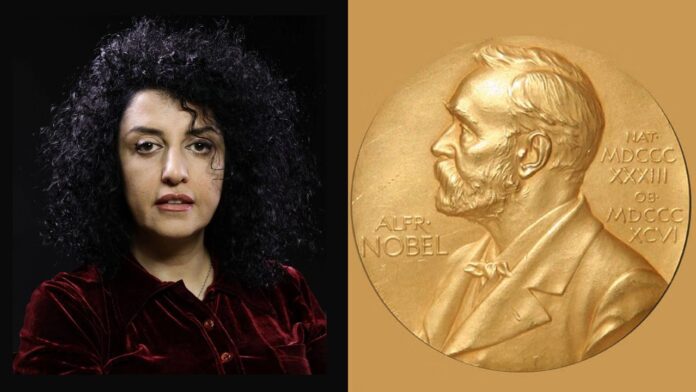 This year's Nobel Peace Prize was given to jailed Iranian activist Narges Mohammadi for her efforts to promote human rights and freedom as well as her struggle against women's persecution in her home country.
Mohammadi, 51, has continued her struggle even after the authorities in Tehran convicted her five times and sentenced her to 31 years in prison and 154 lashes, according to a statement issued Friday by the Oslo-based Norwegian Nobel Committee.
The award-giving committee stated that the reward honored all individuals involved in recent historic rallies in Iran and demanded the release of Mohammadi, who has advocated for both women's rights and the elimination of the death penalty.
"This prize is first and foremost a recognition of the very important work of a whole movement in Iran, with its undisputed leader, Narges Mohammadi," said Berit Reiss-Andersen, chair of the committee.
"If the Iranian authorities make the right decision, they will release her so that she can be present to receive this honour [in December], which is what we primarily hope for."
According to the Front Line Defenders rights organization, Mohammadi is presently serving numerous sentences totaling nearly 12 years in Tehran's Evin Prison, one of many periods she has been incarcerated behind bars. Charges include promoting propaganda against the state.
She is the deputy director of the Defenders of Human Rights Centre, a non-governmental organization managed by Nobel Peace Prize laureate Shirin Ebadi.
Taghi Rahmani, Mohammadi's husband, said the honor would boost her battle and the movement she leads.
"This Nobel Prize will strengthen Narges' fight for human rights, but more importantly, it is a prize for the woman, life, and freedom movement," Mohammadi's husband Taghi Rahmani said in an interview at his Paris home.
"This prize is for all the people of Iran, for human rights activists," he went on to say.
"Narges and people like her have chosen this kind of life and, if they are supported, their motivation will increase to pursue their goals." Additionally, you can also read about- Jon Fosse, Master of the Poetic Drama, Wins Nobel Prize 2023 in Literature
The awarding of the medal to Mohammadi is viewed as a rebuke to Tehran's theocratic leaders as well as a boost for anti-government protestors.
There was no immediate official response from Tehran, which has labeled the rallies as Western-led subversion.
However, according to the semi-official news agency Fars, Mohammadi "received her prize from the Westerners" after making headlines "due to her acts against national security."
Mohammadi is the 19th woman to receive the 122-year-old award, and the first since Maria Ressa of the Philippines shared the medal with Russia's Dmitry Muratov in 2021.
The Norwegian Nobel Committee announced the winner of the Nobel Peace Prize on Friday in Oslo, Norway, as the season's conclusion.
Last year, the Peace Prize was awarded to a symbolic trio: Russian human rights organisation Memorial, Ukraine's Centre for Civil Liberties, and jailed Belarusian rights leader Ales Bialiatski.
All three represent the countries at the heart of the conflict in Ukraine, which they oppose.
Previous recipients include the United Nations World Food Programme, former US President Barack Obama, and Chinese dissident Liu Xiaobo.
The Nobel Prizes in Science, Literature, and Peace were established by Swedish chemist and engineer Alfred Nobel, whose invention of dynamite made him wealthy and famous, and have been awarded since 1901.
Despite the fact that the other prizes are chosen and announced in Sweden, Nobel stipulated that the Peace Prize be judged in neighboring Norway.
The Peace Prize is the fifth prize announced this year. The Nobel committee had previously given the Literature Prize to Norwegian writer Jon Fosse.
Read Also: Kevin McCarthy Removed as Speaker
The Chemistry Prize was awarded to US scientists Moungi Bawendi, Louis Brus, and Alexei Ekimov on Wednesday.
The Physics Prize was awarded on Tuesday to Anne L'Huillier, a French-Swedish physicist, Pierre Agostini, a French scientist, and Ferenc Krausz, a Hungarian-born physicist.
Hungarian-American On Monday, Katalin Kariko and American Drew Weissman were awarded the Medicine Prize.
On Monday, the recipient of the Economics Prize, technically known as the Bank of Sweden Prize in Economic Sciences in Memory of Alfred Nobel, will be announced.
The awards are presented at ceremonies in Oslo and Stockholm in December.
They carry a financial prize of 11 million Swedish kronor (about $1 million USD). When they receive their Nobel Prizes in December, winners also receive an 18-carat gold medal and diploma.