This is stronger than a road bike and much faster than a mountain bike. Gravel bikes are an interesting option for cyclists who want to travel on and off. And that paved roads with the same precise and fast handling on both terrains.
At first glance, a gravel bike is not that different from a cyclocross bike, but looking into its design, performance and composition, it turns out that gravel bikes are really different, and it is often closer to a bike. on the road – but on something like steroids. In truth, these types of bikes perform very well in both categories. And that can only mean a lot of fun for your rider and a new vision of where and how a bicycle is ridden.
Features of gravel bikes
Gravel bikes, sometimes also referred to as adventure bikes, are basically road bikes designed to tackle a wide variety of surfaces, carry extra gear, and are suitable for all-day riding on winding surface roads. They are made to be more durable and robust than a standard road bike, as well as having a greater range of gears and room for much wider tires.
Handlebar
They have been designed to use drop bar type handlebars; These handlebars, in addition to offering a wide variety of positions, you will find them with adequate grip both to control the bike on climbs with all your support on it, as well as for descents at speed or sprints. But being a recently manufactured bicycle, some manufacturers like Canyon have equipped it with a peculiar double bar handlebar. Currently, your brake levers or levers integrate the gears.
Frame
For starters, the geometry of a gravel bike is aimed at creating stability and comfort. It has been designed to be more relaxed than a road bike. The head tube or head tube, as it is known in English, is often higher and with a softer angle, thus achieving a more relaxed ride.
The bottom bracket, or center box, is generally a little lower than that of a cyclocross bike. Gravel bikes are also designed with longer wheelbases. So, they are stable on the road when riding on an unpredictable surface such as gravel. Also, they could provide additional stability and comfort over long distances.
Its top tube has a slight angle. This tube makes the vehicle slightly steeper than a road bike. Because a gravel bike is looking for greater riding comfort.
Many builders equip gravel bikes with extra grommets for installing racks and fenders. That means you can ride them in the rainy season, turn it into a bike for commuting to work, or install saddlebags for a long-distance trip.
Read Also: Top 10 Tourist Places to Visit in India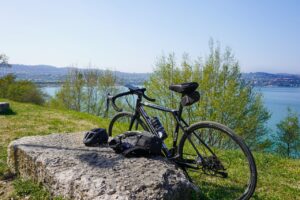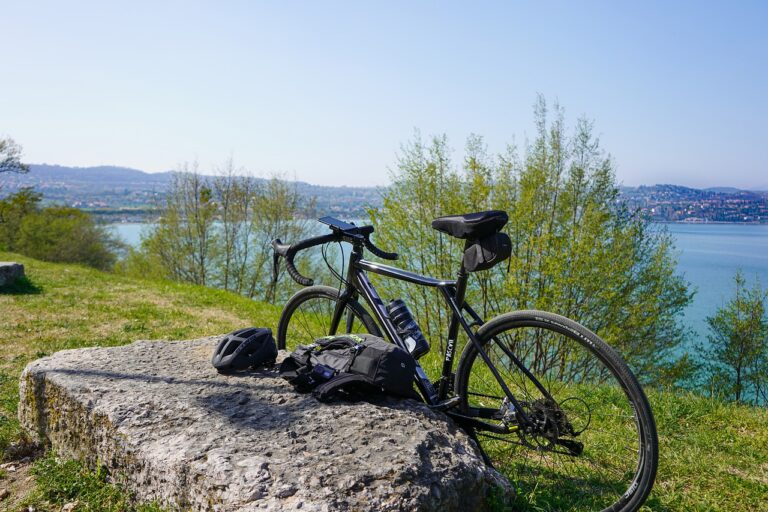 Wheels
One of its characteristics that distinguishes it from other bicycles is its wider tires, since the design of its frames very well accept rims with measures between 650c to 700c x 30 mm and even 42 mm in different patterns, but always designed for difficult terrain.
These bicycles are generally equipped with disc brakes, which can have a hydraulic or mechanical system. However, due to their adventurous nature, it is recommended that you buy some hydraulics, as they offer more power in braking, which provides more confidence when driving off well-paved roads and are useful in mixed conditions. In the rain or in the mud, you will appreciate its efficiency.
Speeds
In terms of speeds, gravel bikes are very dynamic, as you can find models with different configurations, but some of the common ones are: single-chainring transmission; two chainrings and, also with groups of their own to the mountain bike and with some models very close to the group that you would find on a common road bike. They generally come equipped with a cassette with 11 sprockets (11 / 32t) and two chainrings (46 / 30t), but that will depend on the group and configuration you want it to be equipped with. If you want to buy the best gravel bikes under $1500, you can take help from the largest e-commerce site Amazon and also read various reviews on it.
Advantages and disadvantages of gravel bikes
Advantage
They are resistant bikes and suitable for winding roads –without having suspension, but there are even some models with revolutionary shock absorption systems, which are part of the frame-.
They are fast
They can be used on endless roads
They are good for the city and even for long-distance bike trips
Disadvantages
Due to their robustness, they can be slightly less fast and not as light as road bikes
They are less resistant than mountain bikes
Who are gravel bikes ideal for?
Gravel bikes are clearly extremely versatile, borrowing elements from road, mountain and cyclocross bikes, with the purpose of creating a complete option for riders who want a single machine with which to do many different things: you can to be used comfortably for urban routes, in medium and long distances it feels like home and even dares with road and mountain routes, with the same ease as long as they do not present routes with excessive difficulty. That's the secret to its success: versatility, something no other bike can match.