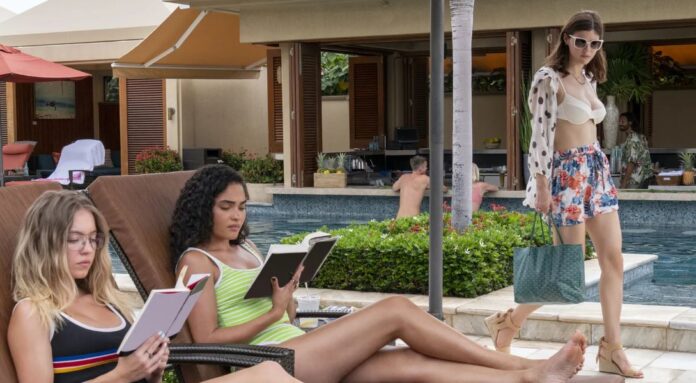 The White Lotus was one of the biggest surprises of 2021. It was a series that came out quietly but quickly became a fan favorite, especially because, like Succession, it shows the worst side of wealth and privilege.
The first season took us to an amazing resort in Hawaii, where Sydney Sweeney (who plays Cassie on the show Euphoria), Jennifer Coolidge, Alexandra Daddario, and Jake Lacy played a group of rich people who go there to have a very relaxing vacation in a paradise-like place.
When things don't go as planned, tensions rise, fights break out, and someone dies, "ruining" the experience for everyone else. This is the event that the series starts with and builds up to. back to show what really happened and who was in that coffin in the first chapter.
As soon as the show ended, its creators said they were already working on the second season. However, the second season would not take place in the same place. Instead, it would take place in a different luxury resort in a different part of the world, with a new group of horrible, dysfunctional rich people who would have their own nightmare vacation.
The first teaser for the second season of the award-winning show shows us the new hotel we'll be staying at, where new problems and a mystery similar to the first season are sure to happen.
When comes out The White Lotus Season 2?
We don't know when the new season will start, but since the first one was so popular, we probably won't have to wait too long. It could come at the end of this year or at the beginning of next year.
What happens in The White Lotus Season 2?
For now, we only know that the season will take place in a different resort. The idea is not to do the same thing over and over again, but to show a different story that has some things in common. What is clear is that there will be a new group of rich people who think they own the world and deserve everything, as well as a traumatic event that will leave them scarred.
The creator of the show told Entertainment Weekly, "We wouldn't go to the Four Seasons in Maui because there's no way we could pay for it in a pandemic." "So, yeah, it would have to be something like The White Lotus: Kyoto. Which would also be fun because we could talk about things like culture shock."
In the world of the show, The White Lotus is not just a hotel, but a chain of luxury resorts all over the world. This means that there could be many more seasons, and each one could take us to a different part of the world.
The cast
The second season has a whole new cast, and some of them have already been named.
First, we have Michael Imperioli, who was in The Sopranos. This time, he will play Dominic Di Grasso, the main character of the story. It was said that Dominic is a man who travels with his older father and his son who just graduated from college.
Aubrey Plaza will play Harper Spiller, a woman who is on vacation with her husband and a group of friends (and that is clearly a recipe for disaster in this universe).
Who from the first season will come back? There is no confirmation, but there are rumors that we will see Jennifer Coolidge again. However, some people think that she will play a different role and not the one she played before.
Apart from these articles, you can also read:
Power Outfit
,
Wpc2027
, 
Best Psychology Books
, 
Wpc2025
, 
Val Kilmer Batman
, 
Bflix
, 
Jeans for Man
, 
JoinPD
, 
Things to focus on when mentally struggling
, 
Marvel Spider-Man Game for PC
, 
Chicago Fire Season 11
, 
Emmy Awards 2022
, 
4Anime
, 
All American Season 5
, 
Amber Midthunder movies
, 
Russian Doll Season 3
, 
iPhone 14
, 
Tom Cruise All Mission Impossible Movies
, 
Billions Season 7
, 
Best camera for travel
, 
Water Skiing
,
 FFMovies
, 
Bolly4U
, 
Moviesflix
, 
TrueID
, 
Crystals for Protection
, 
Mewing
, 
How to charge crystals
, 
Knightfall Season 3
, 
Vampire Diaries season 9
, 
Homeland Season 9.
Sherlock season 5
, 
Goodyear Viva 3
, 
High sleeper bed
, 
Cash for Cars
, 
F95zone
, 
Aloe Vera Juice
, 
the 100 seasons 8
, 
Salvation Season 3
, 
Shadowhunters season 4
, 
Poldark season 6
, 
Good Place season 5
, 
Madison beer net worth
, 
Gravity Falls season 3
, 
Hunter x Hunter season 7
, 
Marvelous Mrs. Maisel Season 4
, 
Bloodborne 2
, 
Derry Girls season 3
, 
highest paid CEO
, and, 
Bhushan Kumar net worth
, 
Knightfall Season 3
, you can follow our 
Entertainment
, 
Health
, 
Technology
, and 
Business
 category.