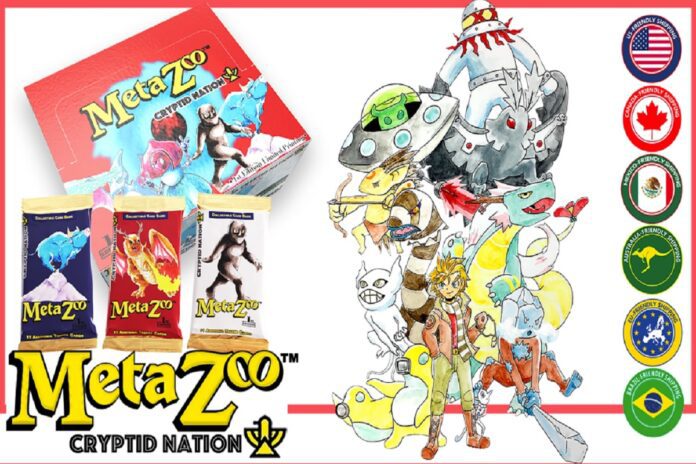 Many people are interested in MetaZoo, a new trading card game (TCG). He was correct. MetaZoo cards have grown in popularity and value in the years thereafter. Mike Waddell spent most of his spare weekends in 2020 stuffing trading cards with Bigfoot, Mothman, and other weird cryptids into promo packs and shipping them out to potential collectors, investors, and gaming firms. 
MetaZoo was founded in August 2020 with an $18,249 Kickstarter campaign. The first official set, "Cryptid Nation," will be released in July 2021. MetaZoo's most recent Kickstarter campaign raised more than $1.8 million as of January of this year, and MetaZoo cards can be bought in large retailers such as Walmart.
Some investors and collectors have compared MetaZoo to first-edition Pokémon Charizard holograms or unopened Magic: The Gathering booster packs. A limited run of sample MetaZoo cards, now considered rare, can fetch thousands of dollars on the secondary market. Specific rare cards, such as the Red Ink First Secret Rare Box Topper, which is advertised on eBay for $20,000, conjure even more. MetaZoo has also attracted notable figures from the collectibles industry, such as Steve Aoki.
What is MetaZoo?
MetaZoo is a Cryptid-themed Kickstarter/TCG. Cryptid Nation is a trading card game based on monsters, spells, and artifacts. The first set, which was launched on Kickstarter, is based on cryptids from the United States, such as Bigfoot, Mothman, and the Jersey Devil. This most likely suggests that the designers want to keep their design options open for whatever comes next.
It is a trading card game (TCG) akin to Magic: The Gathering and Pokemon. 'MetaZoo: Cryptid Nation' is based on breaking the fourth wall, or "meta." This means that the environment in which you play has an effect on the strength of the beasties and spells. For example, if you play under wet conditions, your water beasties and spells will gain power. When you play by a fire in the dead of winter, your flame spells become twice as potent.
Your opponent's snow beasties, on the other hand, may gain power increases and may even become invisible to direct strikes. As a result, the environment is an important aspect of the game. As a result, you can tailor your deck to your safe environment and thereby increase the potency of your beasties.
How do You Play MetaZoo Card Game?
You are a caster in MetaZoo, in charge of magic and beasties from your spellbook. In a struggle for triumph, you face off against other casters. You can attack and defend against your opponent by using the cards or pages. Winning reduces the life points of your opponent's caster from 1000 to zero. Of course, you must also ensure that they do not do the same to you. You do this by casting spells that either improve or decrease your capacity to draw cards. Here are two strategies for winning the game: 1) Reduce your opponent's life points from 1000 to 0; 2) Be the first player to do so by 500. Every card has two sides when playing metal.
One side is your opponent's, while the other is yours. These cards with opposite sides are known as flip sides. The flip sides provide players access to different skills depending on their current position (attacking, defending, drawing more cards). The purpose of metazoa games is to be able to flip more and more cards into your column until it is completely filled and begins to take up all 10 slots on the table. When one person flips all ten cards into their column, the game is over.
How Much Does It Cost?
Right now, you can only see the prices for the Kickstarter first editions. The majority of them cost far more than $2,000. They may grow further when more first editions are issued. Check eBay for the most recent price.
The secondary market is all you'll see while purchasing and selling MetaZoo cards. We are waiting for the first wave of the first edition (non-Kickstarter) merchandise to be released. MetaZoo's Bazaar marketplace had been operational for some time. Unfortunately, they disabled it, so not all tips for buying and selling take place on eBay, secret forums, or Discord.
Where to Buy MetaZoo?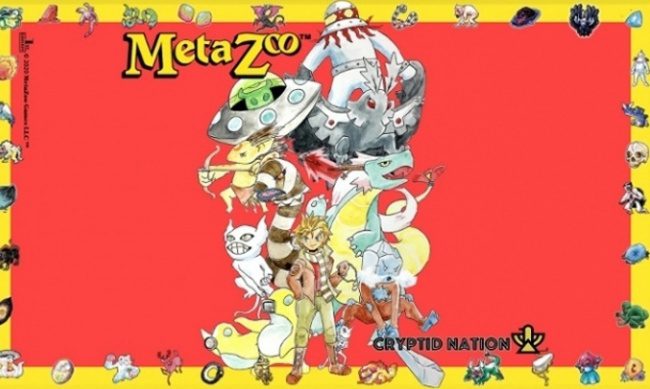 A MetaZoo game can be preordered on the MetaZoo marketplace or purchased through a TCG retailer near you. You can use their website's app store locator to find a nearby store that sells the games. Simply enter your location, search radius, and search radius measurement. You can also order from Amazon Kindle or eBay online. Keep in mind that this only applies to MetaZoo cards.
How Many MetaZoo Cards are There?
The "set" included 93 different sample cards, each of which had exactly 100 copies made. With a little simple calculation, this means that there were a total of 9,300 MetaZoo Cryptid Nation sample cards ever printed.
Why is MetaZoo so Expensive?
It turns out that the underlying reason for the large funding is that each tier of support includes MetaZoo TCG promo cards. The higher tiers included special promo cards with limited editions of 1000 or 250, making them potentially quite valuable for a TCG.
Why is MetaZoo so Popular?
Because the player can design their own deck, Metazoo game cards are extremely popular. A deck has a variety of card types. And will have at least 40 cards but may contain up to 60 cards. Players build their decks by purchasing cards from other players. Alternatively, you can obtain it by opening booster packs (packs contain 12 random cards). Rarity levels include common, uncommon, rare, ultra-rare, and holographic cards. They can also be made in foil (a glossy version of a common or uncommon card) or gold (a shiny version of a rare or ultra-rare card). To defeat opponents, players build decks with various techniques and designs.
The mana system, which affects how long it takes for a card to trigger its effect, is a key part of gaming. Mana points must be obtained through the use of land, creatures, and spells. Lands must provide one-third of your mana pool in order for them to create one mana point per turn cycle. When played on an empty board, creatures generate two mana points per turn cycle and spells generate three mana points per turn cycle; however, if there are currently five creatures in play, each creature generates just one mana point per turn cycle. For example, if your opponent has three creatures in play, you'll need four creatures on your side to create two mana points per turn instead of simply one.
Is MetaZoo a Good Investment?
Many buyers and sellers are betting on MetaZoo's long-term success, and it appears that the company is devoted to expanding its product line and brand. However, there are a few concerns with this product that prospective investors should be aware of before investing in MetaZoo products.
One important issue is that the game's use of a player's physical environment makes MetaZoo an extremely difficult game to play both competitively and online.
Every successful card game, as we've seen, has grown to incorporate a digital platform, letting players connect and battle over the internet. But how will this be accomplished in a game that relies on analyzing real-time data about the player's surroundings?
Furthermore, the location of a tournament should logically have a big impact on competitive play, resulting in mostly uninteresting formats with many of the same cards and play methods being played. How appealing will that be to viewers? Will advertisers support these tournament events in order to ensure excellent attendee and player experiences?
What Distributors Does MetaZoo Use?
Here is a list of distributors that are being used by MetaZoo Games around the world.
Stores Based in The US:
Golden Distribution,

Peachstate Hobby Distribution

Channel Fireball
Stores Based in Canada:
Stores Based in Australia/New Zealand:
Stores Based in Europe/UK:
Top 35 Most Expensive MetaZoo Cards
After a successful Kickstarter financing campaign, MetaZoo is a collectible trading card game that was widely published in mid-2021. It has since gained popularity among both gamers and collectors. This article will attempt to compile a list of the top 20 most costly MetaZoo Cards available.
Sample Mothman

Mothman (Kickstarter version)

Mothman (Signed Collect-a-Con Version)

Red Ink

Indrid Cold Sample Version

Wendigo

Jersey Devil

Grim Reaper

Mothman 1st Edition

Headless Coal Miner

River of Time

Indrid Cold

Righteous Reckoning

Flood the Earth

Headless Horseman

Old Scratch

Cryptid Nation Promo

New Year's New Beginnings

Powerup Red

Death Beam

Crystal Charizard Holo Skyridge
Torchic Gold Star Holo Team Rocket Returns
Devil Wizard
Red Games Parcel
Oscar Game devil
Ocean Blue First
New Age Fusion
Red Fusion Concentrate
Gaming Zoo
Meta Cards View
Card View Puzzle 
Picker Wizard
Bell Asian Games
Games Parallel Cards
Alpha Cards Group
Conclusion
Despite the fact that I covered a lot of ground here, I hope you now have some answers to the question: Is MetaZoo a worthwhile investment?
I believe the answer is emphatical YES for some goods and emphatically NO for others. If you follow my advice, I'm confident you'll make wise choices for your own MetaZoo collection and investments.
Please let me know if you have any questions about this topic or suggestions for future blogs. I would appreciate your input.
Frequently Asked Questions (FAQs) about MetaZoo
How much did MetaZoo raise?
MetaZoo's playing card Kickstarter has raised $1 million in one day.
When was MetaZoo released?
It is now official. We are excited to announce that MetaZoo: Cryptid Nation (1st Edition) will be available on July 30th, 2021!
Is MetaZoo real?
MetaZoo is a Cryptid-themed Kickstarter/TCG. Cryptid Nation is a trading card game based on monsters, spells, and artifacts. The first set, which was launched on Kickstarter, is based on cryptids from the United States, such as Bigfoot, Mothman, and the Jersey Devil.
What is the next MetaZoo set?
On July 29, 2022, MetaZoo Games LLC will release MetaZoo: Cryptid Nation – UFO 1st Edition, a new booster set.
How much did MetaZoo make on Kickstarter?
MetaZoo is a Cryptid-themed trading card game (TCG) including Bigfoot, Mothman, Slide-Rock Bolter, Indrid Cold, and the Flatwoods Monster! This project received $18,249 in funding from 255 backers.
Who Manufactures MetaZoo?
Michael Waddell's MetaZoo: Cryptid Nation is an upcoming trading card game that is currently in the funding stage. The first card set will contain cryptids from the United States, dubbed "Beasties," such as Bigfoot, Mothman, the Jersey Devil, the Flatwoods Monster, and Indrid Cold.
How many old scratches have been pulled from MetaZoo?
It's unclear which MetaZoo items Old Scratch could be able to access, although Booster Boxes have been confirmed. There were 100 Old Scratch cards sent worldwide, and it is MetaZoo Games' second hidden rare card.
How long has MetaZoo been out?
MetaZoo: Cryptid Nation, MetaZoo Games' first title, is out today, July 30th, following a spring Kickstarter campaign. The card game is inspired by traditional and current legend, with Pokémon-like creatures such as Bigfoot, the Jersey Devil, and Mothman appearing.
Apart from these articles, you can also read:
How to Revive Child's Interest in Eating
,
Chicago Fire Season 11
, 
Emmy Awards 2022
, 
4Anime
, 
All American Season 5
, 
Amber Midthunder movies
, 
Russian Doll Season 3
, 
iPhone 14
, 
Tom Cruise All Mission Impossible Movies
, 
Billions Season 7
, 
Best camera for travel
, 
Water Skiing
,
 FFMovies
, 
Bolly4U
, 
Moviesflix
, 
TrueID
, 
Crystals for Protection
, 
Mewing
, 
How to charge crystals
, 
Knightfall Season 3
, 
Vampire Diaries season 9
, 
Homeland Season 9.
Sherlock season 5
, 
Goodyear Viva 3
, 
High sleeper bed
, 
Cash for Cars
, 
F95zone
, 
Aloe Vera Juice
, 
the 100 seasons 8
, 
Salvation Season 3
, 
Shadowhunters season 4
, 
Poldark season 6
, 
Good Place season 5
, 
Madison beer net worth
, 
Gravity Falls season 3
, 
Hunter x Hunter season 7
, 
Marvelous Mrs. Maisel Season 4
, 
Bloodborne 2
, 
Derry Girls season 3
, 
highest paid CEO
, and, 
Bhushan Kumar net worth
, 
Knightfall Season 3
, you can follow our 
Entertainment
, 
Health
, 
Technology
, and 
Business
 category.